Concordia's leading climate change researchers make their voices heard at COP26
'It is important for all of us to engage in the conversation'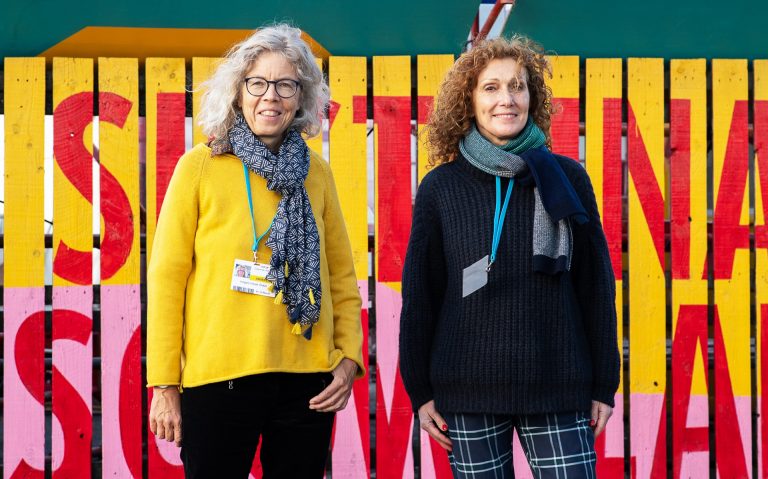 Things are heating up. Literally. Rising world temperatures are posing an increasing threat to both humans and wildlife. Populations are being displaced, and nearly all aspects of the interconnected global ecosystem, from agriculture to the economy, are being impacted in some way.
With climate change at the top of the international agenda, nation heads and thought leaders alike have converged on Glasgow, Scotland. The United Kingdom is hosting the 2021 United Nations climate change conference, COP26 (the 26th annual "Conference of Parties").
According to its website, the 12-day event is what "many believe to be the world's best last chance to get runaway climate change under control."
This year's conference comes six years after COP21, where the Paris Agreement was solidified. Under the agreement, every five (or, due to COVID-19, six) years all nations revisit and hopefully improve their pledges to reduce carbon emissions. The Paris Agreement committed nations to work together to keep global warming to below two degrees, and ideally 1.5 degrees, to react and adjust to climate change's impacts, and to set aside funds to do so.
The COP26 goals are ambitious. They include securing global net zero emissions by mid-century and keeping the 1.5-degree increase within reach, adapting to protect communities and natural habitats, mobilising finance by having developing countries honour their commitments of $100 billion in climate finance per year by 2020 and working together to deliver them.
As COP president-designate Alok Sharma writes in COP26 Explained: "COP26 needs to be decisive. Whether future generations look back at this time with admiration or despair, depends entirely on our ability to seize this moment. Let's seize it together."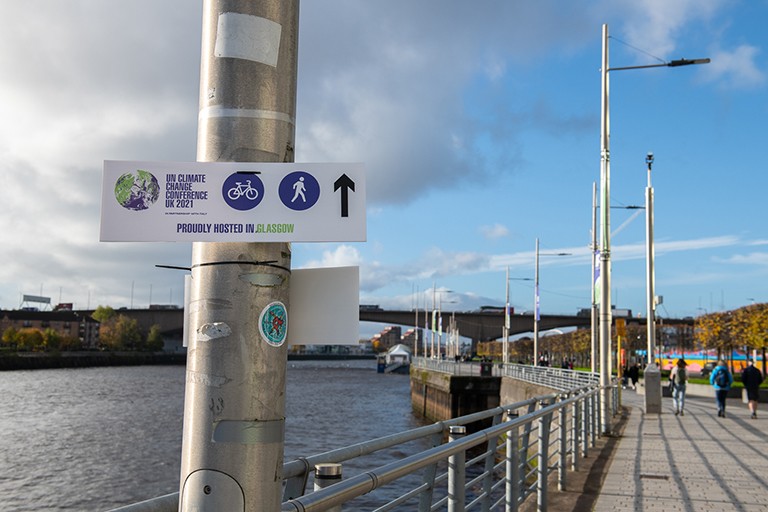 Concordia at COP26
Concordia's delegation at COP26 includes some of the world's leading voices at the forefront of global climate and sustainability conversations. They include philosophy professor Matthias Fritsch from the Faculty of Arts and Science, Ursula Eicker, Canada Excellence Research Chair in Smart, Sustainable and Resilient Communities and Cities, and Carmela Cucuzzella, Concordia University Research Chair in Integrated Design and Sustainability for the Built Environment (Tier 2). Damon Matthews, professor in the Department of Geography, Planning and Environment and Concordia University Research Chair in Climate Science and Sustainability (Tier 1), is attending virtually.
Cucuzzella teaches design and computation arts in the Faculty of Fine Arts. She says the world's addiction to fossil fuels is not only making it impossible for the pathway to the 1.5-degree scenario, but it's also creating social injustices and deep inequalities, from their extraction to their use.
"The gap between problems, pledges, people, plans and pathways needs to be deeply considered by world parties. We hear much about problems and pledges in many countries, especially wealthy, but very little about people, plans and especially pathways. It takes a profound debate and understanding of these," she says.
She adds that these can be conceptually thought of as "the 5 Ps" and can help society think about realistic ways to realize a 1.5-degree scenario.
"Let's not only present problems and pledges. The gap is even more important to address, and this can only be done by talking about people, plans and pathways."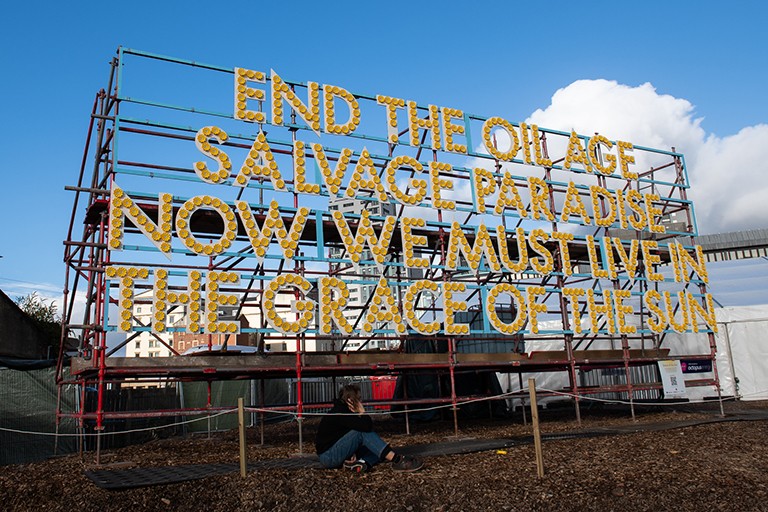 Quebec delegation meeting with Francois Legault
Alongside Cucuzzella, Eicker is founding co-director of Concordia's Next-Generation Cities Institute. It brings together transdisciplinary researchers to tackle some of society's biggest sustainability challenges, including climate change and preserving natural ecosystems.
She teaches building, civil and environmental engineering at the Gina Cody School of Engineering and Computer Science and recently published an opinion piece in the Montreal Gazette urging municipalities to take the lead on climate change.
As the head of the Concordia delegation, Eicker was invited to meet with Quebec Premier François Legault at COP26 alongside other Quebec delegates. This presented a unique opportunity for her to directly address how Quebec is contributing to the world's climate goals. She said Legault discussed the province's achievement of the lowest North American per capita carbon emissions during a special Quebec head of delegation event.
He presented the electrification of transport, especially buses and public transport, as a major Quebec innovation area, though Eicker says the CO2 emissions are still double the amount of Switzerland, for example, with 4.7 tons per capita. She was able to ask him where all the green electricity for transport and building heating would come from, with Legault mentioning wind energy as an option.
"By taking initiative with chance encounters, there are very interesting opportunities to network at such an event," Eicker says.
"By participating in many events related to clean energy, fossil fuel fade-out and city actions, there were actually opportunities to voice one's opinion and disseminate the work we are doing on next-generation cities to a large international audience."
She adds that her experience as an observer at COP26, which she likens to a "big trade fair," offered entirely new insights into international diplomacy. It also emphasized the importance of the observers who are there to maintain a high level of transparency and provide a civil-society view to the negotiation process.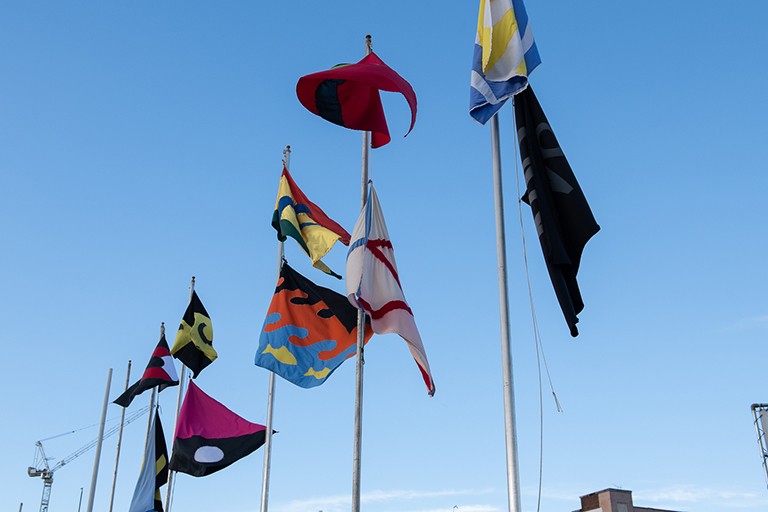 Indigenous peoples
Fritsch teaches environmental ethics at Concordia and is a researcher with the university's Loyola Sustainability Research Centre. He focused his attention in Glasgow on learning from experienced Canadian civil society observers like the Climate Action Network Canada, a coalition of more than 100 NGOs, and seeking out meetings and press briefings of Indigenous peoples, least-developed countries (LDCs) and small island developing states (SIDS).
He says Indigenous peoples make up less than five per cent of the global population, but despite the legacy of colonial land dispossession, they manage or hold tenure over 25 per cent of the world's land surface and support about 80 per cent of global biodiversity.
"Given Indigenous knowledge of land and intergenerational teachings, they are central to preserving nature and fighting climate change, in addition to the importance of protecting their rights in the face of global mining firms and agribusiness," he says.
He adds that greenhouse gas emissions are best understood as a collective action problem, and the best way to address it is for all parties to agree on doing what is in the collective interest. He says that's why the COP is necessary, despite the worries about getting only more "blah blah blah."
Fritsch notes meanwhile that the central point of COP26 may be to give countries that are primarily vulnerable to climate change a chance to confront the major emitters and countries with the most capacity to address mitigation, adaptation and compensation.
"Major culprits need to hear about the worst outcomes of their emissions in a deliberative setting capable of producing enforceable agreements."
'I am not holding out too much hope for major steps forward'
For his part, Matthews, who heads Concordia's Climate Scenarios, Impacts and Modelling Lab, and was recently named one of the top 1,000 climate scientists in the world in the Reuters Hot List, co-authored the 10 New Insights in Climate Science 2021 report that was released during the first week of COP26.
He's been following the conference remotely and says that while there are promising incremental steps forward, it seems unlikely that the world will achieve the "quantum leap forward in ambition" needed to meet the Paris Agreement targets.
"I am not holding out too much hope for major progress coming out of this conference. Incremental progress is of course important but is not going to solve this problem fast enough," he says.
Still, he adds that there is value for Concordia and other outside voices to participate in events like COP26 to ensure they are included in the climate conversation.
"As with any major global challenge, it is important for all of us to have an opportunity to engage in the conversation around finding and implementing solutions," he says.
"Despite its flaws, the COP meetings are one important place where these conversations take place."
COP26 runs until November 12.

The Loyola Sustainability Research Centre will be holding a webinar on December 10 about the experience of the Concordia delegates. Register now.
Learn more about the university's commitment to the United Nations Sustainable Development Goals.
Concordia faculty can find out more about Concordia at COP.
---