Concordia professor examines which industry practices really work to advance global sustainability goals
Shannon Lloyd's interdisciplinary research takes a holistic approach to measuring the impact of corporate environmental efforts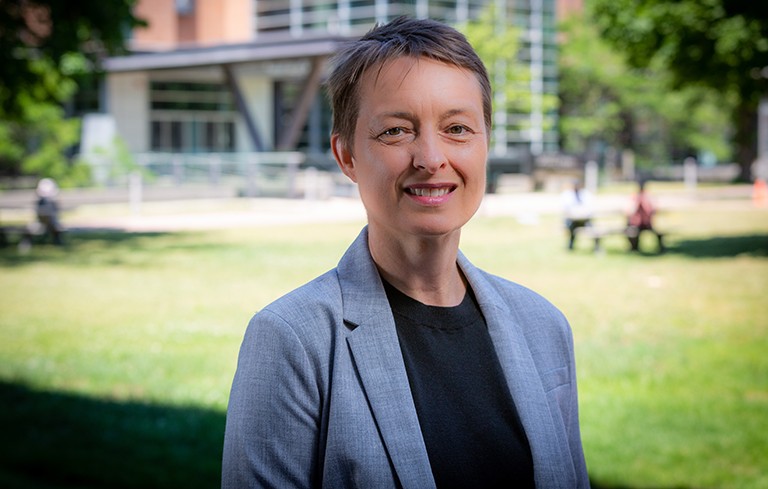 Shannon Lloyd: "You can't make these decisions in isolation — you have to look at the entire system."
This article is part of a series on Concordia's engagement with the United Nations Sustainable Development Goals, as part of the Voluntary University Review.
For Shannon Lloyd, evaluating industrial progress toward the UN Sustainable Development Goals (SDGs) requires a full accounting.
Lloyd is assistant professor of management in the John Molson School of Business, an associate member of industrial engineering in the Gina Cody School of Engineering and Computer Science and a research associate at the Loyola Sustainability Research Centre. She studies the environmental impact of the industrial systems that are used to produce goods and services.
"My research has focused on understanding how changes to industrial systems impact the environment, looking at products from cradle to grave," she says. A full life-cycle assessment includes impacts associated with the extraction and processing of natural resources, component fabrication, product assembly, shipping, sales, consumer use and end-of-life disposal of products.
Lloyd's interdisciplinary research exemplifies the university's commitment to the SDGs. She says her work aims to link corporate sustainability initiatives and practices with global goals.
Companies have been incorporating sustainability initiatives for more than 30 years now, enough time to expect results. "The initiatives started in the early '90s, yet the environmental impact of industry keeps increasing overall. My interest recently has shifted to understanding what really works," she says.
"If sustainability practices are adopted, what changes have been made? Perhaps resources are used more efficiently or a specific environmental concern is successfully addressed. This is clearly important, but it's also important to look at what else changes from a systems perspective and assess the overall impact on natural and social systems."
One example is biofuels, which result in fewer greenhouse gas emissions than fossil fuels. However, biofuels are often derived from plants, which require land.
"If we allocate land to biofuels, then we have direct competition for food production," Lloyd says. "This can impact food prices, and therefore society, in particular the poor. It may also increase use of land, pesticides and fertilizers and potentially contribute to other environmental issues such as deforestation and water pollution."
In other words, decisions about biofuels should consider net effects on the entire social-ecological system.
"The idea is that you can't make these decisions in isolation, thinking about the specific problem you're trying to solve — you have to look at the entire system," she says. "What happens in that system when we make a change?"
Further work
Lloyd supervises a number of graduate and postdoctoral students conducting research on related topics.
"As an example, I am supervising a postdoc whose work is asking whether science-based targets for greenhouse gas emissions are effectively aligning corporate action with the Paris Agreement," she says.
She has also integrated the topic of SDGs into two of her John Molson School sustainability courses (MANA 369 and MANA 374). "For example, last term, students had an assignment that required them to select an SDG and one of its targets, learn about them and compare and contrast two firms' performance in supporting the achievement of the target."
Among her several interdisciplinary collaborations, Lloyd is working with researchers from other universities and organizations to develop methods for incorporating worker health and safety into life-cycle assessment. This work is part of the Global Guidance on Life Cycle Impact Assessment Methods project, carried out within the Life Cycle Initiative, hosted by the UN Environment Programme.
Lloyd is also involved with the Green Surface Engineering for Advanced Manufacturing network, based at Concordia. "Our goal is to guide the development of surface engineering solutions to ensure they have a lower environmental impact."

Learn more about Concordia's Department of Management and the university's commitment to the United Nations Sustainable Development Goals.
---