Concordia student startup is a semi-finalist in the global XPRIZE Feed the Next Billion competition
Another Fish is developing an alternative protein to whitefish with the support of the university's SynBioApps program and District 3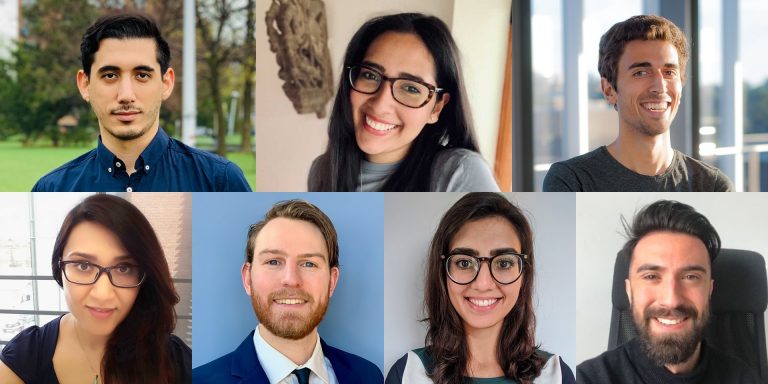 Concordia startup Another Fish is one of 28 semi-finalists in the $15-million USD XPRIZE Feed the Next Billion challenge. The multidisciplinary team of PhD, master's and undergraduate students emerged out of the university's SynBioApps program and is supported by the District 3 Innovation Hub.
XPRIZE Feed the Next Billion is a four-year global competition designed to incentivize alternative chicken and fish food production. The aim is to improve the foods' access, environmental sustainability, animal welfare, nutrition and health, and taste and texture.
The seven members of Another Fish hope to produce a whitefish fillet using a simple, scalable method that will eliminate the need for fish farms and move production from sea to land.
"This XPRIZE challenge speaks to experiential learning around food security issues and how developing the alternative proteins industry here is pivotal," says Andy Manel, XPRIZE Feed the Next Billion ambassador for Canada.
The next step in the competition is the prototype deadline in spring 2022. To help move the project forward, the team will benefit from their share of the $500,000 USD semi-finalist milestone award.
SynBioApps
Another Fish was built with the support of Orly Weinberg, SynBioApps program manager.
"We have found that students are motivated by app-based problem-solving using emerging tech to address real-world issues," Weinberg notes.
"XPRIZE is a perfect fit for SynBioApps students. It gives them a very hands-on, experiential learning experience. Rather than making the challenge as part of a class, everybody in the program was invited to participate, ensuring a diversity of minds to pioneer new ideas within this emerging field."
SynBioApps, supported by the Natural Sciences and Engineering Research Council of Canada-Collaborative Research and Training Experience program, is Canada's first training program focused on synthetic biology and its real-world applications.
Students have access to Concordia's Genome Foundry, Centre for Applied Synthetic Biology and Centre for Structural and Functional Genomics. There they learn how to design and construct cells and proteins for the development of new products related to human health, green technologies and fundamental biological investigations.
SynBioApps students also get access to Concordia's District 3 Innovation Hub, where they explore commercially viable opportunities in their field of research through best-in-class training and coaching and access to unique laboratory facilities. Additionally, they receive cross-disciplinary training and internship opportunities through industry and government partners.
"The SynBioApps program provides our students with exclusive opportunities to explore and develop new ideas in a rapidly expanding sector," says Faye Diamantoudi, interim dean of graduate studies. "We are tremendously proud of Another Fish, who exemplify the innovative research happening at Concordia."
Students from Another Fish were inspired to build on their idea after learning about Feed the Next Billion during District 3's Bio Innovation Conference this year. The team was one of two in Canada sponsored by District 3, along with Toronto-based ProFillet, to participate in the competition. The only other Canadian teams to make it to the semi-finals are CELL AG TECH and Whiteboard Foods. Altogether, the 28 semi-finalists represent 14 countries around the world.
"We're excited to be developing a product that will allow families to eat the same fish products that they are used to without the animal welfare and environmental issues that current fish products have," says Another Fish's team lead Nicholash Bedi.
"Thanks to Orly Weinberg, we received training through the SynBioApps program, and she has connected us with industry professionals. Now that we've also qualified as a semi-finalist for XPRIZE Feed the Next Billion competition, we look forward to showcasing our cell-cultured white-fish fillet next year."
The importance of alternative proteins
According to the Boston Consulting Group, nine out of 10 of the world's favourite dishes will have a realistic protein alternative by 2035. This is especially notable given that one in four people globally — and one in eight in Canada — is food insecure.
"With the world's population growing, expected to reach 9.7 billion in 2050 and to peak at nearly 11 billion around 2100, there is a need and opportunity to sustainably increase food production," notes a white paper issued last year by the National Engineering Biology Steering Committee.
"This issue can be addressed by accelerating the integration of engineering biology technologies into Canada's agri-food and agriculture sectors."
A shift toward more plant-based proteins could also significantly reduce carbon emissions and water usage worldwide, a crucial consideration in the context of the accelerating global climate emergency.
Learn more about XPRIZE and how Concordia's District 3 Innovation Hub supports biomanufacturing and bioengineering startups in accelerating their commercialization potential.
The next cohort of their Market Discovery Program begins September 23. Apply here or contact biohub@district3.co.
The next program cohort for Concordia's SynBioApps program will begin in September 2021. For more information, contact Orly Weinberg at SynBioApps@concordia.ca.
---