Concordia's Deanna Bowen wins the 2021 Scotiabank Photography Award
The artist and studio arts professor will use the prize to 'help rewrite Canadian cultural history'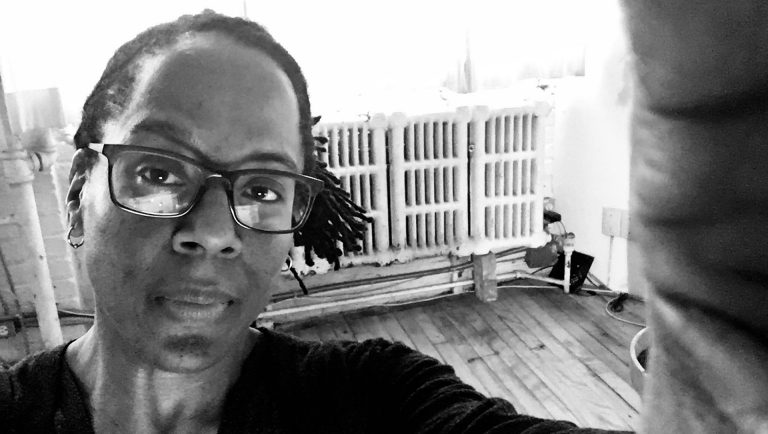 Artist Deanna Bowen, assistant professor of intersectional, feminist and decolonial 2D and 4D image-making practices in Concordia's Department of Studio Arts, has won the $50,000 annual Scotiabank Photography Award.
"Deanna's deeply personal connection to her art — in particular, her photography — immerses the viewer in a brilliantly potent documentation of genealogy, race and migration in Canada," says Edward Burtynsky, co-founder of the Scotiabank Photography Award and chair of the jury.
The award recognizes established artists and is the country's largest photography prize, recognizing the achievements of established mid-to-late career artists. Bowen is the fifth Concordian to receive the award since it launched nine years ago.
Annie MacDonell, Dawit L. Petros (BFA 03) and Greg Staats were also finalists for the 2021 award and will each receive $10,000.
In addition to the cash prize, Bowen's work will be shown as the Primary Exhibition during the 2022 Scotiabank CONTACT Photography Festival at the Ryerson Image Centre, and a book of her work will be published and distributed worldwide by German publisher Steidl.
'Making political art is not a Canadian norm'
"This award is a timely recognition by the Canadian Art establishment of the vital necessity of Deanna's work, as well as a recognition of her artistic, scholarly and personal achievements," says Annie Gérin, dean of the Faculty of Fine Arts.

"Our foundational myths need to be examined critically and rewritten. Many difficult stories need to be told. We are lucky to have Deanna at Concordia, teaching our students how to dig into archives, disassemble accepted histories and tell their own stories."

Over the course of her career, Bowen has received numerous honours, including a 2020 Governor General's Award for Visual and Media Arts Award, a 2016 John Simon Guggenheim Memorial Foundation Fellowship and the 2014 William H. Johnson Prize.

"Making political art is not a Canadian norm, which makes it even more special to be recognized from a jury of my peers, among a cohort of predominantly racialized artists," says Bowen.

"This win provides the opportunity to reach out to an international community, make connections with Black and Indigenous artists around the world. That's a big factor in my efforts to help rewrite Canadian cultural history."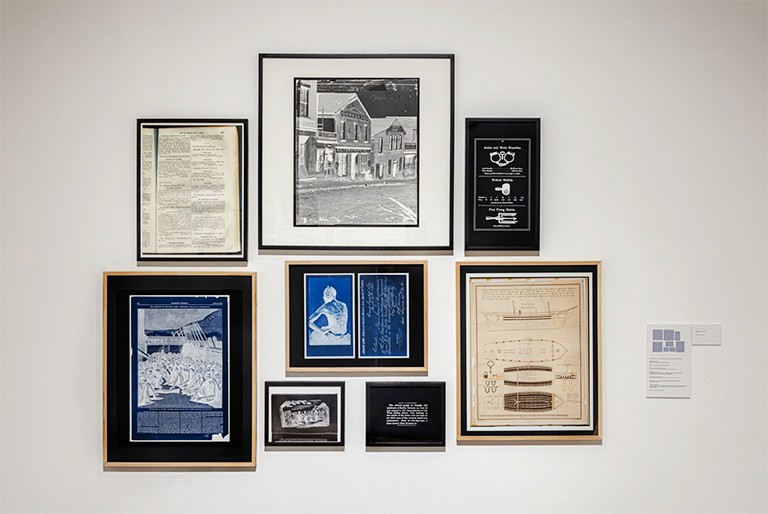 Black Drones in the Hive, Chapter 3 – Slave Trade
, by Deanna Bowen, 2020. | Photo by Toni Hafkenscheid
Institutional racism and Canada's cultural identity
Bowen tells her family's stories, closely examining their migrations and geographical connections and ties their experiences to larger historical narratives of British colonialism and the Ku Klux Klan in Canada and the United States.
Her most recent exhibition, Black Drones in the Hive at the Kitchener-Waterloo Art Gallery, used the history of Kitchener (formerly Berlin) to illustrate the stark factual contrast of the idyllic, unpopulated colonial landscapes of Homer Watson and the Group of Seven with the overlapping and interconnected histories of the Haldimand Tract, slavery and the U.S. Civil War, the Underground Railroad and German Mennonite settlement.
A key work in the show, Bowen's The 1911 Anti-Negro Petition from Immigration of Negroes from the United States to Western Canada 1910–1911 (2013), presents a reproduction of a real-life 233-page grid of 4,300 petition signatures from Edmonton city businessmen who urged Canadian Prime Minister Wilfrid Laurier to discourage the U.S. "negro problem" and the immigration of Black Freedmen from Oklahoma into Canada. Cover-letter correspondence between business leaders and Laurier revealed their extended threat of resorting to violence and, likely, deadly lynch mobs.
Barker Fairley, a strong advocate for the Group of Seven landscape painters, signed the petition. Fairley's signature is one point on the map connecting white supremacy and institutional racism to the development of Canada's cultural identity. It shows how the erasure of Blackness and Indigeneity within the British Empire on Canadian soil is extensive, conscious and purposeful, says Bowen.
Following the paper trail
Bowen finds the unwritten stories of Canada by looking at the cracks in the country's national mythologies. She digs through oral histories of slave narratives, public and private archives, local histories of early colonial settlers and slavery records stretching back to the British empire.
And she's passing her methodologies on to Concordia students.
"I taught the graduate photography seminar ASEM 652, the Archive and Difficult Knowledge, this year. The course builds on my desire to teach the next generation of artists the research skills I have acquired in my practice," Bowen says.
"I was keen to teach the students how to research around Black and Indigenous erasure in Canada's institutional archives by teaching them how to practically and conceptually 'make something out of nothing' — that is, to research and create works that best convey the insights they had gleaned from the slightest of archival leads," she says.
"Despite the restrictions of the COVID-19 lockdowns, the students researched and produced some wonderful, powerful works that built upon the students' reflections about their identity and families' histories.
It takes courage to look at that history, she adds.
"Not to scare people, but this is difficult to do. It's important. The silences in families speak to things that happened to people that shouldn't have happened to people."
But there's always a paper trail, Bowen adds, and that trail is the path to political and cultural change.
"If we can do that work, going back and looking at our family histories, not with shame, but consciously engaging with it, I honestly think that that's the way that the next chapter of history will be written."
Past finalists
Concordia has done well over the Scotiabank Photography Award's nine-year history, with five winners and six finalists.
2020 Jin-Mi Yoon (MFA 92) finalist
2019 Althea Thauberger (BFA 00) finalist
2018 Moyra Davey (BFA 82) winner
2017 Donigan Cumming (MFA 85) and Raymonde April, professor of photography, finalists
2016 Suzy Lake (MFA 83) winner
2015 Angela Grauerholz (MFA 82) winner
2014 Mark Ruwedel (MFA 83) winner
2013 Robert Walker (SGW 69) finalist, Angela Grauerholz (MFA 82) finalist

Find out more about Concordia's Faculty of Fine Arts.
---