'Plucked from a dream': Angela Grauerholz wins the $50,000 Scotiabank Photography Award
The Concordia alumna reflects on a career that blurs the lines between past, present and future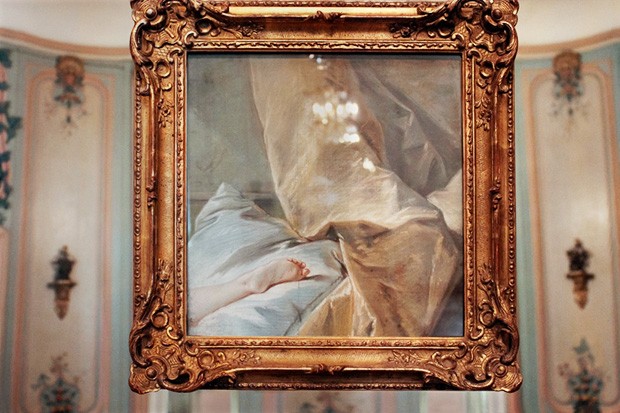 "Floating Frame," 2014, by Angela Grauerholz. "I try to combine and recognize all the sources that are available to me," says Grauerholz. | Image courtesy of the artist
"For decades, Angela Grauerholz has been consistently building a body of work that evokes place, memory and archives, time past and present," says Edward Burtynsky, cofounder of the $50,000 Scotiabank Photography Award, which celebrates excellence in Canadian contemporary photography.
On May 6, at a gala reception in Toronto, Burtynsky announced that Grauerholz, one of three finalists for the award, was selected by the jury as this year's grand-prize winner.
The alumna (MFA 82) is the second Concordian in two years to take home the top honour. Last year's winner was Mark Ruwedel (MFA 83), a former associate professor in the Faculty of Fine Arts.
Robert Bean, one of the three jurors who selected Grauerholz, says her works stirs up feelings of longing without being nostalgic. "The pictures are so poetic and evocative of a sense of place, a sense of time. I think we all found that really compelling in just how she plays across those expectations of what we want a photograph to be, or what we think a photograph can be."
A native of Hamburg, Germany, Grauerholz moved to Montreal in 1976 and enrolled in Concordia's Master of Fine Arts (MFA) program. Although she'd previously studied graphic design, she had no experience behind the lens.
"I told them I wanted to do photography, even though I hadn't touched a camera before," Grauerholz recalls. "They were in shock, but I got a qualifying year and it all worked out."
The art form was a bold, new adventure for Grauerholz. She credits her teachers and fellow students with helping her develop a practice.
"I didn't consider myself an artist at that time, but there were people who already had careers in visual art — people like Suzy Lake, or even my husband, Tim Clark, who's still a teacher at Concordia — who were all great influences and taught me a lot about art. It's really that community, a community I still have today, that was the most important part of my experience."
In 1980, two years before graduating from Concordia, Grauerholz co-founded ARTEXTE, which persists as an important Canadian art archive. Her interest in memory and archives influences much of her artwork.
"I try to combine and recognize all the sources that are available to me — stuff that has influenced me and continues to influence me," she says.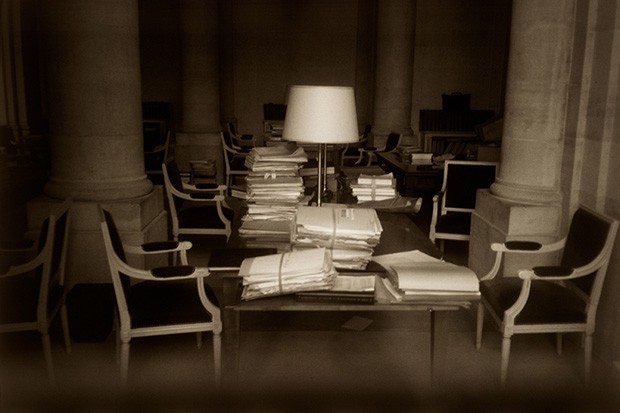 "Le bureau," 1993, by Angela Grauerholz | Courtesy of the artist
Recently, over the course of several years, Grauerholz created "Reading Room for the Working Artist," an installation constructed around her own personal archive. She also designed a website, artworkandplay.ca, around similar archival material: visitors can explore pages of images and texts while creating their own "memory palaces."
Grauerholz describes these projects as part of her parallel practice. "I have the photography, and I have the thinking about photography and image-making — how to hang onto real memories, cultural memories and cultural influences."
Early in her career, Grauerholz was known for fuzzy black-and-white photographs but, in the late 1990s, she began experimenting with clean, crisp, colour images. It was a visually dramatic departure that played with similar themes, only hinting at context to leave room for viewers to create their own stories.
She says her work is a "collaboration between the artist and the viewer." Burtynsky describes Grauerholz's photographs as often feeling "as if they were plucked from a dream."
Grauerholz has been teaching at UQAM's École de design since 1988 and served as director of the Centre de design from 2008 to 2012. She has sold and exhibited her work all over the world, including at the Sydney Biennale in 1990, Documenta IX (1992) and the Carnegie International in Pittsburgh, PA (1995). In 2010, the National Gallery of Canada mounted The Inexhaustible Image, a major retrospective of her work. Last year, Grauerholz received a Governor General's Award in Visual and Media Arts from the Canada Council for the Arts.
A finalist for the Scotiabank Photography Award in 2013, she was honoured to win the grand prize this time around. "It's terrific. I don't think it gets any better than this."
Grauerholz is looking forward to working on the two related projects: a major solo exhibition at the Ryerson Image Centre and a book of her work.
For aspiring artists, she offers simple words of advice: "Have fun, and don't take it too seriously. But think about what you're doing."

The three other Concordian artists who made the 11-strong longlist for the 2015 Scotiabank Photography Award are: Emmanuelle Léonard (BFA 98), Robert Walker (BA 71) and Gabor Szilasi, professor emeritus in Studio Arts.
Find out more about Angela Grauerholz's photography.
---