Concordian Mark Ruwedel claims $50,000 Scotiabank Photography Award
Grad and former professor is celebrated for his "matchless" body of work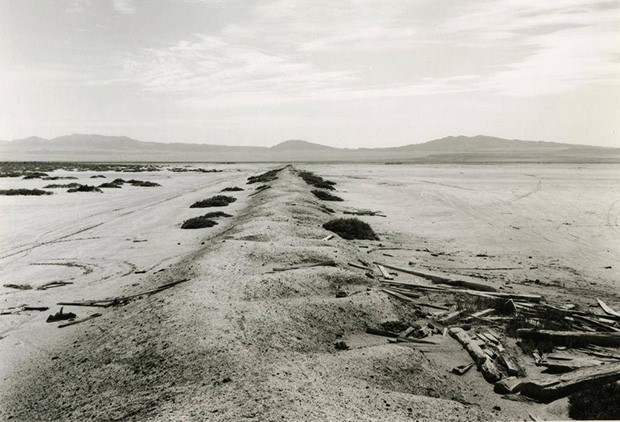 "Central Pacific #18," from Westward the Course of Empire, 1994, by Mark Ruwedel. | All images courtesy of the artist

Mark Ruwedel, a Concordia graduate and former associate professor in the Faculty of Fine Arts, has been awarded one of Canada's largest art prizes.
The $50,000 Scotiabank Photography Award recognizes a 30-year career dedicated to haunting, black-and-white landscapes littered with traces of human activity.
"Mark Ruwedel has developed a compelling body of work that investigates the intersection of representation, cultural memory and shifting perceptions of space," says nominator Grant Arnold, Audain Curator of British Columbia Art at the Vancouver Art Gallery.
"Each project he undertakes expands and amplifies the resonance of previous bodies of work; each elaborates on the rigorous consideration of his approach to photography and its relation to broader currents in contemporary art."
"Wonder Valley #33" from Desert Houses, 2005, by Mark Ruwedel

A native of Pennsylvania, Ruwedel came to Montreal in 1980 to study photography at Concordia. "It was really useful," he says of his time at the university. "Tom Gibson and Gabor Szilasi were my mentors, and they were really supportive. They encouraged me to follow my own path. They were also willing to take a chance on hiring me as an instructor."
Ruwedel earned his MFA from Concordia in 1983. After spending a year and a half on the west coast, he was invited back to teach at Concordia, and eventually promoted to associate professor. He served for three years as chair of the Department of Printmaking and Photography during the 1990s. Ruwedel now teaches at the University of California in Long Beach.
Throughout his time in Montreal, Ruwedel continued to travel extensively, developing his craft. Two of his early large-scale projects, The Hanford Stretch series (1993) and The Italian Navigator series (2001), focus on the history of nuclear weapons.
"Camas Prairie #20," Westward the Course of Empire, 2006, by Mark Ruwedel
Westward the Course of Empire (1994-2007) portrays landforms created during the building of the railroad in western North America. A book based on Ruwedel's recent series Pictures of Hell — an inventory of places named for hell or the devil — is due out this autumn.
Famed Canadian photographer Edward Burtynsky, chair of the Scotiabank Photography Award, was effusive in his praise. "He is a master of seeing and printing and has inspired countless landscape photographers. Mark's eye for detail and his subtle perceptions about the intersection of — and commentary upon — the historic versus contemporary in landscape photography remains matchless."

Find out more about Scotiabank Photography Award winner Mark Ruwedel, and the two 2014 finalists.
---