Joana Joachim is Concordia's new assistant professor of Black studies in art education, art history and social justice
'Black lives will always be at the core of what I teach'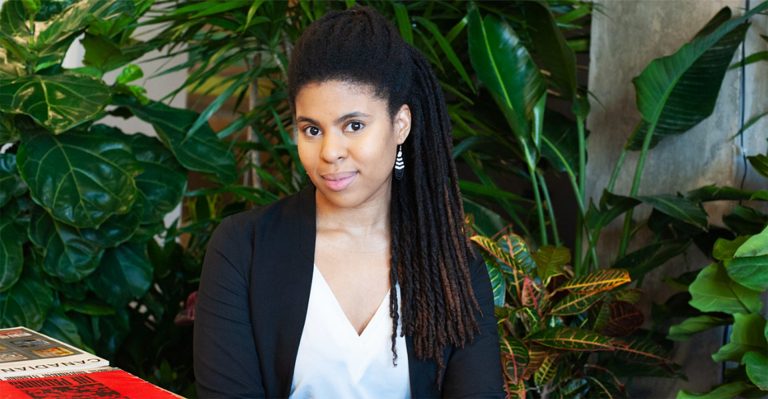 Concordia's Faculty of Fine Arts has appointed a new assistant professor of Black studies in art education, art history and social justice.
Black feminist art historian Joana Joachim has an academic background in critical museologies and Black diasporic art among other areas of study. Her position is a cross-appointment between the departments of Art History and Art Education.
"Joana is one of the most promising emerging Black Canadian art historians and curators. She will undoubtedly push the boundaries of the discipline in new and exciting directions," says Annie Gérin, dean of the Faculty of Fine Arts.
"Joana's research on the histories of Black diasporas tackles the gendered dimensions of anti-Blackness. Her work contributes to combating sexism and systemic racism in society."
'Bringing Black studies and social justice to the fore in art history and art education is crucial'
What are your academic areas of interest?
Joana Joachim: I am a Black feminist art historian, curator and museologist. I like to describe my areas of study as Black diasporic art histories given that my research interests span across time and geographies. My work is aimed at locating Canada within what is understood as the Black Atlantic and to contribute to the growing field of Black Canadian studies.
I'm interested in conversations about how Black Canadian art and aesthetics are distinct from and echo ones from the United States and the Caribbean, for example. My scholarship also aims to discuss how the dehumanizing logics of anti-Blackness, slavery and colonialism continue to impact our society to this day.
How does your doctoral work tie into your teaching?
JJ: It discusses the visual culture of Black women's hair and dress in the 17th and 18th centuries. It investigates practices of self-preservation and self-care through the lenses of creolization, as well as historical and contemporary art practices.
This ties into my teaching in two ways: first by foregrounding care and empathy in discussions about Black life and in professional practice, and secondly, through the research and analysis strategies I've adopted. These include Black feminist art historical praxis and critical approaches to archival and museum collections.
What most excites you about your new position at Concordia?
JJ: My position is cross appointed in two departments: Art History and Art Education. This gives me the unique opportunity to merge two areas of interests in my teaching practice and engage with students whose approaches to the topics broached in class will vary based on their respective disciplines.
Black diasporic art and Black lives will always be at the core of what I teach. This appointment allows for more expansive discussions to take place in both professions. The courses I teach will allow for an even closer, more critical set of conversations to take place around issues of anti-Blackness in Canadian museums, on the gaps in Canadian art history and about Black curatorial and artistic practices on this land.
What are some ways in which art history, Black studies and social justice intersect?
JJ: Our world is dominated by images in popular culture that reflect and influence how people see, understand and treat each other. This can have both positive and negative outcomes. Artworks have the potential to enact similar impacts in our societies. As such, museums — and by extension art historians, curators and arts workers — hold a great deal of power through their ability to choose what gets collected, preserved and displayed and under what conditions.
Museums and their related fields have repeatedly failed to perform their due diligence toward Black artists and arts professionals. Museums and art historical records on this land have omitted countless Black people, thus precluding the possibility to view Black people as part and parcel of Canadian history. By erasing Black Canadian history from art historical and museum records, these institutions and disciplines also erase the ongoing oppression that Black people face here. We can't fix what we don't acknowledge. Bringing Black studies and social justice to the fore in art history and art education is crucial to addressing all of this.
How do you feel the addition of your new position will contribute to the Concordia community and beyond?
JJ: Charmaine Nelson has been teaching Black art histories in Canada for nearly two decades, forging the way for someone like me to arrive at this juncture. As far as I know, there has yet to be many Black-specific art history teaching positions created at Canadian universities. I think this is important to note because, with this specific title and position, teaching Black diasporic art histories has the potential to become integral to the discipline in Canada.
My hope is that it will eventually move from a "bonus add-on extracurricular super special shiny rare topic" that is only available in a couple places, to instead stand on equal footing with every other area of the discipline in universities across the country. I'm excited to be part of that shift at Concordia and to contribute to the already multifaceted art histories being taught here.
I think it's important to note that Black people are, will be and always have been relevant in every discipline, area of study or profession. While I am excited to see this shift in my own discipline, I hope this will also spread to every other nook and cranny of this university and across the country.

Find out more about Concordia's Faculty of Fine Arts.
---