Meet Concordia's 5 new Scotiabank Photography Award nominees
The $50,000 prize winner could be the university's third in 3 years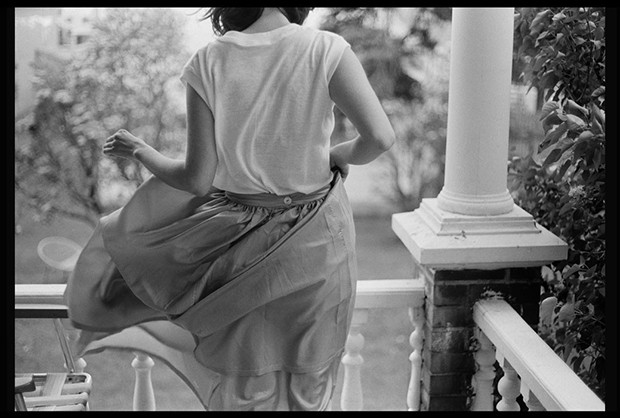 "Tout Embrasser," Photographie 2001-2015, by Raymonde April | Image courtesy of the artist

EDITOR'S UPDATE (MAY 3, 2016): Alumna Suzy Lake landed the 2016 Scotiabank Photography Award, the third win by a Concordian in as many years. Read the original story of her nomination on February 1 below.

The jury for the $50,000 Scotiabank Photography Award — one of the most important in contemporary Canadian photography — has announced this year's 10 nominees.
Half of the chosen artists are from Concordia.
Founded in 2010, the award is conferred annually to a mid- to late-career artist as he or she reaches for the next level of national and international recognition.
Along with the cash prize, the winner receives a major solo exhibition at the Ryerson Image Centre, and a primary exhibition at the 2016 Scotiabank Contact Photography Festival. In addition, a book of their work will be published and distributed worldwide by Steidl of Germany.
For the last two years running, Concordians took home the grand prize. In 2015, the winner was Concordia alumna Angela Grauerholz. The year before, Concordia graduate and former associate professor in the Faculty of Fine Arts Mark Ruwedel took home the top prize.
This year's short list will be announced on March 9, and the winner on May 3.
Until then, here's a look at the work of Concordia's 2016 Scotiabank Photography Award faculty and alumni nominees:

Raymonde April
Autobiography, documentary, fiction, narrative, landscape, portrait, text, women, film, video — they all interest photographer Raymonde April, a Concordia professor in the Department of Studio Arts and officer of the Order of Canada.
"My photos represent very small moments, but when added together they weave an endless tale," the artist has said about her work.
"Over time, one story fades away and another takes shape before my eyes: without thinking too much about it, I've captured the passage of time on places and on faces, and have recorded a kind of history," she has said. "My formal choices are intuitive; when I group images together it's like writing. I work on the spaces between the images as much as on the images themselves."
April has never defined herself as a documentary photographer, because she's just as interested in the fictions within the images as in the reality from which they spring.
"Nonetheless, I acknowledge that there is a descriptive side to my images that makes them undeniable reflections of their geographic and cultural space and time."
Born in Moncton but raised in Rivière-du-Loup, April lives and works in Montreal.

Moyra Davey, BFA 82
Toronto native Moyra Davey's work is composed of photographs, writings and video. As opposed to a current predilection for large-scale, digitally manipulated photographs, her seemingly modest works reclaim a practice of photography grown out of contingency and accident.
Her camera often turns toward the unseen or the overlooked — dust, books, records, coins, empty whiskey bottles, coffee cups, gravestones and people writing on the subway.
Davey's practice presents a wide-ranging model of engagement with the world: a reflection on the possibilities of producing and consuming, on writing and reading, on novelty and obsolescence, and on the future of images amidst an economy of profuse reproduction.
Currently, Davey lives and works in New York City. She exhibits widely and her work is held in many prestigious private collections, including Tate Modern, the Museum of Modern Art and the Metropolitan Museum of Art.

Evergon
Nominee Evergon — a.k.a. Celluloso Evergoni, Eve R. Gonzales, Egon Brut — is a professor emeritus in Concordia's Department of Studio Arts. His work represents a decades-long international career as an artist imaging primarily gay male culture.
Concerned with technology, his photography has explored non-silver processes, electrostatic works, instant imaging (culminating in 1x2m colour Polaroids), life-size holograms, silver gelatin prints and digital imaging.
Recent bodies of work include Ramboys: A Bookless Novel and Other Fictions (a fabricated document of boy culture), Manscapes (documented fiction/action of cruising grounds), Margaret & I (larger-than-life nudes of his mother), Chez Moi: Domestic Content (images gleaned from his trove of memorabilia and self-portraits) and XXX/L (re-enactment images of self with models exploring the relationship between imaged pornography and icons of Western art).
Evergon is currently working on his image and text-based project Passion Plays.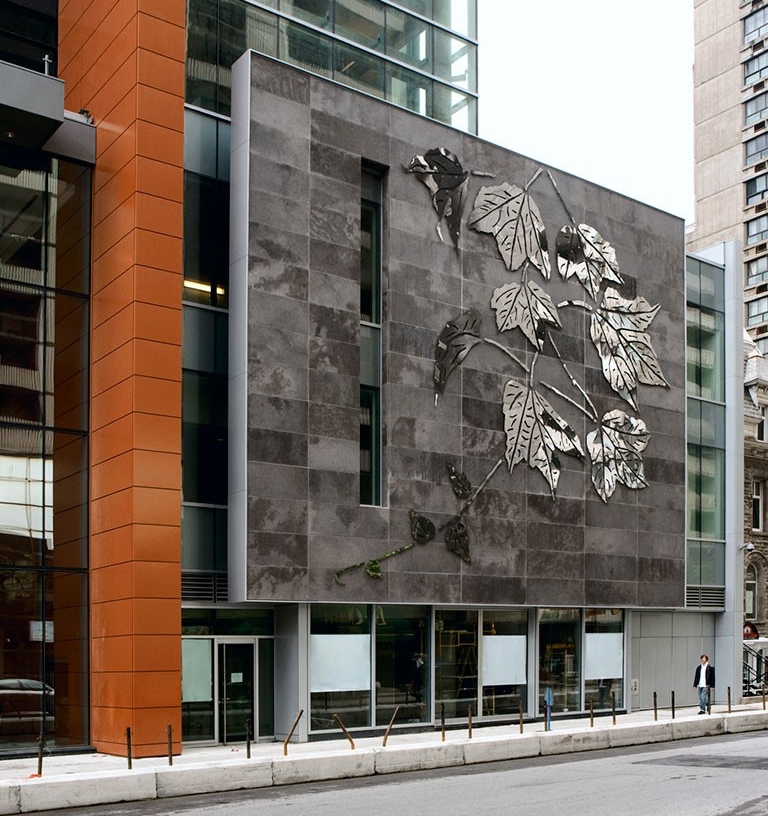 "Lierre sur Pierre," 2009, by Geneviève Cadieux | Photo by Geneviève Cadieux

Geneviève Cadieux
Originally from Montreal, Geneviève Cadieux is an associate professor in the Department of Studio Arts. Her work uses theatrical and cinematic tropes in combination with advertising strategies to construct poignant photographic works and large-scale installations. Her pieces test the limits of the medium while addressing themes of the human body and the landscape in their mutual implication.
Cadieux's art explores the metamorphosis of photographic and cinematic images through the recording and production process. Whether shown in a museum, private or public space —such as the north facade of the John Molson Building, which holds Cadieux's 550 square-foot piece, "Lierre sur Pierre" (2009) — the presentation of her artwork inspires a theatrical, cinematic scene designed to affect the individual by drawing them in.
Cadieux, a Governor General's Award winner, lives and works in Montreal.

Suzy Lake, MFA 83
Concordia alumna Suzy Lake is recognized as one of the first female artists in Canada to adopt performance, video and photography to explore the politics of gender, the body and identity. In 1993, she was the subject of a major mid-career retrospective, Point of Reference, organized by the Canadian Museum of Contemporary Photography.
Lake has participated in significant conceptual or feminist exhibitions such as WACK! Art and the Feminist Revolution (Los Angeles Museum of Contemporary Art and tour, 2007-08), Identity Theft: Eleanor Antin, Lynn Hershman, Suzy Lake, 1972-1978 (Santa Monica Museum of Art, 2007), Held Together with Water (Sammlung Verbund, Vienna and tour, 2008) and Traffic: Conceptual Art in Canada 1965-80 (2010).
She continues to address the relationship of the individual to societal forces in order to reveal constructions and constraints that have been built into our culture. In 2013, Lake was awarded the Dazibao Prize and launched Suzy Lake: Performing an Archive in 2015. In 2014, the Art Gallery of Ontario presented a full-career retrospective with a substantial book, Introducing Suzy Lake. She's based in Toronto.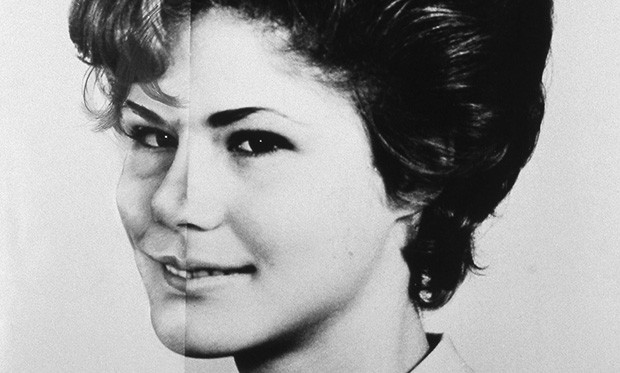 "16 Over 28," 1975, by Suzy Lake | Image courtesy of the artist
---