One of the world's most influential climate scientists is a Concordian
Damon Matthews ranks 266th out of 1,000 on the Reuters Hot List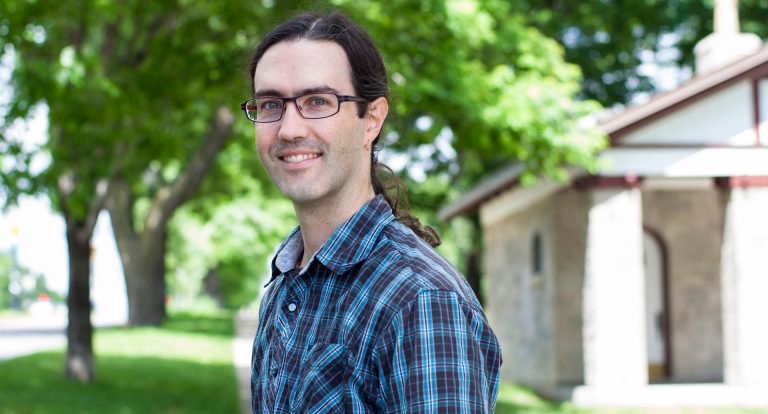 Concordia's Damon Matthews has landed on the Reuters Hot List, ranking him among the world's most influential climate scientists.
Matthews, professor in the Department of Geography, Planning and Environment and Concordia University Research Chair in Climate Science and Sustainability, placed fifth among Canadians and 266th globally in the Reuters list of top 1,000 climate scientists in the world. In all, only 37 Canadians made the cut.
"I recognize a lot of the names of colleagues that I know and have worked with, so it's good company to be in," Matthews says. "I am very happy to be recognized."
Reuters notes the Hot List is not a measure of the "best" or "most important" climate scientists internationally but rather of influence. It ranks researchers based on a combination of factors: the number of research papers they have published on climate change–related topics, how often other researchers in similar fields of study cite those papers and how often their papers are referenced in the media, policy papers, social media and other sources.
The list's data is provided through Dimensions, British-based technology company Digital Science's academic research portal. The database includes hundreds of thousands of climate science–related papers, most published since 1988.
'Not a complete list'
Matthews runs Concordia's Climate Scenarios, Impacts and Modelling Lab and also heads the Leadership in Environmental and Digital Innovation for Sustainability (LEADS) program funded by a $1.65-million Collaborative Research and Training Experience (CREATE) program grant from the Natural Sciences and Engineering Research Council of Canada (NSERC). He says that although it's great to be recognized, other researchers were left off the list, and he was struck by how male-dominated it was.
"This is a nice measure of science influence, but it's certainly not a complete list," he points out. "There are lots of really excellent scientists in Canada who were not picked up, and of the 37 Canadians on the list, only four are women. There is obviously still work to be done to equalize opportunities for female scientists and have their research be recognized and influential."
Matthews's distinction comes after Concordia placed 62nd out of 1,115 institutions worldwide in the newly released 2021 Times Higher Education (THE) Impact Rankings for its institutional commitment to the United Nations Sustainable Development Goals (SDGs).
Craig Townsend, associate professor and chair of the Department of Geography, Planning and Environment, is thrilled by Matthews's growing catalogue of accomplishments, which are drawing students and researchers to his work.
"Damon has been incredibly successful in attracting students to the department's graduate programs, as well as overseeing numerous postdoctoral researchers from around the world," Townsend says. "His work is impressive, and we really look forward to seeing how it evolves."

Find out more about Concordia's Department of Geography, Planning and Environment.
Read the complete Reuters Hot List.
---