LAUNCHED: A database of anti-racist educational videos and learning materials
PhD student Jamilah Dei-Sharpe's project addresses the lack of resources tackling systemic racism and discrimination in schools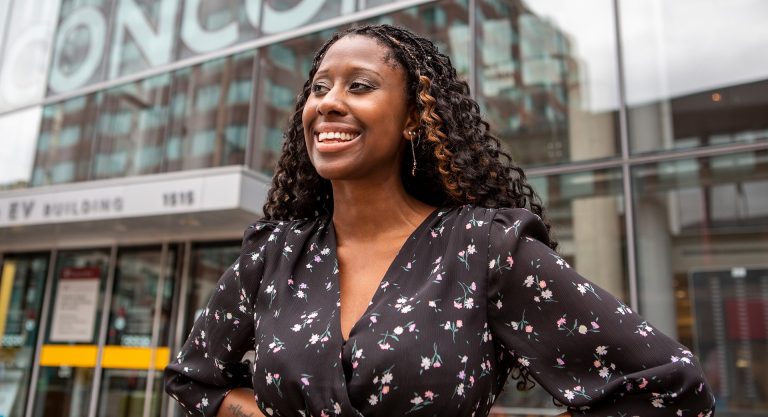 Concordia PhD student Jamilah Dei-Sharpe (MA 19) is bringing anti-racist, decolonial and social justice-focused videos and learning materials to the classroom through a new online portal.
The Anti-Racist Pedagogy Project features pre-recorded talks from Concordia students and faculty as well as grassroots social justice organizers and activists in Montreal. The project came about as a response to both the Black Lives Matter movement's work to address pervasive anti-Black racism and the COVID-19 pandemic that suddenly forced educators to move their classes online.
"It really made us realize there's a gap in our education system," Dei-Sharpe says. "We don't have a lot of access to materials that are social justice-minded, decolonial, anti-racist and that give people proactive steps on how to deal with the perpetual crisis of higher education, which is to cultivate learning environments that are safer and more inclusive."
Dei-Sharpe, who is pursuing her doctorate in sociology, is co-founder of the Decolonial Perspectives and Practices (DPP) Hub and the National Black Graduate Network. In July and September 2020, she received two Carolyn and Richard Renaud Teaching Assistantship Awards for her work in advancing pedagogy.
The video database emerged from the multimedia activism sector of the DPP Hub. She originally developed it for Concordia faculty to incorporate videos into their courses — and help them address the stress of planning for an entirely virtual academic year — they've since decided to make the database available to CEGEP and high school instructors as well.
The talks span several themes, ranging from anti-Black racism in media to how to facilitate empathetic and collaborative in-class environments.
"The university has a critical, collaborative role to play in building a world where we successfully address the issue of systemic racism," says Pascale Sicotte, dean of Concordia's Faculty of Arts and Science.
"By leveraging the collective knowledge of our university community and the community at large, Jamilah is contributing to building a truly vibrant educational ecosystem that amplifies anti-racist voices," she says.
'We want to create participatory engagement'
"Parts of the videos are going to apply to different courses. Like if you think of a film studies course, there will be videos on systemic racism in media representation," Dei-Sharpe explains. "You can take from these videos and part of your lecture can be sharing experts' work in the field or inviting them to guest lecture in your class to share how they've been tackling this crisis and the tools they've been using."
The goal, she adds, is to have a sustainable space on the Concordia website with a consistent flow of new videos on the topics of decolonial pedagogy, addressing systemic racism and discrimination. It will also include a related resource list with each video to give students and faculty actionable ways to change their habits and ways of thinking.
Educators will also have the opportunity to book presenters if they want to bring them into class for a Q&A session.
"We want to create participatory engagement, where after each talk the audience has an understanding that, 'now this is what I can do; this is how I can change how I think or how I learn; this is how I can diversify my courses; this is where I can go to learn more,'" Dei-Sharpe says.
Kimberley Manning, associate professor of political science and principal of the Simone de Beauvoir Institute, is the project's supervisor. The Anti-Racist Pedagogy project builds on insights gleaned from Manning's past collaborations with graduate students, including the recently concluded Critical Feminist Activism and Research project. Manning's ultimate hope is to build institutional equity from the bottom up, by engaging and compensating student engagement.
"The whole point of this project is to create frameworks responsive to anti-racist inequities and support people who are on the front lines of anti-racist work," Manning says. "The database speaks to the larger goal of making our institutions more responsive to the vision of our student leaders."
'Expertise is lived experience'
Manning helped to get the project funding from across the university. To date, it's received support from the Faculty of Arts and Science, the Simone de Beauvoir Institute, the departments of Religions and Cultures, Sociology and Anthropology and Communication Studies, the Centre for Teaching and Learning and the Office of Community Engagement (OCE).
It's also received recognition from the Canadian Race Relations Foundation (CRRF) and in-kind support from Loyola College for Diversity and Sustainability and the Feminist Media Studio, where Dei-Sharpe is filming and video technicians Simone Lucas and Muhammad Nour Elkhairy are editing the talks. The bulk of the funds is used to pay the students and community organizers and activists who shared their expertise as part of the project.
Andrea Clarke, Concordia's senior director of community engagement and social impact in the Office of the Provost, says the project, which promotes community-based knowledge, is the kind of impactful work that the OCE wants to see.
"There is insight that exists in community organizations and people who are doing the work on the ground, and that expertise is not always effectively acknowledged or relayed in the university," she notes.
"It is easy to say, 'I spoke to folks in the community and here's what they said.' But instead, Jamilah is looking to make sure that their voices are heard and they feel like equal partners in the initiative. I think that is really special."
In addition to serving as an educational resource, Dei-Sharpe says the project is advancing educational and research development for students. She has now hired undergraduate interns Sandra Mouafo and Barbara Saldana who are gaining research experience. She also proactively reaches out to and compensates students from Concordia and other Montreal schools involved in or thinking about anti-racist, decolonial work to be showcased on the platform.
Dei-Sharpe emphasizes that students don't need to have a "ready-made" project or a published paper. "You can just talk about the gaps in pedagogy you're finding during this moment of crisis or something you'd like a wider audience to be aware of," she says.
"Students are not usually recognized as having enough expertise to share with an audience or in the academic sphere, and we want to decolonize what expertise means. It is not just someone who's been doing this for 10 years — expertise is lived experience, expertise grows within the people asking questions for change."

Find out how you can incorporate Concordia's new Anti-Racist Pedagogy Project into your classroom learning and how to have your work showcased on the platform.
---