Concordia's Kasim Ali Tirmizey is integrating Indigenous knowledge in his course curriculum
February 18 is the next faculty teaching day on decolonizing engineering and computer science courses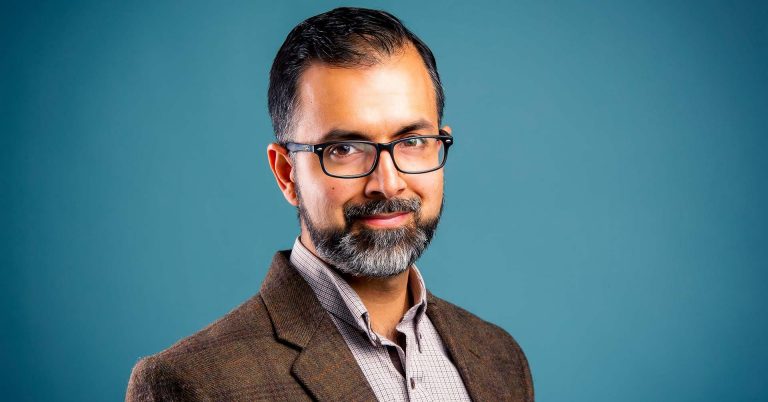 As a child growing up in a Cree community in the James Bay region, Lichid Tent hunted and trapped alongside his family.
"If we didn't catch anything, we didn't eat," says Tent, an independent student at Concordia who is in the process of applying to the Gina Cody School of Engineering and Computer Science.
Tent wants to realize his dream of integrating Cree traditional architecture into modern civil engineering design.
"I had my eyes opened when I took a course through the Centre for Engineering in Society," says Tent, a survivor of the residential school system. He was also rounded up in the Sixties Scoop, when Indigenous children were taken from their families and placed in white foster homes or put up for adoption.
"For the first time, I heard terms like 'design justice' and 'social justice' spoken in relation to my community. It was like having a curtain pulled back — even though I'd already lived it — and this gave me a whole new perspective on engineering and how I can help my community."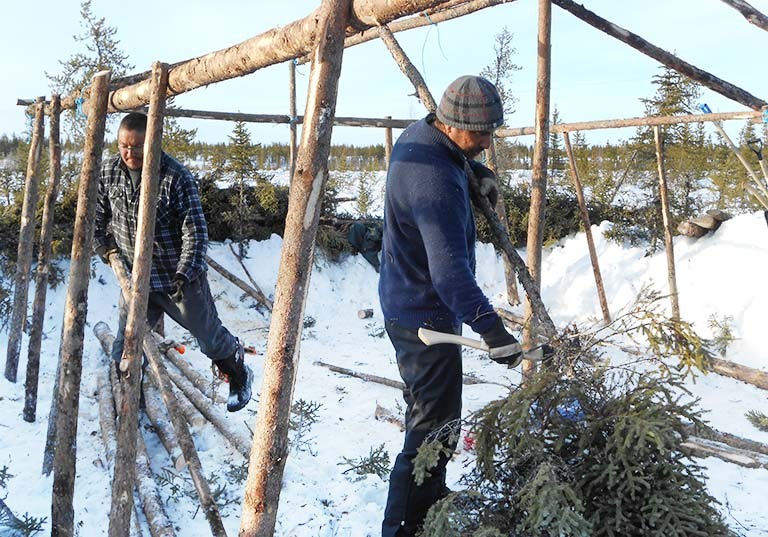 Lichid Tent (in the foreground) created a mobile app that recommends emergency evacuation procedures for residents living around the Robert-Bourassa power generating station in the James Bay region.
'Technology impacts people in different ways'
Impact of Technology on Society (ENGR 392) was the engineering course that opened Tent's eyes. It's taught by part-time faculty member Kasim Ali Tirmizey, who is one of the professors leading the effort to decolonize the curriculum at the Gina Cody School for Engineering and Computer Science.
To further this effort, there is a teaching workshop on February 18 to show engineering and computer science faculty how Tirmizey revamped his curriculum.
Tirmizey and Donna Kahérakwas Goodleaf, director of decolonizing curriculum and pedagogy for Concordia's Centre for Teaching and Learning (CTL) will present a workshop on how they reconceptualized his course by deconstructing the syllabus and realigning it by meaningfully integrating Indigenous perspectives and worldviews.
"It's still a bit ambitious to say that I've completely decolonized the curriculum, but I have achieved the more modest goal of integrating Indigenous perspectives into the course material," says Tirmizey, who started making changes to the course in fall 2018.
"Given that technology impacts people in different ways, we look at what impact technology has had on settler communities and Indigenous Nations and communities, women and men, the Global North and the Global South."
Is a bridge just a bridge?
Tirmizey notes that engineering students often think of objects like bridges, for example, as politically neutral, if not positive. To make them see the other side of the coin, he raises issues of power dynamics, land appropriation of Indigenous territories and international law that mandates developers and governments gain "free, prior and informed consent" from Indigenous communities.
"With things like pipelines, hydroelectric dams, air bases, mines — people across society benefit disproportionately from them," Tirmizey says. "What some see as progress can erode someone else's way of life."
Tent's course project reflected his community's concerns. He created a mobile app that recommends emergency evacuation procedures for residents living around the Robert-Bourassa power generating station in the James Bay region.
"There was a false alarm once near the dam, and that triggered something in me," says Tent. "I'll never forget it."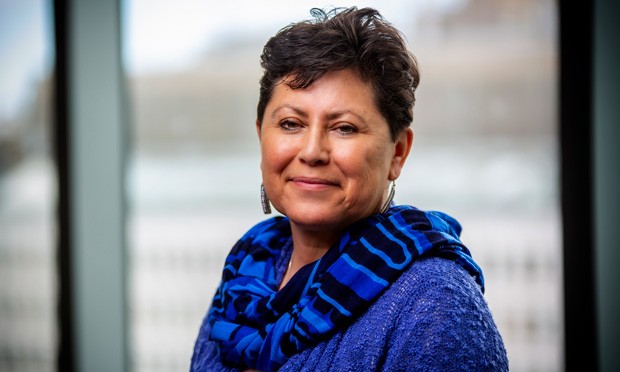 Donna Kahérakwas Goodleaf, director of decolonizing curriculum and pedagogy.
Integrating Indigenous knowledge in the course
Tirmizey added readings by Indigenous authors that covered the social and environmental impact of various projects on their communities.
"We want students to come to the realization that Indigenous self-determination is important," he says.
Many of his students are sympathetic to injustice faced by Indigenous people but they didn't know how systemic it is, or they didn't realize the government's historic and contemporary role.
He also got pushback from some students who think development — seen as progress — always trumps consent.
"When that happens, I ask if students know the area's history and ask if the 'greater good' is always the majority," says Tirmizey. "We discuss if there's another way of living together that may require new ways of thinking about development and social justice."
Rachel Haighton took the course in the summer of 2019 and had the same eye-opening experience as Tent.
Haighton is a third-year student in the Department of Mechanical, Industrial and Aerospace Engineering with Concordia's Institute for Co-operative Education.
Her maternal grandfather is Inuit.
"But I hesitate to call myself Indigenous because I haven't lived those experiences and I don't want to take other people's voices away," she explains.
Still, the coursework resonated with Haighton. She was moved and shocked by one of the assigned readings written by a group of Indigenous women. It exposed how the "man camps" that spring up near pipelines to house workers have been tied to increases in gendered violence and missing and murdered Indigenous women.
"The course really changed how I see things," she adds. "It created empathy among the students and got us thinking critically about projects that flood lands and change migration routes and pollute Indigenous land."
The Indigenous Directions Action Plan at work
"Raising students' critical awareness and understanding about impacts of technology on Indigenous nations and women is a learning outcome engineering courses may want to consider," notes Goodleaf. She helped Tirmizey incorporate Indigenous perspectives and thought into his course by reviewing his syllabus and integrating Concordia's territorial acknowledgment, as well as suggesting themes pertinent to issues faced by Indigenous nations and articles that match his topics each week.
In September, Goodleaf and Tirmizey did a presentation to share their process and provide practical tips on decolonizing the curriculum to faculty and graduate students at the CTL.
"The idea is to get every member of the Concordia community to take a serious look at Concordia's Indigenous Directions Action Plan, which came in response to the Truth and Reconciliation Commission's recommendations to address institutional racism in education and the erasure of Indigenous voices and perspectives," Goodleaf says.
"There's a great need for faculty across all academic disciplines to question any misconceptions they may have about Indigenous peoples. Furthermore, there's a need to address their lack of awareness and understanding, lean into discomfort, and divest from perpetuating Western canons of thought in the sciences."
Goodleaf wants to see students graduate from all faculties with a set of ethics, values and principles around sustainability that takes into consideration the diversity of Indigenous peoples' relationships to land, waters and the environment and the impacts of development on Indigenous communities from an historical and contemporary lens.
"Any students who have inaccurate perceptions about Indigenous communities need to question their own 'mis'-education and unlearn those and understand how universities have perpetuated Western canons of thought — that's what I mean by decolonizing," she says.
"It's about engaging in critical self-reflection and critiquing the institutional structures, policies and pedagogical practices and the curriculum."
Goodleaf notes that Tanja Tajmel, associate professor at the Centre for Engineering in Society, is joining Tirmizey in working toward positive change. A physicist by training, Tajmel questions the colonial assumptions in the Western science in her project Decolonizing Light.
"We are teaching this content to our students without sufficient historical context and geopolitical awareness," she says. "Who benefits from this knowledge? What do Indigenous people know about light? Why don't we know about it?"
Beyond the classroom: a student reflects
As a third-year student of Tirmizey's, Haighton will soon be taking her new awareness of Indigenous issues with her into the workforce. She questions whether she can have an impact right away, as a rookie engineer in a large firm.
"But as young engineers rise through the ranks, it will definitely have an impact on future projects," says Haighton. "There's no quick fix."
The February 18 workshop is organized by Nancy Acemian, lecturer in the Department of Computer Science and Software Engineering.

Faculty members of the Gina Cody School of Engineering and Computer Science are invited to register online for the workshop "Strategies on Decolonizing the Engineering/Computer Science Curriculum" taking place February 18 from 1:30 to 3 p.m. in the Engineering, Computer Science and Visual Arts Integrated Complex (1515 Ste. Catherine St. W.), EV-2.309.
---