Concordia PhD candidate produces a graphic novel on Indigenous education in Quebec
Emanuelle Dufour's doctoral research-creation project explores First Nations and Quebec realities through multiple perspectives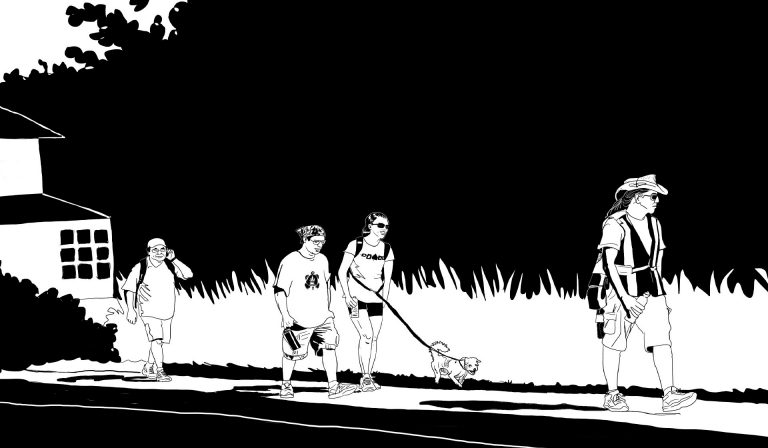 In 2016, PhD student Emanuelle Dufour completed the first chapter of a research-creation project, "J'ai une histoire à raconter: Les mémoires graphiques, outils de subjectivation et de rencontre."
The project was an illustrated graphic novel about the history of Indigenous education in Quebec with a special emphasis on the role of cultural safety for Indigenous students.
It was selected as a finalist in the Social Sciences and Humanities Research Council (SSHRC) Storytellers contest.
Now Dufour, a doctoral candidate in Concordia's Department of Art Education, is back with a prequel of sorts.
"This chapter precedes the earlier one," she says. "It's a collection of memories in image form. It was done with the collaboration of 40 Indigenous and non-Indigenous participants, and it invites readers to undergo a process of auto-examination regarding their posture toward Indigenous realities."
"Des histoires à raconter: D'Ani Kuni à Kiuna" is being exhibited at the Department of Art Education in the Engineering, Computer Science and Visual Arts Integrated Complex until October 27.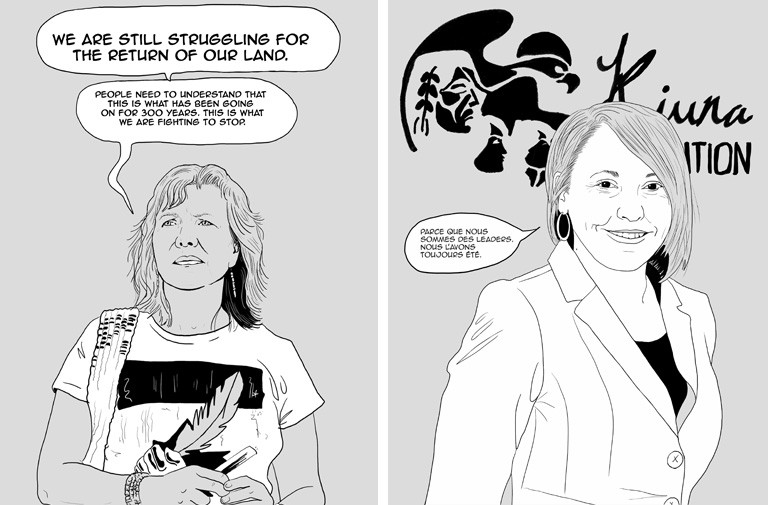 Ellen Gabriel (Kanien'kehá:ka artist and activist), Prudence Hannis (Abenaki, Associate director, the Kiuna Institution).
Misunderstanding and recuperation
The title of the graphic novel refers to the popular lullaby "Ani Kuni," which in Quebec was long-associated with Iroquois cultures and popularized by the non-Indigenous pop singer Madeleine Chartrand in 1973.
However, investigations by CBC/Radio Canada in 2017 discovered that the song in fact originated with the Arapaho people of Colorado and Wyoming.
"The first part of the title refers to the profound lack of understanding around this song — which is not a lullaby, but a song of lamentation extracted from a ghost dance — and the cultural appropriation," says Dufour.
"I wanted to underline our state of ignorance and the isolation in which the various peoples on this territory have been kept through the neocolonial system."
On the other end of this spectrum is Kiuna — at once a reference to Kiuna College, the Odanak institution run by and for First Nations students that succeeded Manitou College, and the word "kiona," which means "we" in Abenaki.
Dufour has published peer-reviewed articles about the residential school system, about Manitou College Community (for which she won the Concordia Stand-out Research Award in 2017), and about the Kiuna Institution (that earned her the Fonds de Recherche du Québec's Étudiants-chercheurs étoiles prize the same year.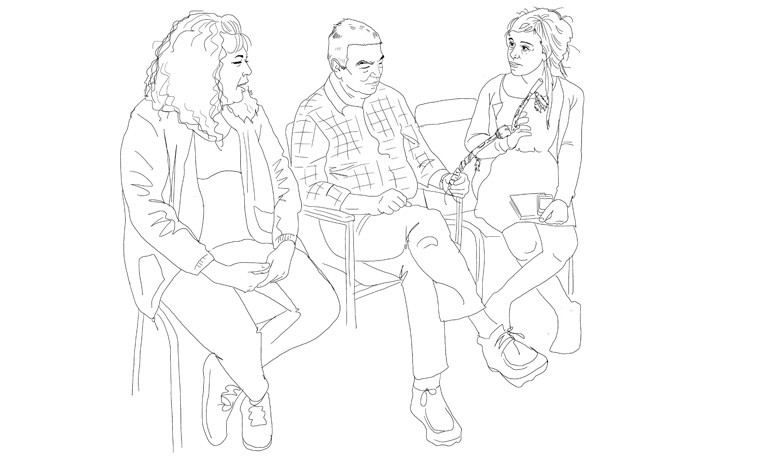 From left: Anna Mapachee (Anicinape and Cree, Anicinape teacher), Jacques Kurtness (Innu, psychology teacher and ex-negotiator) and Emanuelle Dufour (Quebecois, phD student).
Stranger in one's own country
Asked what motivated her to research and produce the graphic novel, Dufour is philosophical:
"I think my journey is similar to that of many Quebecers. I realized I'd travelled to something like 40 countries without ever meeting the First Peoples from my own country, even if my own family has been here for 200 years," she says.
She refers to a statement Ojibwe activist and broadcaster Jesse Wente posted on Twitter: "If non-Indigenous Canadians artists want to make work about residential schools, why not tell the part of the story that is yours? The story of survivors is really not yours to tell. But there is a side of the story that you should explore deeply."
And so this new chapter looks critically at Indigenous underrepresentation in society and in the Quebec education system in particular, the effects of the Oka Crisis and the negative impacts of stereotypes, among other issues, all in the hopes of keeping the dialogue going.
"Reconciliation concerns everyone. I think that's the message that's starting to spread. Misunderstanding leads to stereotypes and prejudice and this prevents empathy and understanding of the issues facing First Nations people," Dufour adds.
"Dialogue necessitates that we do this little bit of work on a personal level, and I think this is the least we can do."

Emanuelle Dufour's research-creation project "Des histoires à raconter: D'Ani Kuni à Kiuna" is on display now until October 27 in room 2.635 of the Engineering, Computer Science and Visual Arts Integrated Complex (1515 Ste-Catherine Street West).
You can also keep an eye on Emanuelle Dufour's website for the release of her graphic novel, expected in spring 2020.
Find out more about Concordia's Department of Art Education.
---