Concordia students tackle today's urban challenges through CityStudio Montreal
Experiential learning projects focus on alternative transport, cultural safety and more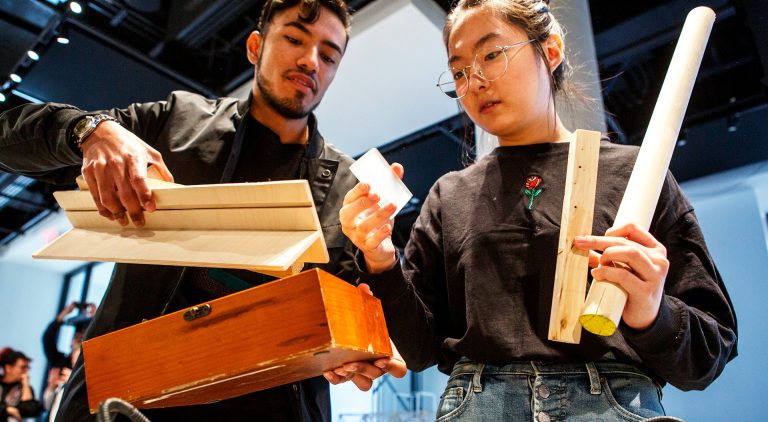 As rapid urbanization and new technologies transform cities, experts are faced with the serious challenge of equipping citizens for a largely unknown future.
Empowering citizens to sustain intelligent communities requires civic buy-in on many levels.
To bridge a connection between researchers, students and city officials, Concordia, Maison de l'innovation sociale and Espaces temps founded CityStudio Montreal. This initiative matches Concordia courses from any discipline with the city's agenda for a customized lineup of projects promoting better living.
It's a win-win for students and the city. Students have the opportunity to apply the knowledge and skills acquired in their courses to prototype projects, develop critical thinking and devise creative solutions to complex urban issues. The city, on the other hand, will benefit from a think-tank environment for experimentation and innovation.
On November 28, Concordia professors with an interest in matching one of their courses with an urban challenge are invited to a presentation by CityStudio Montreal at 4TH SPACE.
"Due to its commitment to experiential learning, Concordia is a great asset to the partnership developing CityStudio Montreal," says Raphaëlle Bilodeau, project coordinator for CityStudio Montreal.
"Since this is a project dedicated to exploring and experimenting with ways of addressing urban challenges, Concordia's dynamic and engaged student body is an ideal group for bringing this concept to life in Montreal."
This fall, 150 Concordia students are tackling five urban challenges identified by city employees as part of CityStudio Montreal.
Urban forests
Insufficient growth space, damaged land and a lack of resources prevent urban forests from thriving. The challenge is to increase urban canopy diversity and surface area and improve communication methods to encourage community engagement.
Elizabeth Miller and Frederico Hidalgo from Concordia's Faculty of Arts and Science are working with students in Moving Images (COMS 384) in the Department of Communication Studies. Together they have created a series of "tree portraits" to help city staff increase public knowledge of multifunctional green spaces and increase participation in planting and maintaining healthy trees.
"Our mandate is to promote the use of media to bring about awareness around the benefits of tree planting and maintenance and more broadly the role of trees in our cities," says Miller, professor of communication studies.
"We want to improve tree literacy by creating compelling stories and portraits to help the community perceive trees differently."
Pedestrian safety
Excessive motor traffic in dense urban areas directly contributes to a higher frequency of collisions between vehicles, cyclists, pedestrians and other vulnerable users. These include persons with disabilities, elderly citizens and children.
Donny Seto, a lecturer the Department of Geography, Planning and Environment, is working with students in Impact Assessment (URBS 480). They are devising ways to make Montreal's intersections more secure and harmonious.
Masoumeh Kazemi-Zanjani, associate professor of mechanical, industrial and aerospace engineering, is integrating this challenge into an engineering capstone design project she is supervising.
The goals include implementing new technologies to improve road safety in Montreal, disseminating examples of proper travel practices and behaviour and promoting accessibility and equitable sharing of urban space.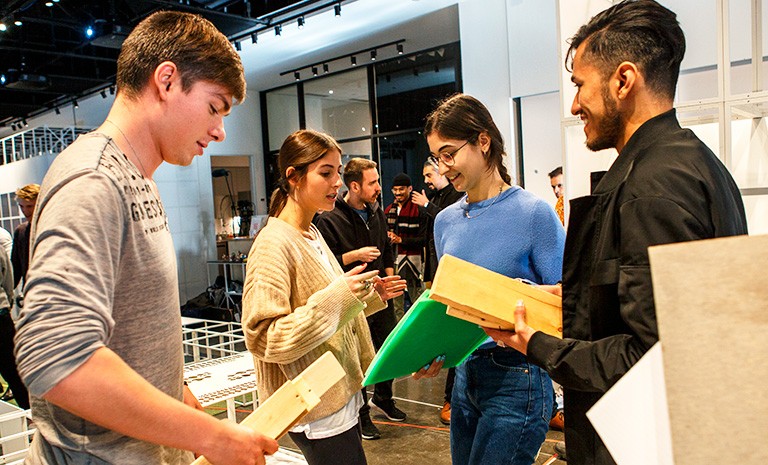 Smart communities and civic tech
"Civic tech" refers to the use of technology to strengthen democratic links and information channels between citizens and governments. In the advancement of smart communities, experts are seeking ways to make data openly available, visualize data in ways that is 'readable' to citizens, and share data governance between civil society organizations, academia and the general public.
Carmela Cucuzzella, associate professor of Department of Design and Computation Arts, teaches History and Theory of Design for Sustainability (DART 263) in the department. Her students are tackling data-collection methods, data-visualization strategies, and ways to include civic engagement in the development of smart cities for improved sustainable urban living.
"I have introduced the CityStudio assignment as a final project in my undergraduate class," says Cucuzzella.
"The students are feeling a real impact from the exciting challenges, and I believe that their questions are the best indicators for future research. It is a tremendously fruitful experience."
Alternative transportation and domain public occupation
As new modes of sustainable and intelligent transportation — such as electric scooters, self-driving vehicles and ride-sharing — gain popularity in Montreal, infrastructure challenges also arise.
The city must address issues of accessibility, lack of space dedicated to micromobility systems, underserviced areas and the saturation of roadways and public transit networks.
Geography, planning and environment students in the Urban Laboratory (URBS 333), taught by assistant professor Silvano De la Llata, are exploring various methods to properly integrate new shared mobility services into Montreal's urban reality.
Cultural safety and urban space
Although Montreal's urban areas offer many opportunities for Indigenous people, several safety issues and socioeconomic disparities remain. Indigenous communities have limited access to culturally safe services, and they are more vulnerable to feelings of alienation and intimidation when interacting with civic services.
Sébastien Caquard is associate professor of geography, planning and environment who teaches Geomedia and the Geoweb (GEOG 466). His students are working on projects to engage cultural safety practices for the well-being of Indigenous people living in urban areas.
In developing the projects, they are examining relationships between public services and Indigenous communities, and promoting, recognizing and involving Indigenous knowledges in the city.

Join CityStudio Montreal and current Concordia participants for a public talk at 4TH SPACE on November 28 from 2 to 4 p.m. Visitors will have a chance to learn more about project outcomes and ways to get involved with CityStudio.
For more information on CityStudio Montreal and to learn how it can be linked or integrated into your classroom, send an email to cities@concordia.ca.

---