Inclusive, decarbonized cities are a top priority for Concordia researchers
Meet the Smart, Sustainable and Resilient Cities and Communities team on November 12 at 4TH SPACE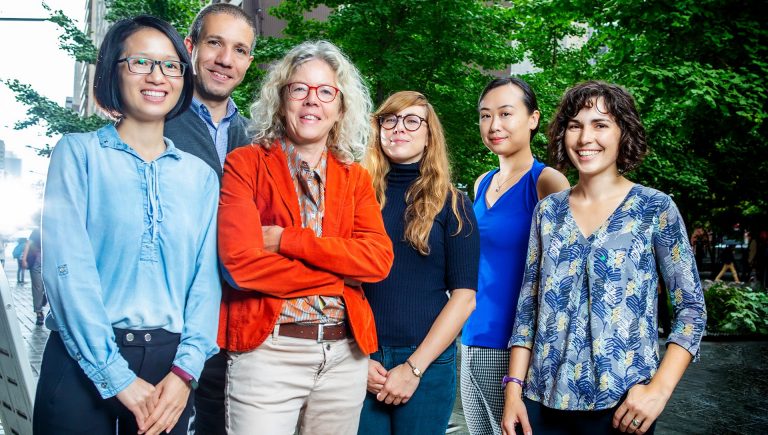 Concordia's 4TH SPACE is hosting its NextGenCities program, which brings together faculty, students and community partners in a shared vision for sustainable urban futures.
As part of the series of events, the public is invited to meet the university's Smart, Sustainable and Resilient Communities and Cities team on November 12 and participate in an interactive exhibition of interdisciplinary research.
A global commitment
As governments and leaders attempt to examine cities down to a science, metropolitan knowledge centres like Concordia are becoming more responsible for action than ever.
"With the spotlight on cities intensifying, Concordia's researchers are taking a transdisciplinary approach to map the complex links between all aspects of city life," says Christophe Guy, vice-president of research and graduate studies. "They are developing innovative tools and comprehensive resources to inform municipalities and civil society organizations on measurable solutions for urban challenges."
In recent years, Concordia has been steadily growing its research capacity in the area of smart and sustainable cities. With a critical mass of 160-plus researchers, the university is responding to the sustainable development imperative in several key ways. Clean energy infrastructure, electric transportation, the preservation of natural ecosystems and art-based urban interventions are a few examples.
"The university has established itself as a leader in reimagining and reinventing ways in which we dwell in and develop metropolitan areas," Guy adds.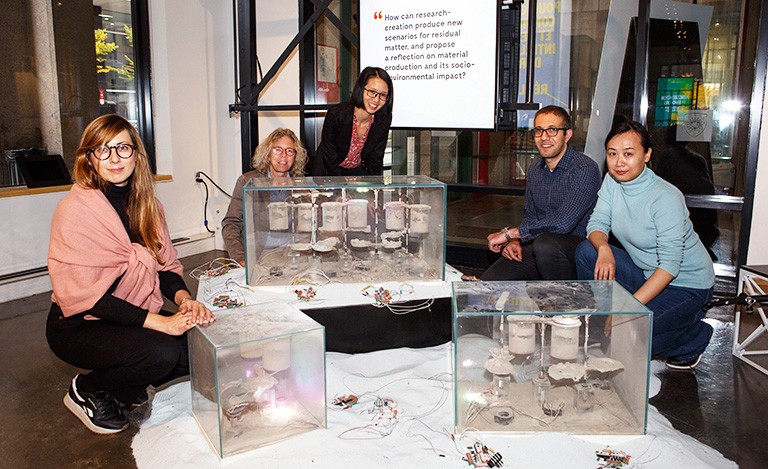 Leading a multi-faceted approach
Concordia reached a milestone when it named Ursula Eicker as the new Canada Excellence Research Chair (CERC) in Smart, Sustainable and Resilient Communities and Cities in April 2019.
Eicker will lead the ambitious research initiative, funded by a seven-year, $10-million grant from the Government of Canada's CERC program. It aims to transform cities defined by the consumption of energy and resources in order to achieve sustainable, accessible and inclusive urban spaces.
Eicker is joined by five new faculty members: Jing Hu, Alice Jarry, Chunyan Lai, Mohamed Ouf and Carly Ziter.
Sharing knowledge
On November 12, the CERC team will be formally introduced to the public at 4TH SPACE. To facilitate a participatory experience, the venue will be organized according to interactive display zones that each showcase thematic aspects of collaborative cities research at Concordia.
Here is a glimpse of what visitors will observe:
Eicker will talk about the research goals of the CERC in front of a projected interactive visualization map of the key concepts that each member is exploring.
An interview with Hu, assistant professor in the Department of Philosophy, will play in the mini-cinema zone.
Jarry, assistant professor in the Department of Design and Computation Arts, will present an art installation exploring new potential scenarios for recycled glass in Quebec.
Lai, assistant professor in the Department of Electrical and Computer Engineering, will introduce a student-designed prototype of an electric cargo trailer called the City Mule to be driven with bicycles.
Ouf, assistant professor in the Department of Building, Civil and Environmental Engineering, will present a screen which displays what kind of data is available in building automation systems, how it is visualized, how we use this data to identify occupant behaviours and to develop predictive models to predict this behaviour. It will also illustrate future research directions that would integrate these predictive models in building operations to optimize their performance.
Ziter, assistant professor in the Department of Biology, will exhibit lab materials, specimens and fieldwork tools used to assess the ways our urban green spaces can conserve biodiversity and provide benefits to people who live in the city.
"This is exciting for us. Finally, together as a team, we will officially introduce ourselves and share our collective mission with future partners and the broader community," says Eicker, who is also a professor at the Gina Cody School of Engineering and Computer Science.
"The CERC team is a core group of researchers linked to a much larger interdisciplinary network of cities-related research at Concordia. We are thrilled about the chance to distinguish our own goals within the CERC while also demonstrating our innovative collaborations with colleagues."

Celebrate the official announcement of the Canada Excellence Research Chair in Smart, Sustainable and Resilient Communities and Cities from 4 to 6 p.m. on November 12 at 4TH SPACE (1400 De Maisonneuve Blvd. W.) on Sir George Williams Campus.
This event is free of charge but registration is recommended.
---