2 Concordia students land at the 2019 Paris Air Show
The representatives showcased the university and gained valuable insight at the world's largest aerospace expo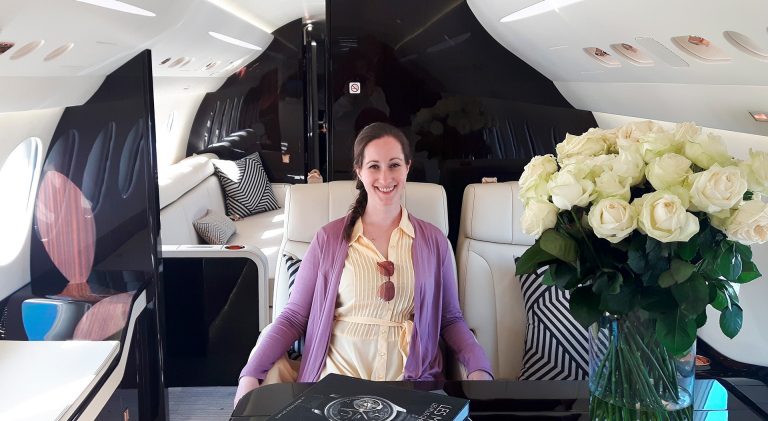 What were the highlights of your experience at the air show?
AC: Exploring the four massive exhibition halls. There were 2,450 companies present, supporting every aspect of aircraft development, maintenance and operation — from rivet suppliers to landing gear manufacturers to flight simulation specialists.
The Avion des Métiers hall featured aerospace-related training, such as pilot and maintenance schools, while the National Air and Space Museum hall offered guided tours of the supersonic Concorde and Boeing's double-decker 747.
But the pièce de résistance was directly on the runway — static installations of military and commercial UAVs (unmanned aerial vehicles), helicopters and airplanes from all over the world.
What struck you most about the air show?
AC: Just how enormous the aerospace sector is! And the variety of career opportunities. Aerospace is a monumental international collaboration — more so than I imagined. The Paris Air Show truly represents how globalized this industry has become and uncovers so many ways to get involved in the industry.
The aerospace sector is filled with people who love aircraft, from amateur remote-control aircraft hobbyists to experts who have dedicated their lives to developing the industry.
What else did you get out of it as a student considering different career paths?
AC: The experience provided an excellent overview of the types of aircraft that are both well established or currently making their way into the market. It also provided an insight into the major original equipment manufacturers, operators and suppliers involved in developing and maintaining aircraft. It was a unique opportunity to create contacts within any of these sub-sectors, all in the same environment.
Did you make meaningful professional contacts?
AC: Yes! James and I were so grateful for the opportunity to meet with researchers and industry professionals who took the time to explain their roles in the sector and the projects they've worked on, to invite us on tours of aircraft and production plants in the surrounding areas, and to impart stories from their years of experience.
I believe the dedication and enthusiasm of the aerospace community is what sets this industry apart, a belief that was reinforced at this event.
How did you get this opportunity?
AC: CIADI and the Office of the Provost and Vice-President, Academic put out a call for two bilingual students (one grad and one undergrad) involved in aerospace to represent Concordia, Montréal, Québec and Canada at the Paris Air Show's Le Bourget Exhibition Centre — an opportunity of a lifetime.
One of my PhD supervisors, Catharine Marsden, who holds the NSERC Chair in Aerospace Design Engineering, let me know about it. I sent an email to CIADI expressing my interest, and was called in for an interview.
While I had never been to such an event, I knew it would be the place to be for anyone in the aerospace community. I got the call a few days later saying I had been selected.
Who else was at the Air Show from Concordia?
AC: Nadia Bhuiyan, former director of education at CIADI and Concordia's vice-provost of partnerships and experiential learning, was there, as was Christian Moreau, CIADI's director of research. Also attending were Kash Khorasani, a professor with CIADI, and Lorena Marzitelli, a recruiter for the School of Graduate Studies.
What impact has Concordia had on your career and your life?
AC: When I walked into my first day at Concordia in September 2009 as a biology student, I had no idea what an impact this university would have on my personal and professional development.
Concordia has been the ultimate platform for opportunities to engage in immersive learning experiences, and has opened so many doors I would never have known existed.
The Paris Air Show has been one of the highlights of my career as a Concordia student. I am so grateful to have gotten the opportunity to represent the university and showcase all the opportunities available to students at such a prestigious international gathering.

Learn more about the Concordia Institute of Aerospace Design and Innovation and the Gina Cody School of Engineering and Computer Science.
---