An upcoming exhibition at Concordia connects the public with space science
AUG. 12-22: New 4TH SPACE programming will showcase student projects, invite participants to make their own Mars habitat and more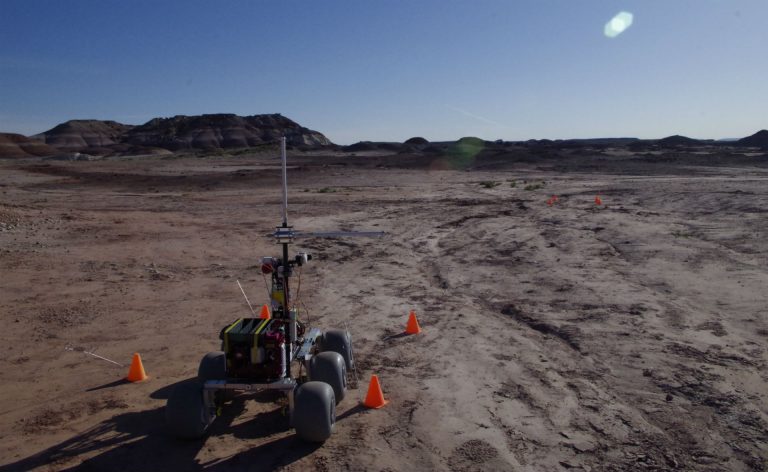 Scientists, engineers and curious individuals alike will be able to get a feel for student group Space Concordia this month.
The university's immersive exhibition venue, 4TH SPACE, will host an event showcasing student projects from August 12 to 22.
"Space Concordia has always been about engaging the public. We're inspired when we inspire others," says the society's president, Hannah Jack Halcro.
Less than a month after the 50th anniversary of the 1969 moon landing, the projects featured at SPACELAB: Space Concordia Summer Garage will turn the spotlight onto student achievements and ongoing projects in areas like satellite, rocket and rover engineering, space sciences and other future endeavours.
The students behind these projects — who can usually be found designing, building and competing in space and aerospace sciences — will be onsite to explain their work.
The many sides of space
According to Halcro, SPACELAB will also provide hands-on activities such as a "make your own Mars habitat" table where participants will use recycled material to create artistic visions of human life on the planet. Industry partners such as the Planetarium, the Royal Astronomical Society of Canada and the Cosmodôme will also be supplying a variety of activities.
Information showcases on a wide array of topics will include a focus on women in space and the history of Canada's space involvement.
"We hope to show the many sides of space," says Halcro, affirming that Space Concordia's main aim is to demonstrate how accessible the space community actually is and encourage people of all ages to get involved in it.
Even for those who may not excel in fields like engineering, Halcro says space is such a diverse field and there are aspects of space science that can be interesting and relevant to anyone. From a variety of sciences, to policy and law, to aesthetics and art — Halcro emphasizes that many different kinds of knowledge go into space missions and experiments.
The right venue
Welcoming, flexible and creative, 4TH SPACE will serve as the perfect place for an exhibition like SPACELAB, according to Halcro. Along with Space Concordia colleague Claire Wells, she has been working tirelessly, on top of school courses, part-time jobs and managing a student group, to make the event come to life in collaboration with the venue. Despite the late nights, Halcro says they have had a blast putting it all together.
"They've helped us a lot with the visual identity of the show," she adds about the 4TH SPACE team. "I can't wait to get the last pieces in place and open the doors!"

Space Concordia's free exhibition, SPACELAB, takes place August 12 to 22 at 4TH SPACE in the J.W. McConnell Building (1400 De Maisonneuve Blvd. W.) on the Sir George Williams Campus.
---