Concordia researcher exposes the economic and environmental impacts of global data centres
PhD candidate Patrick Brodie asks who benefits from media infrastructure and how the public relates to these sites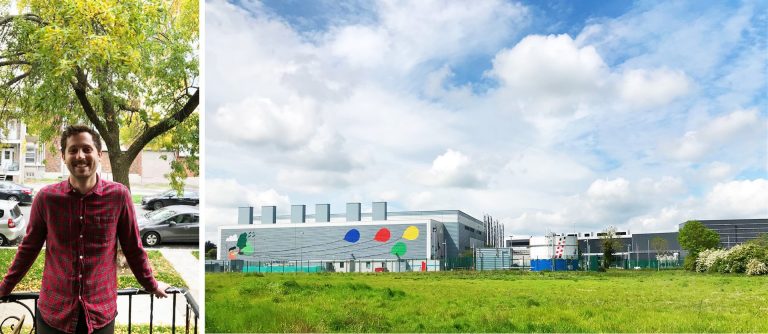 Every day, swaths of personal data are shared over the internet and collected by multinational corporations like Google, Facebook and Amazon. But where is this data physically stored? And what economic and environmental impacts do global data centres have on the areas that surround them?
Patrick Brodie is a PhD candidate in the Mel Hoppenheim School of Cinema and an affiliate of the School of Irish Studies. He hopes his research will help to "lift the lid" on how global data centres function as media infrastructure.
Brodie recently presented at a conference in Helsinki called Infrastructures and Inequalities: Media Industries, Digital Cultures and Politics on October 21.
Global tech and media companies will go anywhere to save a few dollars
How does this specific image (top, right) relate to your research at Concordia?
Patrick Brodie: The building pictured is the Google data centre in Grange Castle Business Park South near Clondalkin, County Dublin, Ireland. The Irish economy is largely dependent on the presence of technology companies like Facebook, Google, Apple, Microsoft and Amazon.
My research focuses on what Lisa Parks and others have called "media infrastructure." I approach these sorts of buildings and physical sites as cultural objects, representative of certain logics of economic and political life in Ireland and elsewhere.
Data centres are integral to storing and circulating the information that we access through our phones, computers and other personal electronic devices on a daily basis. Without them, the internet as we know it would not function. However, as private infrastructures, they also use enormous amounts of energy, drain public resources, employ very few people and actively hide where and how they operate.
My research asks, who benefits from media infrastructure and how does the public relate to these sites? What sort of politics emerge when these technology companies come to assert power over places and governments? And what can critical researchers do to direct the resources used and extracted by transnational companies back toward the public good?
What is the hoped-for result of your project?
PB: At a basic level, I hope that my project will help to "lift the lid" on how these media infrastructures work. This goes beyond the technical systems themselves — the tubes, wires, machinery and the like — and into spatial development and planning policy.
Notoriously, Ireland has been a place where tech companies pay extremely low corporation tax on their operations, and this includes data centres. How do companies secure permission to develop these sites, despite the environmental costs and lack of public benefit? Why bend over backwards for investment when most of it is never even seen in Ireland?
I also hope that my research will help to inform how policy around these industries are developed in Ireland. These logics of economic development extend from the technology to the cultural industries, where global media companies are also given huge tax breaks to make films. I hope my research provides some groundwork in disentangling how these logics of corporate development operate at governmental as well as cultural levels.
What impact could you see it having on people's lives?
PB: It may seem difficult to see the benefits of critiquing these industries, rather than necessarily proposing solutions. But I'm arguing for slowing growth in certain sectors — especially one as environmentally implicated as the data centre industry. This will hopefully cause some to see the short-sightedness of Ireland's gambles on transnational investment to secure the economic (and environmental) future of the country. This is crucial for struggles toward spatial and environmental justice.
Global tech and media companies will go anywhere to save a few dollars and take advantage of a friendly business and regulatory environment. Their "green" initiatives are geared toward saving face at a public level, not necessarily long-term sustainability. We should be very critical of how governments hand over money and power to corporations to take care of the environment, when perhaps more stringent regulatory policy on big business is what is needed.
Hopefully, more critical research into the Irish government's policies around foreign direct investment will raise awareness about alternative ways to sustain an economy that does not rely so heavily on the extractive practices of global corporations.
What are some of the major challenges you face in your research?
PB: It is often difficult to secure interviews and information. Much of it is "black-boxed," especially in terms of the location of data centres and how they operate. I have to get creative to figure out where they are — which has sometimes just involved wandering around business parks in suburban Dublin.
What first inspired you to study this subject?
PB: I have spent a good deal of time in Ireland, and my master's thesis at Columbia University focused on Irish media.
During my first year at Concordia, my PhD seminars were taught by Marc Steinberg, Joshua Neves and Kay Dickinson. They all pointed me toward global cultural studies, critical theory and especially infrastructure and labour studies. This inspired me to take a critical focus on the infrastructures of Irish media, which operate in a very business-orientated regulatory environment.
I became fascinated with data centres as critical infrastructures for the global economy that do not receive very much public attention. Dublin has been called the data centre capital of Europe, with dozens circling the city. It seemed an area that needed more research, and many are starting to realize the effects of these buildings and the development interests they represent.
What advice would you give interested STEM students to get involved in this line of research?
PB: Get out there and visit sites, if within your ability and personal safety. Data centres are often scattered in semi-remote locations surrounding cities and their suburbs, but once you are there, you really get a sense of the scale of these things. They are huge. Do not be afraid to walk — and of course, use public transit if available — as a method.
In addition, talk to anyone who will talk to you, and collaborate whenever possible. You never know what will build your understanding or expertise. Never shy away from a research rabbit hole when mapping the stakeholders in researching physical and spatial development. You may find yourself speaking to anyone from so-called "NIMBYs" (Not In My Back Yard) to spatial planners, or security guards to forestry experts. They all have an important role to play.
What do you like best about being at Concordia?
PB: I appreciate the encouragement of interdisciplinary and hands-on research at Concordia. I am based in the Mel Hoppenheim School of Cinema, and I'm an affiliate of the School of Irish Studies. But I have also had opportunities to work and converse with artists, designers, geographers, anthropologists, communication scholars, oral historians, among a range of other perspectives.
The Montreal research community more broadly has also been profoundly influential for my work, from McGill to various research institutes across the city's universities.
Are there any partners, agencies or other funding/support attached to your research?
PB: My dissertation research benefits from the generous funding of the Fonds de Recherche Societé et Culture de Quebec. In addition, I received a Mitacs Globalink Research Award for my field work in Ireland, where I was based at Trinity College, Dublin in Geography.
I received entry scholarships from Concordia's Faculty of Fine Arts and the School of Graduate Studies. Finally, I am a member of the Global Emergent Media Lab.

Find out more about Concordia's School of Graduate Studies.
---