Concordia researcher uses gold ash to uncover means for slowing the progression of cancer cells
Subhathirai Subramaniyan looks to 'bridge the gap between traditional and modern medicine'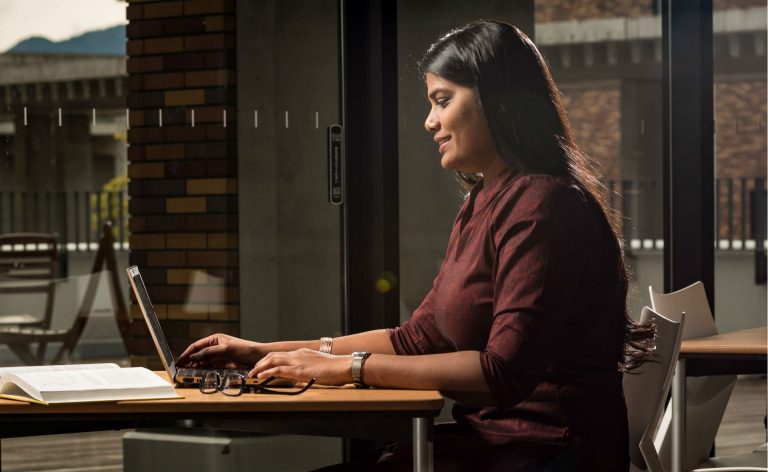 What happens when Siddha and Ayurveda medical systems are combined with Western cancer treatments? That's a question that Subhathirai Subramaniyan, postdoctoral fellow in mechanical, industrial and aerospace engineering at the Gina Cody School of Engineering and Computer Science, aims to find out.
The physician of Siddha medicine with a PhD in micro-engineering is using gold ash to find clues for fine-tuning the nanoparticle synthesis intended for cancer drug development and delivery.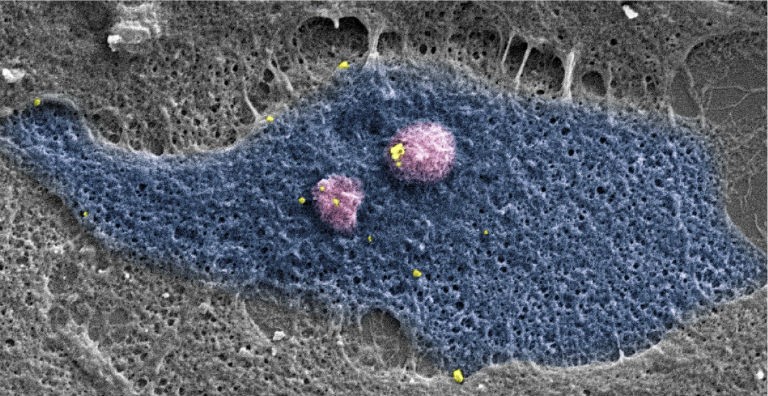 Image courtesy of
Beaudet, D. et al.
New ideas make research enjoyable and truly rewarding
How does this specific image relate to your research at Concordia?
Subhathirai Subramaniyan: Our objective is to uncover means for slowing the progression of cancer cells. We are studying the cell entry mechanisms and intracellular behaviour of metal particles in cell lines. This is an image of a human cancer cell line (HeLa) carrying gold ash.
Gold ash, or Swarna bhasma as we call it in the Siddha and Ayurveda medical systems, has been used to treat cancer, infertility and diabetes and a number of other chronic ailments since the medieval times.
What is the hoped-for result of your project?
SS: The gold ash could offer clues for fine-tuning the size, shape and chemical properties of the nanoparticle synthesis in our lab intended for cancer-targeted drug development and delivery.
What impact could you see it having on people's lives?
SS: With the arrival of technologies to assimilate large genetic information of individuals, personalized cancer therapy has translated from a concept to reality. Our tailor-made formulations will hugely contribute to increasing the sensitivity and response for the intended people.
What are some of the major challenges you face in your research?
SS: I am a physician of Siddha medicine, with a PhD in micro-engineering (nanoscience and Bio-MEMS). Integrating medicine and engineering along with finding an interface for these complementary fields was initially challenging. However, it has allowed me to more creatively troubleshoot problems I encounter in the lab.
What first inspired you to study this subject?
SS: Metal-based medicine is the last resort for treating chronic diseases in the Indian system of medicine. As a physician, I wanted to understand the interaction between metal particles and living cells. In this era of scientific research, we have sophisticated tools to study a system at its most fundamental level.
We have a rich archive of traditional medicines that needs to be investigated with modern technology. These studies can bridge the gap between traditional and modern medicine and that is what inspired me to study this subject.
What advice would you give interested STEM students to get involved in this line of research?
SS: There is a huge demand for biocompatible nanomaterials for therapeutics, diagnostics and imaging. Millions of STEM jobs go unfilled due to an expert shortage. It's a hot and booming field and we need people who are experts in all the four disciplines.
Cultivating a growth mindset and being open to new ideas can make research enjoyable and truly rewarding!
What do you like best about being at Concordia?
SS: Muthukumaran Packirisamy is one of the few scientists working on lab-on-chips and optics and Indian medicine in the Western world. In his lab, I have had the opportunity to work on different projects that provide me with practical experience and increase my exposure as a multi-disciplinary researcher.
Are there any partners, agencies or other funding/support attached to your research?
SS: I am supported by Concordia, the Horizon Postdoctoral Fellowship and a Natural Sciences and Engineering Research Council grant.
I also want to thank Dr. Simona Badilescu, Ahmad Sohrabi and rest of the metal-ash team for their contributions.

Find out more about the Gina Cody School of Engineering and Computer Science.
---