Concordia students team up with Bâtiment 7 in the name of sustainability
Campus-community connections come to life in Pointe-St-Charles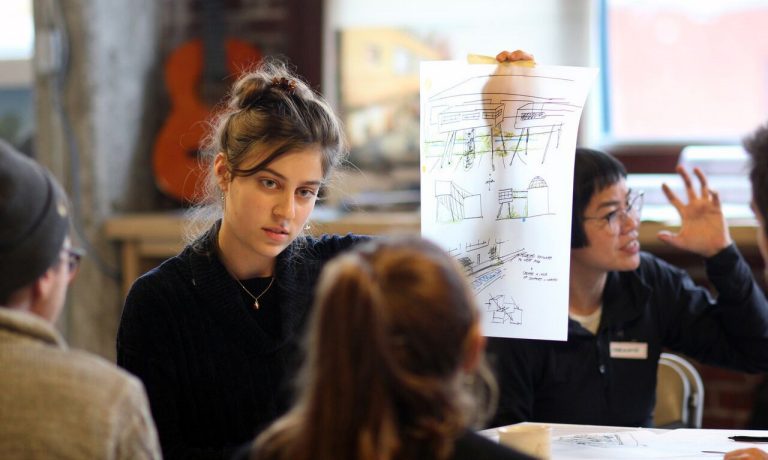 What does sustainability in action look like?
The folks at Bâtiment 7, a citizen-led urban design project in Pointe-Saint-Charles, are demonstrating how to ground sustainability in a community context.
And now, the space will be able to benefit from the support and leadership of Concordia students who wish to apply their interest in social and environmental issues outside of the classroom through a new Living Labs initiative supported by the Sustainability Action Fund (SAF) and the Office of Community Engagement (OCE).
The process for engaging students and community members in the Living Labs initiative begins with an info and ideation session on September 17.
It will enable potential participants to learn more about the sustainability needs and goals of Pointe-Saint-Charles residents. Students can then connect with others who are interested in designing solutions-based sustainability projects for the coming year.
Located in the southern tip of the southwest neighbourhood, Bâtiment 7 is a former CN heritage industrial site that has been reclaimed by the community and is now home to 16 community-led projects that respond to local needs.
For Hermine Ortega, Bâtiment 7 workshop coordinator, Living Labs is an opportunity to welcome students as active contributors to emergent community projects.
"Students at Concordia frequently wear many hats that reflect their varying interests in engaging with the world," she says.
"Many of them come from other neighbourhoods where they have had positive impact as community organizers. Programs like this one allow us to benefit from their skills, expertise and commitments to fostering positive social impact."
A sandbox for student involvement
In 2018, Bâtiment 7 welcomed Concordia as its first post-secondary institutional partner. Since then, a staff member from the OCE has been on-site to help coordinate a range of university-led and -supported projects.
Charmaine Lyn, senior director of the OCE, says being at Bâtiment 7 is "an exemplar of Concordia's commitment to embracing the city. It's an effective site for channelling the community engagement interests of our students."
The university's presence at the space will now include additional support through the Living Labs initiative. Over a two year period, it will award funding to projects that engage community members of Pointe-Saint-Charles and students through the living laboratory method.
This will provide students with opportunities for experiential learning while collaborating on meaningful projects that embrace sustainability and community action.
Mark Underwood is the CEO of SAF and has been visiting Bâtiment 7 over the past year to get better acquainted with the model and its potential as a sandbox for student involvement.
"We have increasingly been interested in applying our commitments to fostering sustainability off campus," he says.
"This will be the first time students will benefit from the financial support of our program in order to have a direct impact on the culture, politics and environment of Montreal neighbourhoods."

To learn more about Living Labs, attend the info and ideation session on September 17 from 3 to 5 p.m. at Concordia's Centre for Teaching and Learning.
---