Concordia students carve out space for Arab artists in Montreal to collaborate
Following successful open mic nights, Abjad Howse will host its first group performance at Bâtiment 7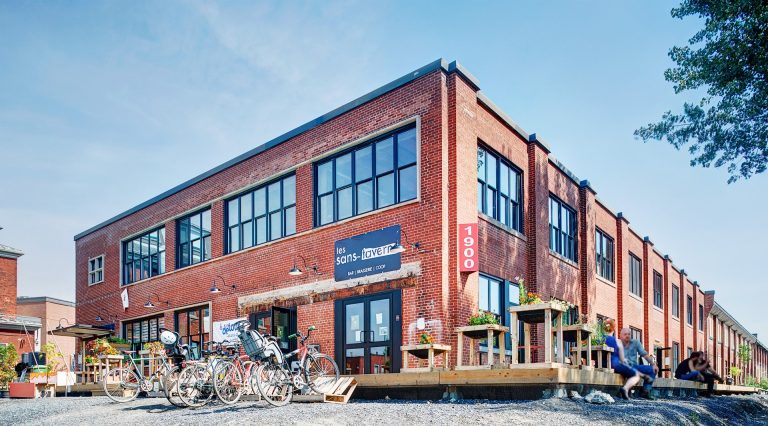 A group of Concordia students are creating a space for Arab artists in Montreal to build community.
Johnny El Hage (education studies), Emma Haraké (art education), Sandy El Bitar (drama therapy) and Joyce Joumaa (film studies) are among the founding members of Entreprise Culturelle Abjad Howse. The group hopes to provide an opportunity for Arab artists in Montreal to meet, work together and articulate their diverse experiences of living in the city.
The name Abjad Howse is a clever cross-language play on words: it's the Anglicization of Abjad Hawaz, the vocalization for the first few letters of the Arabic alphabet. In English, it has an additional meaning.
"It is the concept of a house that brings all the artists of Arab origin here together to design it the way they would like," says El-Hage, who studies how art can inspire social and political change. He is supervised by Maria-Carolina Cambre, associate professor in the Department of Education.
"Abjad Howse provides a space for artists who really aren't finding these niches in other galleries or art spaces," Joumaa adds.
'Language is an extremely important element for artists'
The group started an open mic night series where Arab artists can perform stand-up comedy, read poetry, sing or dance and share their stories on every second Thursday of the month. The aim, El Hage says, is to connect with other artists in the community and give them a space to "express freely about their life and their struggles in Montreal."
Heading into the third event in March, the series is already gathering steam.
"We held the first one in a co-working space and it had no theme, and people still showed up. At the second one, we had more people coming up to the stage," says Haraké. "For me it's an indication of a need for the community to come together and listen and share."
Open mic participants often prefer to perform in Arabic, but some do so in English and also in French. For audience members who don't understand Arabic, Abjad Howse connects them with Arabic speakers who offer translations throughout the show.
"Language is an extremely important element for artists. When we immigrate we can express in English and French, but when we speak in our native language it is different because we bypass this translation phase. I think this is where the magic of art happens," El Hage says.
Bâtiment 7 collaboration
In addition to the open mic nights, Abjad Howse is working on its first collaborative project. El Hage says the group is hoping to have three-month cycles of a rotating cast of artists who will put together a multidisciplinary performance.
The inaugural show, which Abjad Howse member and filmmaker Eli Jean Tahchi calls a "non-conventional play" with music, dancing and singing, audio visuals and installations, is called I thought I was white. El Hage says the title gets at an experience many of the 12 artists shared.
"We come from a place that we love, but it also has a lot of prejudice and a lot of racism, and I think we were privileged where we lived," El Hage says. "This transition from where we did not have anyone whiter than us to coming to a place where we became people of colour was something that came up regularly."
The performance will take place at Bâtiment 7 — a venue that the group was able to access, thanks to Concordia's Office of Community Engagement (OCE).
Alex Megelas, OCE program and communications coordinator who works out of Bâtiment 7, says the collective that runs the former CN train shop turned community space had been looking for new member projects.
He met El Hage during a University of the Streets Cafe public conversation on accessibility. After the two talked, they stayed in touch and Megelas connected El Hage to Bâtiment 7. El Hage also spoke at a subsequent University of the Streets conversation about how art can contribute to social justice struggles.
"Abjad Howse is a community initiative that exists for and by its members — people of Arabic descent who are in Montreal and have a unique set of perspectives artistically and socioeconomically and who may not be represented in arts institutions," Megelas says.
"We saw this was a good fit and also a strategic means of bringing in people who may not necessarily see themselves in a space like Bâtiment 7."
Campus-community connections
Charmaine Lyn, senior director of the OCE says Abjad Howse also dovetailed with the OCE's interest in performing arts as a way to connect the university and surrounding communities.
"Performing arts can be such a powerful vehicle for a university to extend itself out into the world and across the kinds of barriers that are part and parcel of our city experience — barriers that are linguistic, economic, cultural," Lyn says.
The Abjad Howse–Bâtiment 7 connection also fits within one of Concordia's nine strategic directions, to embrace the city through community and public engagement.
El Hage hopes to keep expanding the network of artists who are involved in Abjad Howse — both Arab and non-Arab — and encourages anyone interested in participating to reach out.
"We would love to discuss any project people have in mind," he says. "Let's work together and create more projects, more collaboration, more experimentation."

Check out the Abjad Howse website to learn more about the new group celebrating Arab art in Montreal.
Find out more about Concordia's Office of Community Engagement.
---