Concordia joins forces with Bâtiment 7 for a new kind of community research partnership
Embedded engagement officers facilitate collaborations between the university and the building collective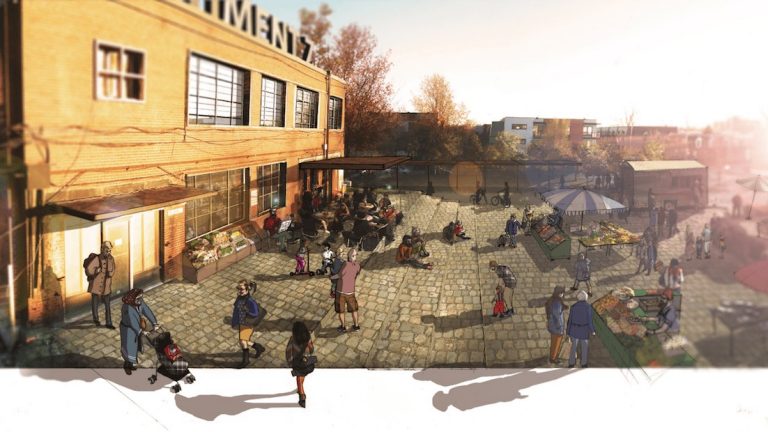 Concordia students and faculty are learning from — and with — the community, through an innovative presence at Bâtiment 7, a former CN train shop in Montreal's Pointe-Saint-Charles neighbourhood.
They are there to connect the university to community mobilization efforts and grassroots urban development — everything from horizontal governance models to sustainable uses of former industrial spaces.
At the same time as they learn and advance their research, Concordians are directly contributing to the evolution of a site that's equal parts arts collective, grocery co-op, brew pub and social movement — all aimed at combatting gentrification and profit-driven development.
"Participatory research and research-creation, such as the work being done at Bâtiment 7, provide an excellent avenue for connecting our researchers, both faculty and students, to the wider community," says Christophe Guy, vice-president of Research and Graduate Studies.
"This type of engagement is critical in bringing our work out of the academy to apply it to real-world problems, and to inform new and socially relevant directions for Concordia researchers to take."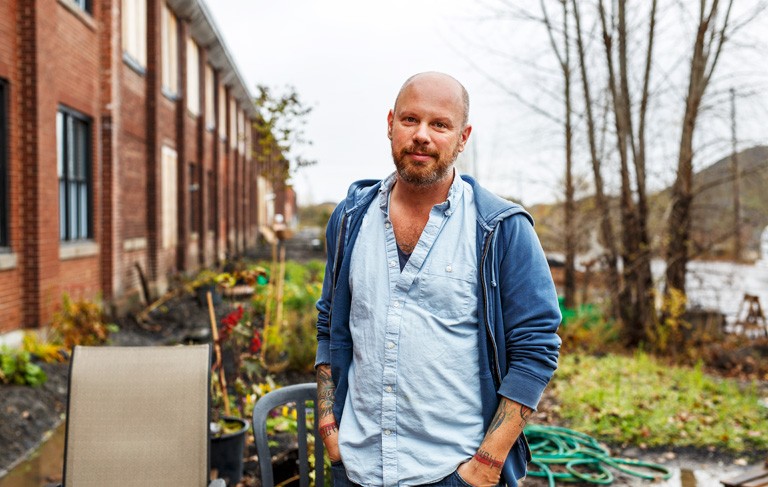 Alex Megelas: "We're here first to listen, to build relationships, then propose solutions." | Photo: Lisa Graves
What also makes the Concordia-Bâtiment 7 relationship unique is the degree to which the university has signed on to contribute funding, resources and social vision. Concordia's contributions are funded jointly by the Office of Community Engagement (OCE), the Office of Research and SHIFT, Concordia's social innovation hub.
"Being here feeds into Concordia's interest in city-based learning," says Charmaine Lyn, senior director of the OCE.
"Having a role in the development of Bâtiment 7 moves students and faculty outside of the classroom, into a reciprocal dynamic where they can apply their own academic imperatives while also directly serving community priorities."
Alex Megelas is OCE programs and communications coordinator. He is also one of the university staff assigned to Bâtiment 7, helping Concordians provide practical solutions and foster knowledge production.
He says the new collaborative model ensures direction comes first and foremost from the community, rather than being driven by external researchers. "This is exciting. We're here first to listen, to build relationships, then propose solutions."
A relationship that makes a difference
Located at 1900 Le Ber Street, Bâtiment 7 has been open to the public since May 2018. It took 15 years of community organizing to reach that phase and both the projects and the space are continuing to evolve.
Currently, there are 13 groups operating as part of Bâtiment 7. Aside from the brew pub and grocery store, there are co-op bicycle and car repair facilities and a youth-run arcade, facilited by Concordia student Michelle Duchesneau. There are also plans for a daycare, birthing centre and food production hub.
Another notable initiative is La Coulée, the metal work shop on the second floor. It was established by Concordia fine arts graduates who saw the project as a way to advance a feminist inclusion mandate, in line with Bâtiment 7's broader social and political mission.
"La Coulée is an example of a workshop intended to be used by and for people from different social and cultural groups. We think that by building and fixing things together, people will better understand each other's reality. And for Bâtiment 7, success is measured by its diversity and accessibility," says Kevin McMahon, the building's project manager in charge of financing.
McMahon works directly with the Concordia OCE team to coordinate between researchers, professors and community members.
"The relationship with Concordia makes all the difference for us. With Concordia, we're collaborating on concrete goals," he adds.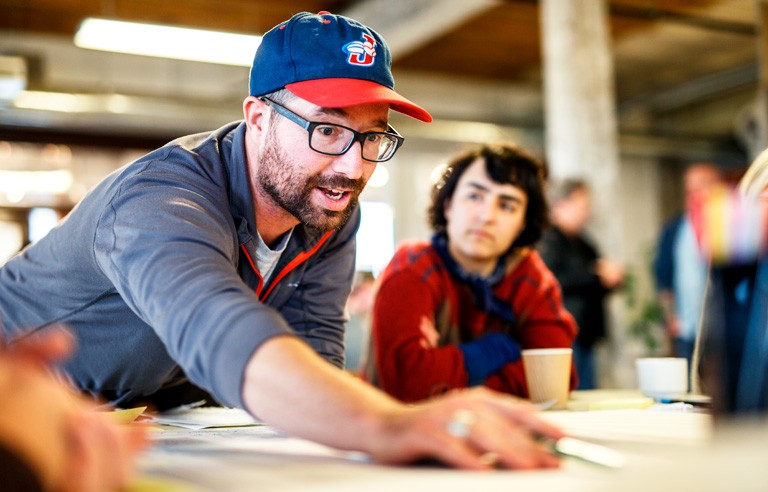 "With Concordia, we're collaborating on concrete goals," says Batiment 7's Kevin McMahon. | Photo: Lisa Graves
A model of community evolution
One of the professors with the longest relationship with Bâtiment 7 is Anna Kruzynski, who teaches in Concordia's School of Community and Public Affairs. Kruzynski is a Pointe-Saint-Charles resident interested in local efforts to combat gentrification. She's using her knowledge to help Bâtiment 7 members organize, a particularly challenging task because they are looking to eschew traditional forms of governance. At the same time, the building collective is informing her research.
"I'm looking to document emancipatory economic initiatives on the margins of the social economy," Kruzynski explains.
"Each group within Bâtiment 7 has a set of economic practices. I'm also working to help the overall group by accompanying their transition toward a large-scale, collective, self-management structure and way of functioning," she adds.
"What Concordia gets out of this relationship is the opportunity for our students to get their hands dirty, to be engaged in one of the 13 projects at Bâtiment 7 or in the overall ecosystem. They can learn about communications, about setting up a business plan for alternative economic initiatives, about supporting youth, a million different things."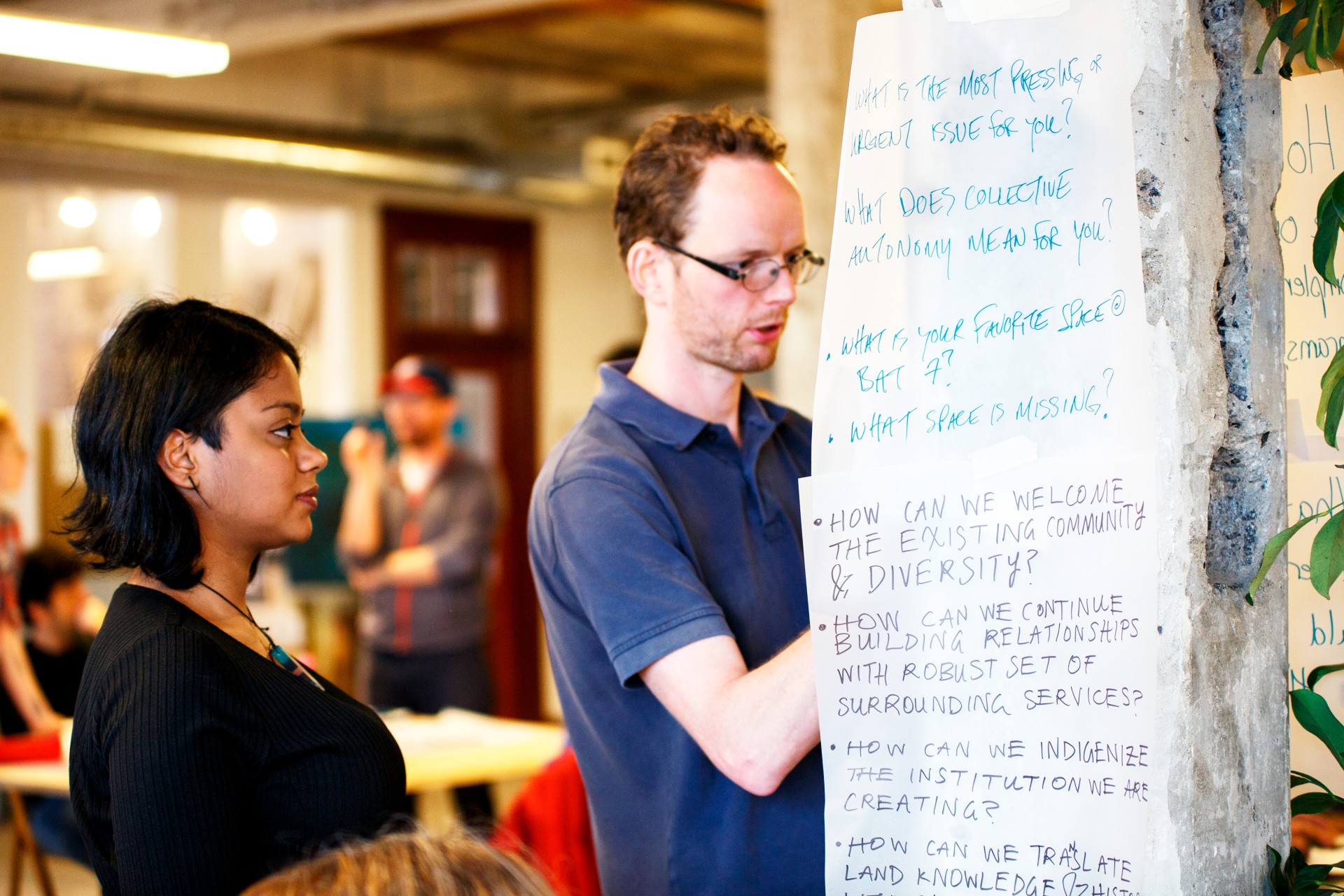 © Concordia University, photo by Lisa Graves
The art of planning space
Current Bâtiment 7 projects only occupy about a third of the inside space. Though some of the rest will be taken up by the food and family services initiatives, there are several issues — both inside and out — for which the community is turning to Concordia for design and planning help.
To that end, a number of Concordia professors took part in a design charrette — a form of stakeholder consultation where ideas about design can be freely exchanged and adapted. They included Carmela Cucuzzella, Alice Jarry, Kregg Hetherington, Maude Lecourt and Shauna Janssen. The charrette was also open to their students, eager to apply this strategy in an embedded community context.
"We are hoping that, with our students and by listening to the desires and needs of the community, we can help come up with ideas that reflect the community's values for the development of the exterior of the building," says Janssen, director of Concordia's Institute for Urban Futures.
"The community is interested in creating a new public space and possibly a community garden. We're also looking at possibilities for a green alley and blue alley, linked to water management."
Janssen thinks supporting Bâtiment 7 demonstrates Concordia's commitment to experiential learning opportunities for students and highlights the role of the OCE in that regard.
"This is a unique, pro-active model that sees the OCE significantly contribute to the work of researchers on the ground."
She says the design charrette and ensuing work will bring to the initiative best practices for building and developing our cities.
"We get to support communities in a way that is different than what they get from the City of Montreal or from developers. We bring in more of the ethos of inclusivity and diversity. We're facilitating and taking part in a process of co-creation, rather than the standard top-down design process."

Find out more about Concordia's Office of Community Engagement.
---