Bâtiment 7's grassroots ecosystem is 'pushing the boundaries of capitalism'
From a grocery store to an art workshop, the Pointe-St-Charles heritage site is pioneering community-operated business models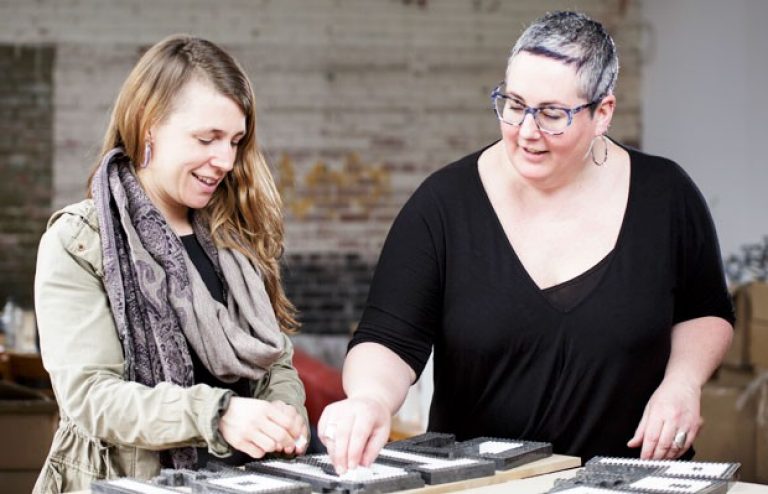 Two Concordia researchers are focusing their attention on Bâtiment 7, a self-managed, collectively owned community space located in a former train shop in Montreal's Pointe-Saint-Charles neighbourhood.
Anna Kruzynski, professor in the School of Community and Public Affairs, and grad student Michelle Duchesneau want to see how this recently opened project will challenge conventional capitalist practices.
"We're looking at how the organizations within it are making decisions in a collective manner," says Kruzynski.
"This building is controlled by the community, making it so much easier to develop it according to the needs of the community."
Initiation and impact
The research goal is not only to study the alternative approaches that come out of the space but to measure their impact as well.
A good example is the building's not-for-profit grocery store. As a self-managed organization, members of the store will be faced with decisions about what to sell. Bananas may be up for debate since they're expensive to import, often produced by workers who are exploited and the transit required contributes to pollution, Kruzynski explains.
"By making these practices visible and reflecting on them, people can more easily make ethical decisions," she says, like deciding whether or not it's economically, socially and environmentally sustainable to sell bananas in Quebec.
Both Kruzynski and Duchesneau, a master's student in Concordia's Individualized Program (INDI), use participatory action research to gather and produce knowledge.
For Kruzynski, it is not enough to take notes on her observations of the space and conduct focus groups. She also creates the conditions that put participants at the heart of the research process and its interpretation.
Press start
This collaborative spirit is evident in Press Start, Bâtiment 7's youth-run cooperative arcade. The project is part of Duchesneau's graduate research. Supervised by Kruzynski, Duchesneau confronts the traditional power dynamic by including youth in the work as co-researchers and subjects.
By participating in a series of workshops that are designed and facilitated with and for youth, Duchesneau says the young people involved will have the opportunity to see the economy differently and experiment with non-capitalist practices.
"My aim is to work with youth towards creating a post-capitalist future," she says.
Deep roots
A resident of Pointe-Saint-Charles, Kruzynski says the Bâtiment 7 project is especially important to her. She was actively involved in the 10-year battle to get the building donated to the community.
"After having put all those years into the campaign, it just seemed natural that my research and my activism come together," she says. "It's an amazing initiative to study."
Duchesneau, who also has strong ties to Pointe-Saint-Charles, says her supervisor's rootedness in the community and within Bâtiment 7 are a boon for her own research.
"It means that I have more ongoing supervision," she says.
"Having a supervisor that knows Pointe-Saint-Charles as well as I do is helpful because she is able to challenge my perspective of the community."
Pushing the boundaries of capitalism
Anna Kruzynski
In 2005, a real estate developer acquired the building with plans to construct condos at the site. However, locals campaigned against the idea, and proposed to have the building donated to the community, so it could be turned into a space that would better reflect their needs and desires.
Bâtiment 7 is home to a not-for-profit grocery store, a family friendly brew pub, a cooperative arcade, an affordable art school and many more initiatives. More than 100 people are involved in the 90,000 square-foot heritage industrial building's various projects.
The building's transformation will roll out in phases, with its completion scheduled for 2020. Kruzynski hopes the organization will inspire other neighbourhoods in Montreal to take up more sustainable, socially just practices.
Located at 1900 Le Ber Street in Montreal, the building has been open to the public since Monday, May 7.
"I hope to see an ecosystem in Bâtiment 7 that is sturdy and strong," Kruzynski says.
"One that is teeming with a multiplicity of alternative economic practices that are pushing the boundaries of capitalism and building better livelihoods."

Learn more about Concordia's School of Community and Public Affairs.
---