'My role is to connect people': meet Concordia's first Indigenous community engagement coordinator
Geneviève Sioui builds bridges between the university and Indigenous communities so they can achieve their collective goals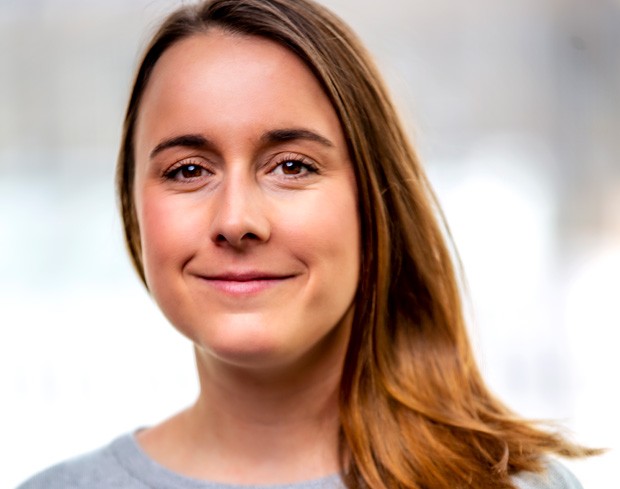 Geneviève Sioui: 'We can do great things.' | Photo by Concordia University

As a woman with Huron-Wendat and Québécois roots, Geneviève Sioui's expertise in relationship-building between Indigenous and non-Indigenous peoples is deeply informed by her personal and professional experiences.
Sioui is now applying those skills as Concordia's first Indigenous community engagement coordinator.
Charmaine Lyn, senior director of the Office of Community Engagement (OCE) and former special advisor to the Provost on Indigenous Directions, explains that Sioui will inhabit a diplomatic role at the university.
"She'll be accompanying Concordia and its partners in the development of initiatives that are mutually beneficial, and which also advance a larger, commonly held goal of relationship building between Indigenous organizations and the university," Lyn says.
"Geneviève's role is to set these working relationships up for success by ensuring that expectations are managed and protocols and community-preferred practices are respected on the path towards this collective goal."
Triggered in part by the establishment of the Indigenous Directions Leadership Group in 2016, Sioui's position was developed in response to the surge in interest to explore and develop Indigenous partnerships and programming opportunities.
She joined Concordia in January 2018.

'The university is a place where we can try things'

How have your previous experiences informed your role as the Indigenous community engagement coordinator?
Geneviève Sioui: When I finished university, I worked at the Dialogue Network, which connects researchers who work on Indigenous realities around the world. The most important thing I learned there was how to do research with communities.
One project that stands out was when we collaborated with the Quebec Native Friendship Centres to better understand the realities and needs of urban Indigenous populations. It was really interesting to see how research can be done with community organizations so that it helps them — not just university-affiliated researchers.
I really liked the main researcher's approach of mobilizing knowledges. Instead of thinking of knowledge as something you transfer to someone else, it is the idea that there are different types of knowledges — that everyone is an expert in their own field and experience — and that if we put them together, we can build something stronger.
Something else I learned that relates to my role is that organizations that emerge from the community know what their community's needs are.
While working at the Native Friendship Centre of Lanaudière, I helped with an after-school homework program that originated out of some Indigenous employees taking time off their work to help students coming to the centre. The employees eventually organized something more formal and the program now welcomes 45 kids every weeknight.
These kids are coming willingly because the program fulfills a need and we build on it. Community organizations know who their clientele are, what they need and how they can serve them. The downside is non-profit organizations have limited budgets, which often leads to overworked employees.
The university has more resources, including financial resources, space, students, professors and staff. There are tools here and if we make them available to community organizations, we can do great things.
How would you define your role as the Indigenous community engagement coordinator?
GS: My role is to connect people and communities to resources, and support initiatives that come from Indigenous groups, students or citizens. Ideally, these initiatives address inequalities that Indigenous peoples face, such as limited access to education and health care compared to the non-Indigenous population.
For example, say an Indigenous community wants to recruit students to volunteer in their garden. I will do my best to connect them with those students and work to ensure the students are culturally competent enough to work safely with the community. Such a project could lead to stronger collaborations that will have positive effects on the health of that community.
I can also provide guidance for long-term relationship building between the university and Indigenous communities. This could look like Concordia sponsoring community-based programs, for example. Such partnerships would be wonderful commitments from the university towards community-led education and reconciliation. I think these are some of the deeper, important collaborations we could see.
What would you like people to know about your role? What can people contact you for?
GS: First, I hope that Indigenous students, faculty and staff, communities, and organizations feel like they can reach out to me and know that I am here to support their initiatives. If people are not sure whose door to knock on with their project idea, they can come to me and I will connect them with the right people.
Another substantial aspect of my position is working with non-Indigenous colleagues and students to offer guidance when it comes to respectfully navigating Indigenous protocols and traditions.
People may come with very good intentions, but my role requires that I ask if their aims correspond with what an Indigenous community or group wants.
For example, if a professor wants to invite an elder to open an event, I will talk to them about the content of their program and the ceremonial opening's relevance or meaning. Are there Indigenous participants on the panel? Why do you want to have this opening? To what extent are Indigenous voices and knowledges present in the rest of the program?
I encourage people to do their own research before reaching out because educating yourself is a good way to become an ally of the Indigenous community. This work really underlines what reconciliation can look like and how to actively participate in that. I'm really happy people are taking this work up for themselves.
Can you give us an example of an exciting partnership?
GS: StartUP Nations is a social entrepreneurship initiative developed by the Table régionale d'économie sociale des Premières Nations, in partnership with Concordia. Its goal is to provide Indigenous youth with tools to develop their business acumen and self-confidence.
Initiatives like this demonstrate Concordia's commitment to Indigenous Directions. Not only is it community-led, it started at Concordia thanks to an emerging relationship between the Table and Anna Kruzynski, associate professor in the School of Community and Public Affairs.
The initiative also ensures the community's needs, tools and resources are shared, and it contributes to the training of young Indigenous people who will bring knowledge and experience back to their communities.
Concordia connects young people with Indigenous students and professors, and the youth see first-hand that going to university is both possible and accessible.
What does a typical day at work look like for you?
GS: Ideally, I meet with Concordia staff and external community organizations who are planning events or projects. I also spend time at the Aboriginal Student Resource Centre to see what the students are up to.
I really enjoy creating opportunities for students, community members, and faculty and staff to connect, brainstorm, and collaborate together on something they're passionate about. Seeing that sort of knowledge mobilization and relationship development is always an amazing experience.
Why is this role important to you? What do you hope to accomplish as the Indigenous community engagement coordinator?
GS: The university is a place where we can try things. We have the resources to develop new partnerships, projects and ideas that serve communities and address the marginalization of Indigenous peoples, languages and ways of knowing.
I don't mean the university will solve problems for the community — Indigenous communities know what they need — but I want to explore how the university can be useful to communities as a space to create their own solutions, by and for themselves.
I know you also work closely with the Indigenous Directions Leadership Group. Can you share a bit about that relationship?
GS: The IDLG was already an established community of Indigenous staff, faculty and students when I got here, so I am fairly new to it. Everyone in the IDLG has recognized a need for Indigenous voices to be given a greater platform within the university, and they are doing this in addition to their everyday responsibilities.
This work can be taxing, so it is important for me to support the work they are doing by creating moments of connection.
Do you feel your role has an impact on the wider university and Montreal community? If so, how?
GS: I want to help people feel connected to others around them, whether they work within or outside the university. Staff at the OCE are here to help take your project from an idea to something real.
What has been your most meaningful experience in this role so far?
GS: I really enjoy meeting students because they come from all over, have a range of different experiences and ideas, and are really engaged and driven. It is very stimulating to see their passions shine through their work, and to watch as they support one another and thrive in many ways.
Being part of a larger Indigenous staff and faculty presence than I have experienced in the past is also really great. It is nice to know we have been through similar experiences and are working towards similar goals.

Learn more about Indigenous Directions at Concordia.
---