Concordia public conversations take on art and social justice, access to health care and more timely topics
Starting Feb. 5, join University of the Streets Café for its newest slate of participatory programming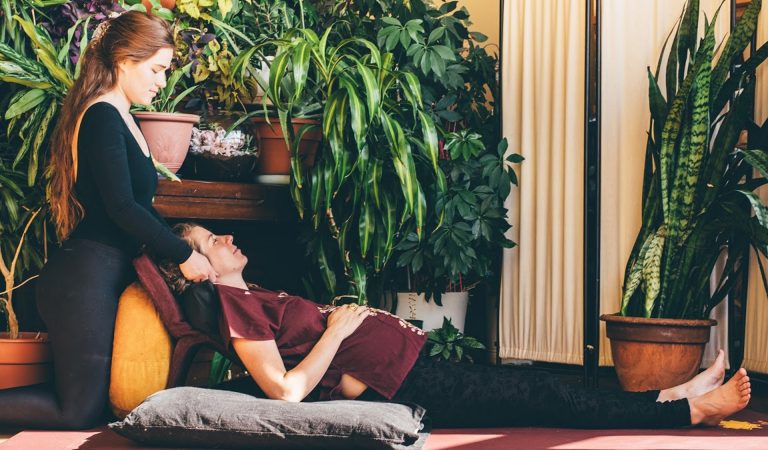 Does post-secondary education reinforce domination? Is health care a right or a privilege? How can we ensure equitable access to reproductive and birthing care for all?
This winter, University of the Streets Café is gearing up to take on these pointed questions and more. The public conversation series is anchored in the theme of Just Cities and will focus on issues related to social justice and art, and access to alternative and reproductive health care.
Concordia's Office of Community Engagement (OCE) chose two venues to split the six-session program — the Concordia Art Hive and Afrique au Féminin.
Located in the Engineering, Computer Science and Visual Arts Integrated Complex (EV Building), the Concordia Art Hive is a space that offers free and open art making to anyone interested in self-care and community building.
Afrique au Féminin is a non-profit organization in the Parc-Extension neighbourhood. It supports immigrant women in improving their living conditions and facilitates their integration into Quebec by breaking isolation and providing opportunities for skill-sharing, mutual support and mentorship.
Alex Megelas, programs and communications coordinator at the OCE, stresses the extent to which these sites are well positioned to host these exchanges, given that both organizations are asking critical questions.
"The Art Hive is committed to applying a social justice mandate. We've done lots of work with them in the past and in many of the various hives around Montreal," Megelas explains.
"Afrique au Féminin is a community organization that's very active. We're thrilled to be able to work with them."
Collaborative curation
New to this season's program is a partnership between the OCE and the Tiger Lotus Cooperative, a feminist wellness centre made up of health-based practitioners, community activists and researchers from diverse backgrounds.
Megelas says Tiger Lotus had a strong influence in determining the scope of the conversations at Afrique au Féminin. Their worker members will moderate all three sessions that are taking place there.
"These are folks that I have been in contact with for years through their work in other contexts," Megelas notes. "It's going to be a privilege to learn from them and to hear about how they're conducting their work."
Leonora Gangadeen-King (BA 09), a Tiger Lotus worker member and PhD candidate in psychiatry at McGill University, is excited about the format of the public conversations. She believes discussions like these often only occur in medical and educational contexts.
"It's really important that these conversations are happening with people in the community and not necessarily in a formalized setting," Gangadeen-King says. "We want to be hearing from them too — we don't want to just be lecturing at them."
Courtney Kirkby, another Tiger Lotus worker member and Arvigo Therapy practitioner, sees the initiative as the fruition of many conversations the cooperative's workers have had in the past.
"We wanted to put something out there that was about health justice — accessibility to alternative health," Kirkby says. "When Alex approached us, it was exactly what we wanted to do."
Sneak preview
Here are two conversations to look out for this term:
Whose Art? Our Art!: How could art meaningfully contribute to social justice struggles?
Concordia University Art Hive | February 5 from 7 to 9 p.m.
This conversation looks at the emancipatory potential of art. Guests include Johnny El Hage, founder of Entreprise Culturelle Abjad Howse and Concordia master's student in educational studies, Salima Punjani (GrDip 14), multisensory social artist, and Jane Reväe McWhirter, visual artist and Concordia student.
Emma Haraké, a visual artist and graduate student in the Department of Art Education, will moderate the evening.
Profit and Medicine: How can we resist private interests in our health-care system?
Afrique au Féminin | Centre William-Hingston | February 21 from 7 to 9 p.m.
Health care is becoming increasingly less public. We are seeing more examples of having to pay for medical services that used to be free or instances where access to good quality health care now comes with a price.
This conversation looks at the impact of privatization on our health care, how this shift is affecting our communities and what individuals can do to resist private interests in our health-care system.
Hirut Melaku, lactation consultant and co-founder of the Third Eye Collective, will serve as one of the conversation's guests. She will be joined by Rose Ngo Ndjel, Afrique au Féminin coordinator, and Sonia Osorio, a naturopath, registered massage therapist and certified yoga instructor with more than 20 years of experience.

Find out more about Concordia's upcoming University of the Streets Café events.
---