Concordia launches 4TH SPACE — a dynamic public venue for learning and discovery
The unique platform is designed to inspire researchers and community partners to share their ideas in an 'agile and responsive' environment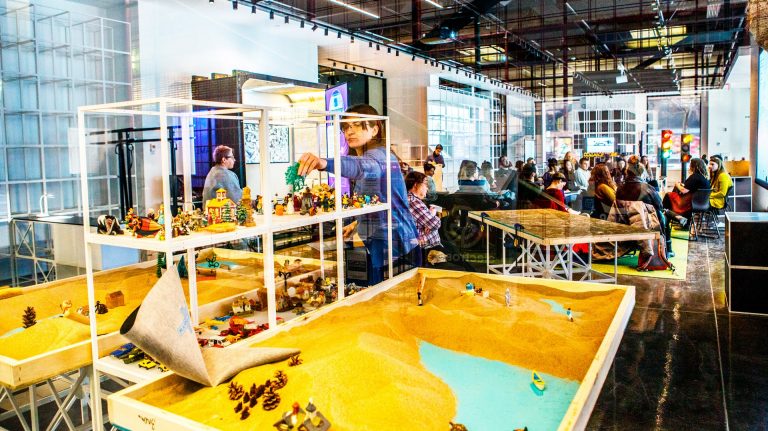 4TH SPACE, a dynamic lab and immersive venue designed to bring knowledge and ideas to life, officially opened today on Concordia's downtown campus.
The public space was conceived as a hub where researchers, students and community members can come together to foster diverse, stimulating conversations and translate these into projects that will benefit Montrealers and people all over the world.
Concordia President Alan Shepard says 4TH SPACE embodies Concordia's commitment to Embrace the City, Embrace the World, one of the university's nine strategic directions.
"4TH SPACE takes Concordia's reputation as one of Canada's most open and connected universities a big step further. Agile and responsive, it expands the blueprint of what a university can be and represents what knowledge creation and outreach will look like in the future," he adds.
Montreal Mayor Valérie Plante is equally enthusiastic about its potential. "I am delighted by the creation of 4TH SPACE at Concordia University, a space that promotes citizen engagement and the sharing of ideas," she says.
"By integrating knowledge, innovation and experimentation, we are able to work more effectively to improve the quality of life for all Montrealers."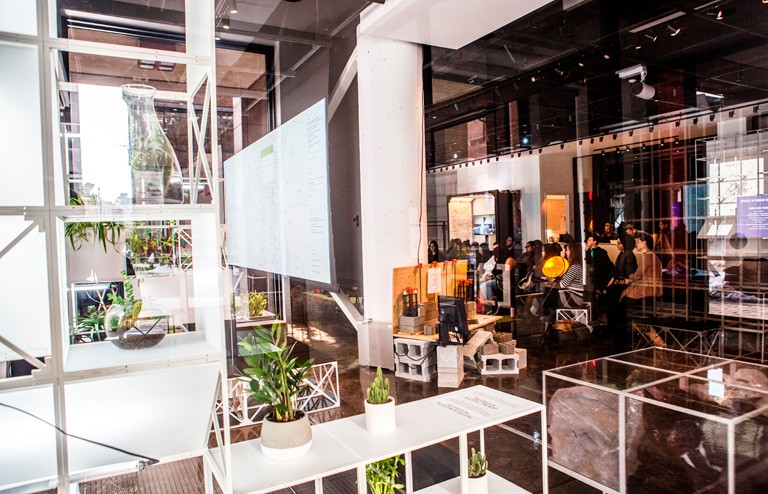 © Concordia University, all photos by Lisa Graves
A new standard in accessible knowledge
Two years of space planning, programming and consultations driven by a diverse team of faculty, staff, students and community partners produced this project. It's designed to inspire researchers and community partners to share the fascinating ideas percolating behind university walls.
All are welcome to experience and engage with 4TH SPACE's curated programming, which includes everything from installations to rotating residencies, and special events such as screenings, idea labs, lectures, performances, consultations, hack-a-thons, conferences and more.
Nightly projections extend the experience beyond opening hours of Monday to Friday, 10 a.m. to 6 p.m.
4TH SPACE is located on the ground floor of the J.W. McConnell (LB) Building (1400 De Maisonneuve Blvd. W.) on the Sir George Williams Campus.
The location was chosen to reflect a focus on accessibility to the world, promote connectivity within the university and with its partners and stand as a reminder of Concordia's spirit of innovation, inclusivity and openness.
The current program, Cities: Urban Essentials, features a collection of presentations, workshops, installations and events on topics including climate change, land consumption and sustainable development in Montreal.
"As a public institution, we're excited about having a dedicated space to share the pioneering work taking place in our city," says Nadia Bhuiyan, Concordia's vice-provost of Partnerships and Experiential Learning.
"We set out with the goal of seeing anyone comfortably explore 4TH SPACE and intuitively immerse themselves in highly accessible experiences that pique their curiosity and demystify how research plays a foundational role in moving society forward."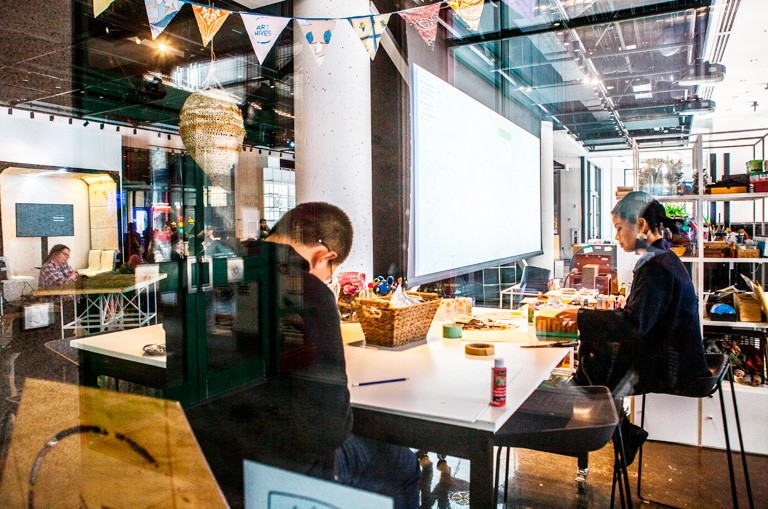 Bringing ideas to life
Fundamentally, 4TH SPACE is about connecting people with knowledge creation, Bhuiyan adds.
"It was created as an asset to foster knowledge sharing among our diverse faculty, students and community partners so that they can transform and render their thought-provoking work and research into tangible and collective learning experiences."
The new venue will provide Concordia students with the opportunity to engage in experiential learning opportunities, share their work with the world and bring their ideas to life.
It will also facilitate researchers' exploration of the real and perceived divide between thought leaders and academia.
"Historically, public institutions have not necessarily sought to include us, engage us or solicit our input in these important conversations — 4TH SPACE is here to help change that," Bhuiyan says.
'Research plays a foundational role in moving society forward'
Justin Powlowski, associate vice-president of Strategy and Operations, says 4TH SPACE will help drive Concordia's next-generation research and knowledge in areas such as smart cities, health, cybersecurity and synthetic biology.
"The university is making huge strides in areas that its researchers have identified to have remarkable potential for social impact and innovation," he adds.
"But without knowledge mobilization, we were missing an important element that will help this important work move from the specialist and into the hands and minds of a much wider audience."
4TH SPACE seeks to engage the public through programming that tears down barriers to teaching and learning and engenders collective growth as engaged citizens.
"No matter what age, discipline or prior experience visitors have, 4TH SPACE will provide them a learning window onto the fascinating way that research can move from theoretical concepts to tangible outcomes," Powlowski says.
"It makes the work of our students, researchers and partners accessible to a world of bright and creative individuals and groups, enabling them to cross-fertilize their own thinking to bring about change."

Find out what people are saying about Concordia's 4TH SPACE.
---