Expo 67: Not just a Souvenir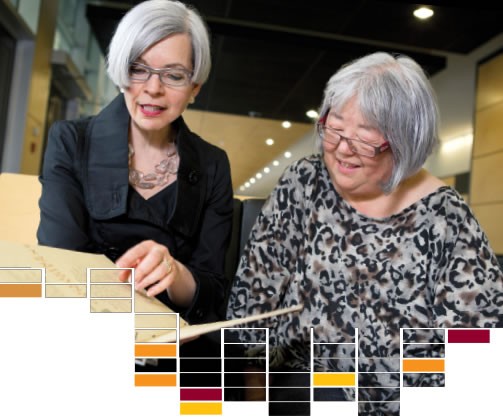 More than four decades have passed, but for people who attended Expo 67 in Montreal, the memories are still vivid. The world's fair was an unprecedented event that captured international attention for its innovative exhibits and architecture, which became iconic symbols of national identity and optimism.
"Montreal was a laboratory for all things that were exciting and modern," says Rhona Richman Kenneally, of Concordia's Department of Design and Computation Arts. Her research on Expo 67's enduring role as a cultural touchstone made headlines.
While the buildings, expressions of cutting-edge architectural styles and methods, have almost all disappeared, the postcards, photos and other ephemera continue to do a brisk trade on eBay and are the subject of a surprising number of blogs.
Expo 67: Not Just a Souvenir features a collection of essays that provide reflections on the context and legacy of the summer when the world's eyes were on Montreal. The book is co-edited by Richman Kenneally and Johanne Sloan, both of Concordia's Faculty of Fine Arts. It includes papers first presented at a conference they organized at the Canadian Centre for Architecture in conjunction with an exhibition entitled The Sixties: Montreal Thinks Big.
The book's essays present the contradictions and convergences evident in Montreal in 1967. Among them: Montreal's debut as a cosmopolitan city coincided with Quebec's révolution tranquille and Canada's celebration of its 100th anniversary since Confederation.
Not Just a Souvenir "represents the work of art historians, architects, sociologists, people in communication studies — a wide variety of areas of expertise," explains Richman Kenneally. "I think what's really nice as a scholar looking back at this, is the interdisciplinary focus … reinforced by Concordia, because one of its key signatures is interdisciplinarity."

Beyond the headlines: Expo 67 Not Just a Souvenir.mp3
Download the podcast (41.7 MB)
In conversation — Beyond the headlines
During the summer of Canada's centennial, Expo 67 was a monumental celebration of art, architecture, technology and cultural identity.
The site, featuring pavilions representing more than 60 countries, was the venue for concerts, performances and events of all kinds. There were 50 million visits during the six-month exhibition, making it the most successful world's fair to date.
The excitement continued for several more years with Man and His World, an exhibition that featured many of the original pavilions plus a number of new attractions.
Richman Kenneally invited filmmaker Germaine Ying-Gee Wong, who worked as a hostess at these events, to reminisce about the anticipation and enthusiasm inspired by them. Both women shared their memories and discussed how the exhibition changed their lives, and the city around them.
Cultural sophistication
The hostesses who worked at the site were expected to embody a cultural ideal. Wong's facility with language helped her win a coveted position. Her own experience, as a young teenager, did not necessarily coincide with that cosmopolitan image.
WONG: I had not known very many people from different cultures before that because I grew up in Verdun.
Verdun was a blue-collar working class neighbourhood that was predominantly white. I mean I was the only Asian person. There was one black girl, and there was one Italian, and that was exotic in those days. And then suddenly I met people from Trinidad and Tobago, I met people from Russia, from every part of the world.
RICHMAN KENNEALLY: I was 10 years old, but I thought that the hostesses were extraordinary … There was an expectation of glamour and sophistication that came from looking at those women who were the communicators of the dream and the vision, the physical manifestation of all of the aspirations of Expo 67.
The quest for a Canadian identity
Expo 67 marked a moment when Canadians were defining the common ground between their northern, rural, coastal and urban communities, as well as their country's relationship with the rest of the world.
RICHMAN KENNEALLY: I think what was really interesting was that bilingualism and biculturalism soon transformed into multilingualism and multiculturalism in the Canadian context … Expo was just one of the many stimuli for thinking of us as an us that could be a we, that was a collective Canada.
WONG: The whole thing about Canadian identity, I don't know that I was ever conscious of being on a quest for identity. I represented Canada, but I don't really feel that I was a representative of Canada.
Lasting impression
RICHMAN KENNEALLY: What was unanticipated was that some of the pavilions were to remain, because they were always perceived as being temporary. And so the French pavilion becoming the casino (Casino de Montréal), or the geodesic dome — the U.S. pavilion — sustaining itself in a variety of iterations.
Last week I was in Chicago in the airport, flying back to Montreal, and when I looked at the electronic signage that identified the destination of the plane, Montreal was represented by guess what? The geodesic dome.
A life-changing moment
WONG: Before Expo, I was a student in modern languages. After Expo, I thought "well to hell with that." I realized that there were such incredible expressions, stories, realities, and I saw also at Expo how everything was interconnected ... So from modern languages, I went into communication arts.
RICHMAN-KENNEALLY: [The experience continues in] what you take away with you afterward. So whether you do that by virtue of the memories ... or whether you bring it home as different souvenirs that then become part of a family narrative ...
The personalization of the story, of the Expo and Man and His World experience, happened in so many ways, in our memories, in our stories, in our future narratives.

Rhona Richman Kenneally has just completed her term as chair of the university's Department of Design and Computation Arts. She brings her background as a scholar of English literature and history, as well as her experience as an architect, to Concordia's design program. Her eclectic academic background encourages her to take an interdisciplinary approach to each project she undertakes.
Recently, she has been studying the social and cultural role of food in both Canada and Ireland. Her research is supported by the Social Sciences and Humanities Research Council of Canada.
In 2011, as a Fellow of Concordia's School of Canadian Irish Studies, she co-organized the first conference of the Canadian Association of Irish Studies to prioritize research in visual, material and spatial cultures. Richman Kenneally also collaborates on a research team investigating memory and identity in Ireland and Quebec. She is the editor of the Canadian Journal of Irish Studiesand teaches courses on Irish material culture.

Germaine Ying-Gee Wong's distinguished career with the National Film Board of Canada spans three decades, with numerous credits in documentary and feature film. She earned her BA at Concordia University.
Many of the films she produced have garnered critical acclaim and recognition, including Up the Yangtze, winner of a Genie Award for best documentary and Atanarjuat: The Fast Runner, which received the Caméra d'Or at the 2001 Cannes International Film Festival.
In 2006, she was a producer on The Point, an alternate feature drama that used at-risk teens as writers and actors to create their own film. In 2004, Wong received a Genie nomination for Mr. Mergler's Gift as well as for RIP: A Remix Manifesto in 2007.