Remote care and patient support,
March 2020 - April 2021 report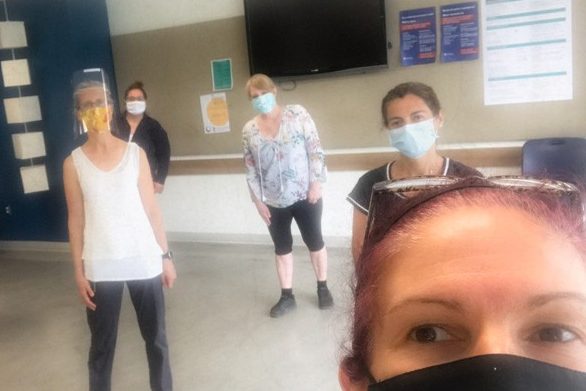 The Health Services team made major changes and innovations to how we deliver care and make services as accessible as possible. Specifically, we have:
Adopted a new, highly secure virtual platform, allowing us to provide phone and video consultation and safely exchange health documents with patients.

Established a protocol to pre-screen patients for Covid-19 symptoms or risk factors prior to in-person appointments.

Developed and updated online tools, fillable forms, teaching tools, and protocols and processes that allow us to provide safer, faster, more standardized, evidence-based care. This included the development of contraceptive teaching tools, as well as tools for teaching self-injections of hormone therapy for patients undergoing gender transition at home.

Replaced our walk-in clinic with a nurse's line, which patients can call five days-a-week for health advice, to ask questions, or for referrals.

Developed a new program to offer specialised case management services for students at risk.
At a glance: From January - April 2021, our clinical team completed over 6,000 patient consultations, and the nurse's line responded to almost 3,000 calls.
The pandemic provided the opportunity to review policies and practices. We struck up and resumed several committees and projects for advancing our work, such as:
The Covid-19 committee, for reviewing practices, monitoring Covid-19 trends and recommending internal policies and procedures for keeping patients and staff safe.

Working across Campus Wellness to improve access to ADHD diagnosis, and medical management and/or access to accommodations if required.

A quality committee with a new accident and incident report to mitigate risk and correct errors.

Conducted a research study that tracked the health and wellbeing of 1,000 undergraduate students across 16 time points. Research data will inform our interventions in Fall 2021.
We maintained and improved certain key services:
Developed the new Health and Wellness hub website, compiling physical and mental health resources for all patients and Concordia students located around the world.

Continued timely access to comprehensive vaccine reviews and free routine vaccination (we were one of the only clinics in Montreal to do so!)

Administered the free flu vaccination for those meeting Quebec criteria as well as some flu vaccination for essential workers on campus.

Necessity is the mother of invention – so when we couldn't bring students to Health Services for free condoms, we decided to deliver condoms to students! The free condom mail-out was an instant success and will continue as we look for more ways to distribute condoms (and more) to students.