Gina Cody School professor supports next generation of Indigenous engineers with Campaign for Concordia gift
'You continue in your life by learning as well as by teaching,' says M.N.Srikanta Swamy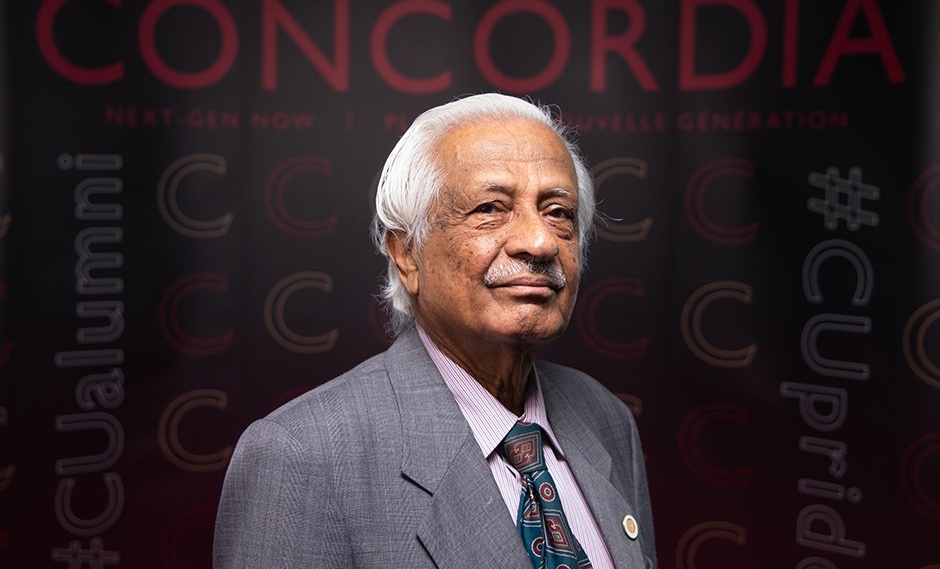 "If one student moves into engineering because of it, their peers might see this and be inspired to do so as well," M.N.Srikanta Swamy says about his award.
Ever since he was a graduate student, M.N.Srikanta Swamy knew he wanted to give back. The Gina Cody School of Engineering and Computer Science research professor recently fulfilled that desire with a gift to the Campaign for Concordia: Next Gen Now.
The Dean M.N.S Swamy Engineering Entrance Scholarship Endowment for Indigenous Students will support an annual scholarship for first-year undergrads pursuing a bachelor's degree in engineering at the university.
Swamy, an Honorary Concordia Research Chair in Signal Processing, came to Canada from India in 1959 to pursue his master's and PhD degrees in electrical engineering at the University of Saskatchewan. While studying there, he noticed the lack of Indigenous students in the department — an observation that continued throughout his teaching career in mathematics and electrical engineering.
"I don't remember seeing Indigenous students in engineering, and if they were there, there would have been few," says Swamy. "This was always in my mind, and I felt that if I had any funds to be able to create a scholarship, my priority would be to create one for Indigenous students."
Swamy later moved on to Concordia, where he served as founding chair of the university's Department of Electrical Engineering from 1970 to 1977, then as dean of the Faculty of Engineering and Computer Science (now Gina Cody School) from 1977 to 1993.
When he began learning about the findings of the Truth and Reconciliation Commission of Canada and the devastation caused by residential schools, he wanted to do his part. "The scholarship is nothing compared to the problems that persist, but I thought I would do what little I could to help," Swamy says.
His experience reflects reality: Indigenous people are underrepresented in the field compared to other professions. According to Engineers Canada, only 0.73 per cent of all engineers in the country as of 2019 identified as Indigenous.
'All these things take time'
Swamy, himself a recipient of a scholarship in his student days, understood firsthand the impact of financial support on students' abilities to achieve their goals. He hopes that the scholarship will not only help open doors for recipients, but also inspire others to enter the field.
"Even though it is only one award per year, if one student moves into engineering because of it, their peers might see this and be inspired to do so as well." Swamy points to initiatives that support women in STEM as an example — the results of which he saw unfold over the course of his career.
"When I came to Saskatchewan, there was not a single woman studying engineering, even though we had a woman professor with a PhD from Michigan. We tried our best to change that at Concordia. After many years, there are now quite a few women in engineering." This includes his former supervisee, Champa Bhushan, PhD 72, who was the first woman to obtain a doctorate from Concordia; Swamy's daughter who graduated in 1989; and Gina Cody, MEng 81, PhD 89, who was the first woman to earn a PhD in building engineering from the university, which happened during Swamy's tenure as dean.
"If we can share this idea that engineering is an interesting field, a useful field, then I hope we can encourage more Indigenous students. All these things take time," Swamy remarks.
In recognition of his long-standing service to the university, Swamy was awarded an Alumni Recognition Award – Honorary Life Membership in May. His contributions to education and technological advancement over the course of his career have also been recognized with the 2022 Mac Van Valkenburg Award and 2021 Montreal Section Gold Medal from the Institution of Electrical and Electronic Engineers, among other awards.
'Solve challenges for the benefit of humanity'
Having helped establish Canada's only building engineering degree and the first Computer Engineering program in Quebec as dean, Swamy recognizes how much the field can change in a few short decades. He believes that the future of engineering is filled with possibilities — one where engineers collaborate with colleagues across disciplines to help solve the world's most pressing challenges.
"This is a very small thing that I've done. I don't consider it a big thing," Swamy adds, recalling a saying in Sanskrit that translates to: "You continue in your life by learning as well as by teaching." In other words, he says, you give back by sharing the knowledge that you have with others. Appreciative of all that he learned from students over the years, Swamy is excited to find out what the next generation will accomplish.
He hopes a recipient of his scholarship will join the Gina Cody School as early as 2024. "I would love to meet that student because they will be the very first."
---