'Concordia has delivered so much benefit to me in my life'
Campaign for Concordia gift is just one way CEO Mark Goodman is paying it forward at his alma mater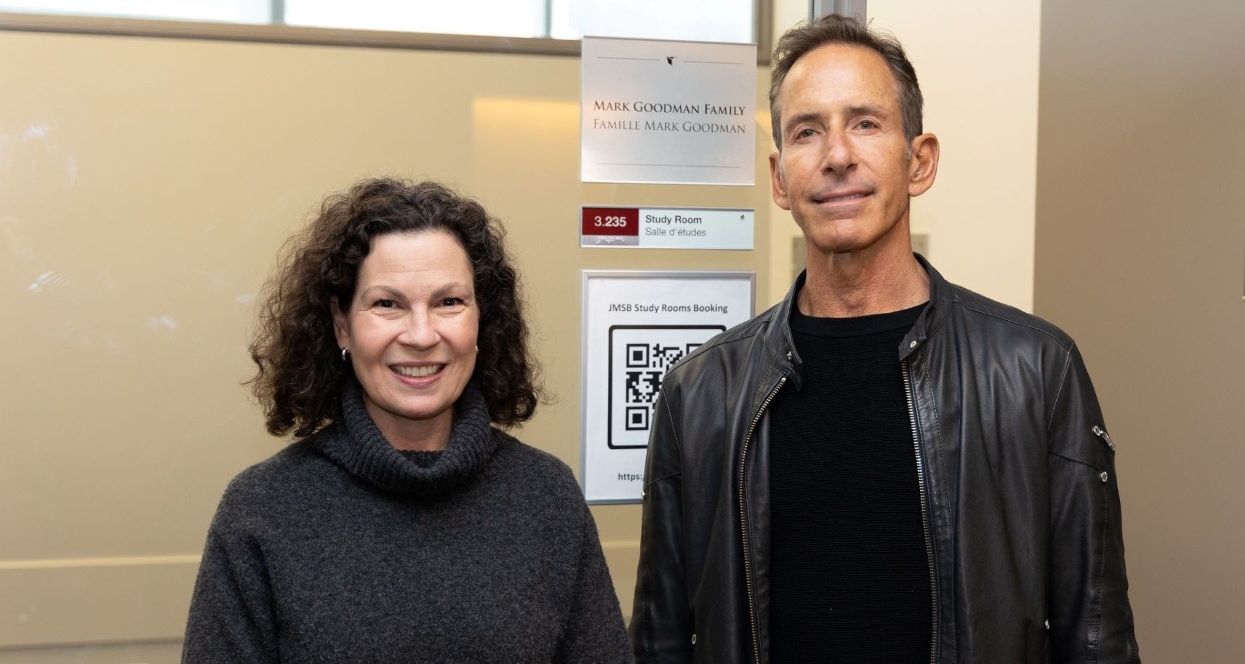 Anne-Marie Croteau, dean of John Molson School of Business, pictured with Mark Goodman, BComm 81, in front of the student study room named in his honour.
He came in as one person, and left as another.
That's how Mark Goodman, BComm 81, describes the effect Concordia had on him — and now the Vexxit CEO is paying it forward with a generous gift to the Campaign for Concordia: Next-Gen Now.
"I really wasn't much of a student coming into Concordia," says Goodman. "But by the time I got through that first year, my head was turned around and I really got into education, the books and starting to think seriously about a career."
That career has been a storied one in the world of marketing and advertising, including founding and building two prominent agencies. Committed to serving his community, Goodman also served as a board member with the Canadian Marketing Association for 11 years.
Now the lifelong Montrealer is turning his focus to something new — an early-stage company where he thinks he can make a serious contribution.
Catching the marketing bug
So what was it about Concordia that changed Goodman? Everything.
"It was the environment, the other students, the teachers," he says. "Being at a school that had motivated students and teachers that were actually interesting was just huge for me."
It also helped that he quit the varsity basketball team a couple of months after arriving at Concordia.
"As soon as I figured out that the school part was going to be a lot of catching up for me, I knew I couldn't stay on with the team," says Goodman.
By third year, he caught the advertising and marketing bug. That junior year was when commerce students could take courses outside of their focus area. Goodman was in management, yet he had a hunch that he might enjoy marketing and advertising courses. He was right.
"It just fit me," he says. "Nothing more than that. I just really, really liked it."
Goodman liked the field so much, in fact, that after accepting a lower-level management job out of university, he left it within a few weeks to take an advertising position for 30 per cent less salary. The rest was history.
By 1989, he was recruited to start FCB Direct Canada, and soon helped it become the largest data/direct-marketing agency in Canada. In 2006, he joined digital marketing agency Twist Image as partner and, helping it grow from 10 to 125 employees, selling it eight years later to global communications company. Then, in 2015, Goodman helped launch famed global digital marketing company Mirum (now part of Wunderman Thompson) before starting his own consultancy four years later.
As much as Goodman loved marketing and advertising, by 2021 he was ready for something new. That's when he founded Vexxit, an online platform that connects businesses and consumers with lawyers and accountants.
"Obviously there's marketing and business and everything that I've done before here, but it was the building of something new that really attracted me," says Goodman, Vexxit's CEO.
"I thought I could make a big impact."
Giving back
Goodman wants to make a big impact at Concordia, too.
Several years ago, he started the Mark Goodman Family Scholarship, which is awarded to a John Molson School of Business student based on academic performance. Yet he saw an opportunity to do more with a new gift to the faculty.
"I decided that instead of giving to 15 or 20 different places, that I would give to one or two — and Concordia would be one of those," he says. "Concordia has delivered so much benefit to me in my life, and my son graduated from Concordia as well. So this gift is just my way of giving back and saying 'thank you.'"
Goodman's most recent significant gift to the university will provide flexible funding for the John Molson School's greatest needs, from essential experiential learning opportunities such as case competitions to career readiness through Career Management Services. As a thanks to Goodman, the faculty has named a student study room in his family's name as a thank-you for the support.
"I hope to continue to stay involved with Concordia," says Goodman. "In fact, just recently I gave a guest lecture at an entrepreneurship class. So I still have a view of trying to be involved with the school and giving back in other ways, whether it's with my experience or through mentorships or something else."
---