Conserve and protect: grad Laurence Gagné has a plan for Concordia's public art
'It feels very special to be able to do this at the university that I love'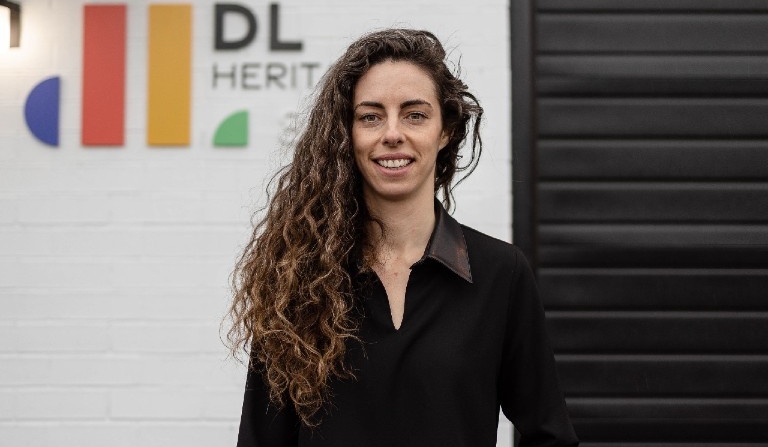 "Compared to many institutions, Concordia has a very avant-garde approach to how it cares for its public art," says Laurence Gagné. "As an alumna, I'm extremely proud to be part of this initiative."
As thousands of students, staff, faculty and visitors crisscross Concordia's campuses on a daily basis this fall, a Faculty of Fine Arts graduate is quietly engrossed in a project that will impact how they see and engage with the university.
Laurence Gagné, BFA 12, co-founder and president of DL HERITAGE and holder of a master's degree in art conservation from Queen's University, is on a mission to help maintain the vast collection of public art at her alma mater.
It's a Herculean task that involves a lot more than occasional graffiti removal.
"There are as many conservation approaches to restore a damaged and degraded work as there are sculptures on campus," says Gagné. "Every one requires different tools, products and materials. It's a very specialized field — you have to develop these techniques over time through a lot of careful trial and experimentation.
"Compared to many institutions, Concordia has a very avant-garde approach to how it cares for its public art and has been receptive to our proposals," she adds. "As an alumna, I'm extremely proud to be part of this initiative."
'34 installations from 40 artists'
From Kenneth Hensley Holmden's 3 Scenes of Nymphs in Canadian Landscapes, circa 1938, in the Engineering, Computer Science and Visual Arts Integrated Complex, to Marc-Antoine Côté's monumental 2020 sculpture, Montre-moi par où on commence. Dis-le-moi au creux de l'oreille, that dominates the entrance of the Applied Science Hub, the breadth of public art at Concordia is notable.
The collection spans traditional to contemporary practices, abstract and figurative works, bronze busts, a kinetic sculpture, large-scale photographs and more.
Sandra Margolian, Concordia's public-art lead, has for years partnered with Gagné and her team at DL HERITAGE and, with the coordination of Facilities Management, led the implementation of a maintenance and conservation plan to ensure the long-term preservation of the permanent collection.
"There are 34 installations from 40 artists on public view," says Margolian, who assumed her role in 2020. "They're found indoors, outdoors, on numerous buildings, in tunnels, in atria. And since our campus expansion plans unfolded in the early 2000s, the collection has more than doubled."
Margolian adds that while there are a number of firms that offer conservation services, very few are accredited professionals with DL HERITAGE's breadth of expertise and range of approaches, all of which are needed to care for the entirety of Concordia's collection.
Art conservation is well-established in places like Western Europe, but still isn't fully understood on this side of the Atlantic, notes Gagné.
"I often have to explain the profession to prospective clients," she says. "There's a lot of education involved to impress upon people the difference between craftsman who fix artworks, for example, and a company like ours which follows a code of ethics that guarantees that works are properly handled and respected in accordance with the artist's wishes."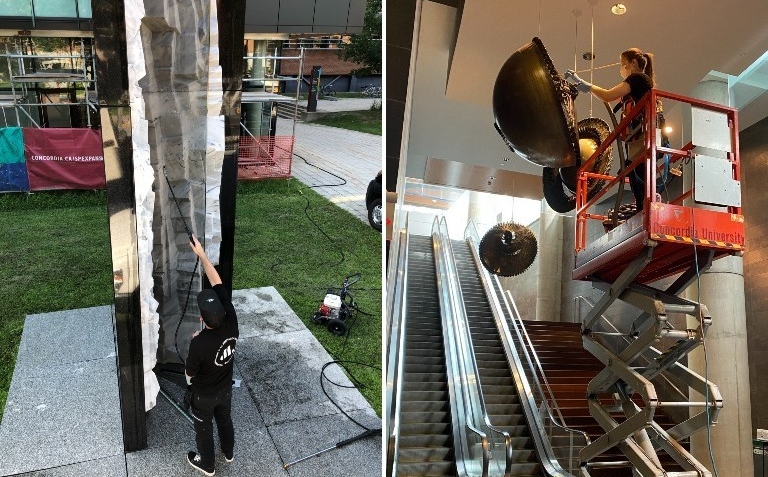 "Good conservation attempts to preserve the most with minimal intervention," says Gagné. Left:
Figures en lisière
by Marie France Brière. Right:
Untitled
by Gerald Gladstone.
'One company to get it all done'
The suite of conservation and maintenance services that Gagné offers at DL HERITAGE includes damage-assessment reports and reports that describe how works were handled in fastidious detail.
"These condition reports provide a picture of the state of each artwork and together provide a global picture of the collection," says Margolian. "We use the observations and analyses from the reports to designate the frequency for conservation treatments, which could be every year, or every three or five years. We actually have one work in the collection that needs to be treated four times a year."
Gagné's background in organic chemistry and art history, range of museum internship experience — acceptance requirements of the program at Queen's — and fine-arts degree from Concordia have set her up to succeed in a field with enormous potential for growth.
Beyond Gagné's savvy, the strength of DL HERITAGE, says Margolian, is that the company — which operates out of a 420-square-metre facility in the neighbourhood of Saint-Michel — can tackle any job.
"They are a mix of artist, chemist, general contractor and conservator," she remarks. "They're able to work on pieces that are gigantic, dangerous and difficult to reach. They also have the expertise to work on many different materials, and take great care and pride in their work — which is a huge bonus.
"Not all conservators have the ability to do all of that, as they often specialize in a few areas such as works on paper or painting. I love that I can work with one company to get it all done."
'When a sculpture is not cared for, people take it for granted'
Most recently, Gagné, who annually oversees 100 to 150 projects, has led conservation efforts at Laval's Centre de la Nature sculpture park, the sculpture garden at the Montreal Museum of Fine Arts and at McGill University's Schulich School of Music, where a monument to Queen Victoria will soon stand newly lustrous.
No matter what the commission, Gagné says, her mindset is the same.
"My goal when I take on a new project is to first and foremost develop a deep sense of the materials used by the artist in order to act on them in a way that will not negatively impact the work in the long term. Good conservation attempts to preserve the most with minimal intervention."
Gagné also takes tremendous pride in what she sees as her profession's social mission.
"When a sculpture is not cared for, people tend to forget about it or take it for granted. We do our work with a lot of love so that, suddenly, people stop to contemplate it, enjoy how it radiates and appreciate the artist's message. It feels very special to be able to do this at Concordia, my home and the university that I love."
---