Concordia's new public art lead will oversee the university's permanent collection on both campuses
Sandra Margolian will provide guidance for 'new avenues of acquisition and programming'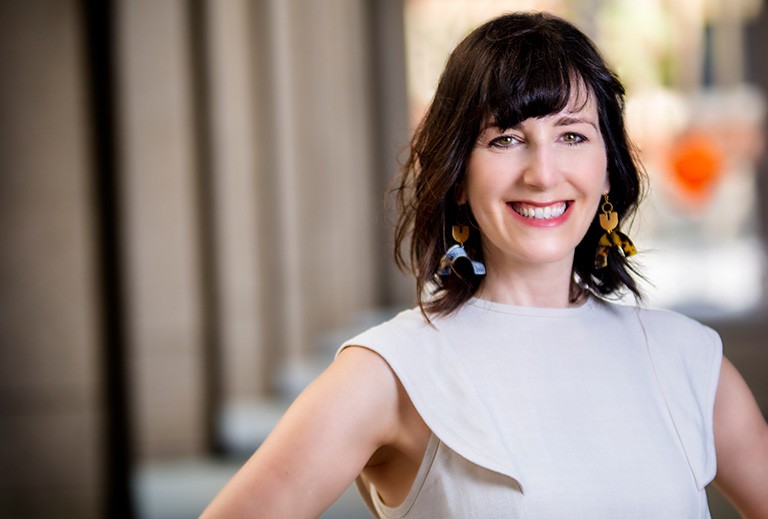 Concordia Library has welcomed its — and the university's — first public art lead. With one of the most eclectic collections of public art of any university in Canada that continues to grow, the importance of the role is clear.
Sandra Margolian begins as the public art lead with over a decade of experience managing the university's public art collection. She had previously been at Concordia's Office of Community Engagement (OCE). Margolian will report to Lorie Kloda, associate university librarian, planning and community relations.
"Sandra's extensive knowledge of Concordia's collection of public artworks is a great asset," says Kloda. "Her ongoing involvement with the preservation of the Grey Nuns Chapel Reading Room makes her a great fit for the role."
As public art lead, Margolian will ensure the proper ongoing long-term care of the university's permanent collection on both campuses.
"This newly created position recognizes the importance of the role of art on campus — and the expertise and time necessary to administer and responsibly develop aspects of collections management with community in mind," explains Margolian.
"We are very pleased that Sandra has accepted this important role with the library," adds Guylaine Beaudry, vice-provost of digital strategy and university librarian. "She brings a wealth of experience and a keen understanding of the Concordia community that will help to shape the university's collections and programming."
Since 2015, Concordia has partnered with the City of Montreal's Art Public Montréal and the university's collection has continued to be featured on its website. This initiative brings together the owners of public artworks installed on the Island of Montreal with the objective of increasing the awareness of the city's extensive public artworks.
This partnership provides the opportunity, through self-guided walking tours, to showcase the national and international public artworks in Concordia's collection, and demonstrate the university's connections with the communities it serves.
'I share the library's vision of creating an intellectually inspiring and engaging environment'
What helped guide your career in arts administration?
Sandra Margolian: I completed my studies at Mount Allison University in studio arts — with a focus primarily on photography, painting and installation.
What helped my career evolve in arts administration was a fantastic paid internship opportunity at the Owens Art Gallery of Mount Allison University. It provided hands-on experience in running a gallery. I learned about all aspects of the field: communications and promotion, curating and installing exhibitions, conservation and collections management, negotiating contracts, insurance, copyright, managing staff and conducting educational tours.
During this internship, I also participated in a cultural resources management program with the University of Victoria and a career development program for museum professionals with the National Gallery of Canada. This experience led to work and curatorial projects in various artist-run centres and public art galleries in Ontario and New Brunswick.
Tell us about your experience working at Concordia.
SM: For 17 years, I worked in the ever-evolving urban and cultural affairs office, assisting with and coordinating a large number of projects. The major projects I contributed to were the sale of the Max Stern Estate of over 5,000 artworks, which evolved into the The Max & Iris Stern Museums Legacy Program and the Max Stern Art Restitution Project.
I was also involved in the Grey Nuns Chapel Reading Room and Quartier Concordia projects and, of course, the Public Art project. A few of these remained with me when I moved to the Office of Community Engagement. The conservation of the Grey Nuns Chapel and public art projects will continue to be my primary focus.
I share the library's vision of creating an intellectually inspiring and engaging environment for the Concordia community. The university's public art collection and future programing across both campuses provide important opportunities to engage with our community and the citizens of Montreal.
How were you previously involved with Concordia's public art projects?
SM: Since the early 2000s, I have had the pleasure of being directly involved in developing, promoting and maintaining Concordia's public art collection.
During this time, I coordinated 23 of the 33 installations of public artworks at Concordia, nine of which are part of the Intégration des arts à l'architecture program (Program to Integrate Art into Architecture and the Environment), also known as the 1% program.
In 2012, I initiated and implemented Concordia's public art conservation program with the support of Facilities Management. Since then, the public art collection receives regular conservation. In addition to ongoing maintenance, a few significant art restorations have been undertaken, one of which is in the Webster Library.
How will your experience at the OCE influence the way you approach your new position?
SM: I am particularly inspired by how the OCE responds to community priorities and values, learning from community-held knowledge.
I plan to bring this ethos to my work in developing policy and programming, which will contribute to a formalized public art plan and expand what public art currently looks like at Concordia.
Describe some of the public art lead's responsibilities and projects.
SM: Currently, the university's public art collection includes permanently installed large-scale artworks at the street level, physically located on buildings or surrounding them, and on main floor atria and in tunnels.
I plan to open this scope and provide new kinds of programming, expand outreach, and create and implement a strategic communications plan that better situates the collection in the current context.
I am also excited to join the Library Exhibitions Committee and collaborate with the Visualization Studio and Special Collections staff. There are many affinities and shared values in our work. These spaces provide a closer connection to students and staff.
How will you be involved in Concordia's decisions for public art installations?
SM: I will provide leadership in guiding new avenues of acquisition and programming through consultation and by creating and facilitating a committee.
The committee members will collaborate to develop a university acquisition policy that reflects current societal values such as inclusivity, equity, sustainability, accessibility and Indigenous cultural expression, and that better represents the general public.
In line with this are the Concordia Library's initiatives to engage in anti-racism work and implement a training program on Indigenous matters for members of the library team, in collaboration with Indigenous Directions. I am very pleased to be participating in this crucial work.
I am looking forward to collaborating with Concordia's diverse expertise as well as external arts specialists in bringing new vitality and social relevance to the university's collection and programming.

Find out more about the Concordia Library.
---