The Disney dream that really did come true
From Saturday morning cartoons to making it commercially, film animation grad Sylvain Lavoie on the arc of his ideal career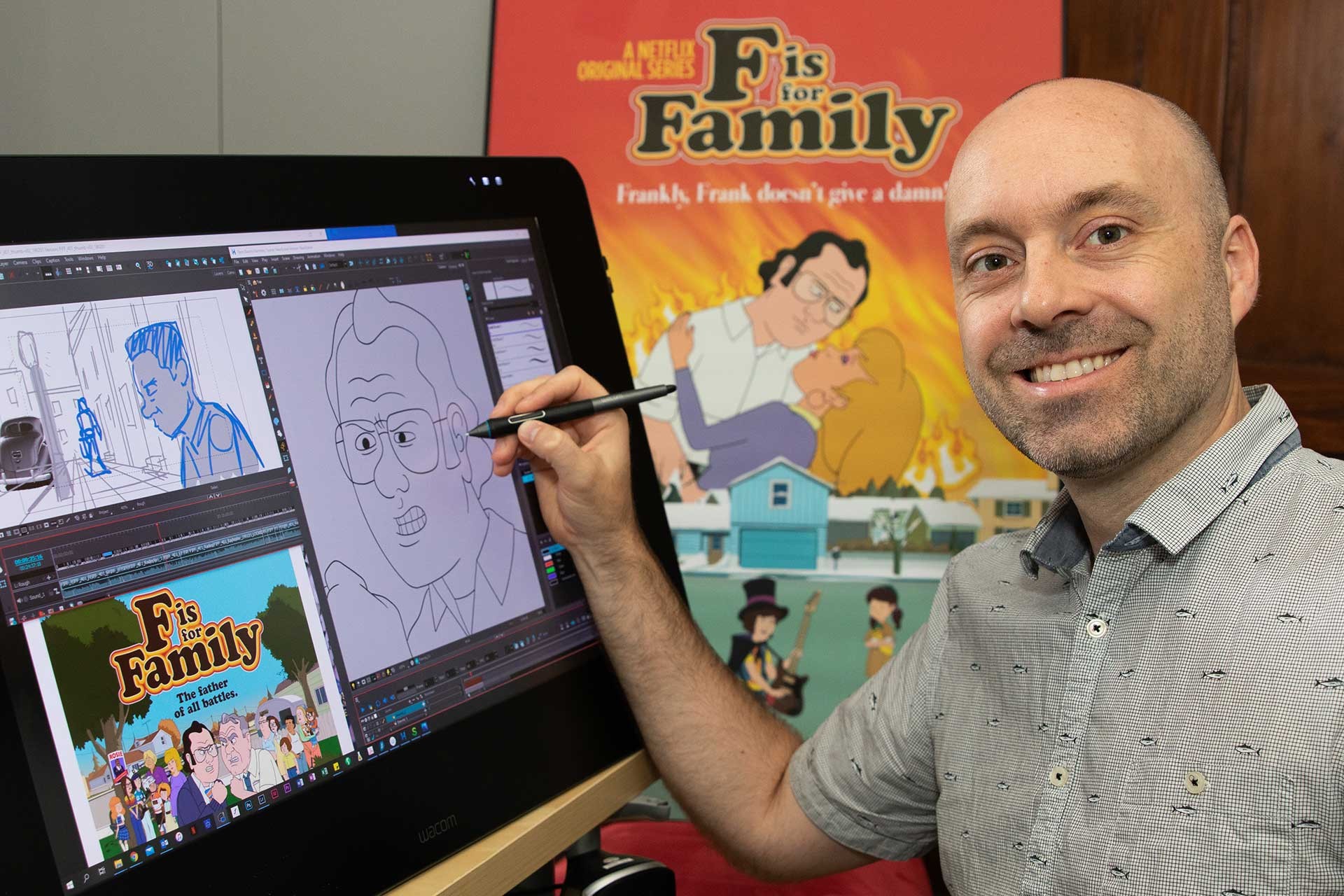 Sylvain Lavoie has directed several seasons of
F is for Family
, a long-running Netflix show aimed at an adult market.
A trip to Walt Disney World can fire a child's imagination. Or, as in the case of Sylvain Lavoie, BFA (film animation) 01, a career.
The award-winning animator, who has worked at the National Film Board (NFB) on animated commercials and at a variety of Quebec production houses, recently finished a project directing seasons three to five of Netflix's F Is For Family. The animated show with a King of the Hill vibe was executive produced by actor Vince Vaughn and created by American comedian Bill Burr and show runner Michael Price, a veteran of The Simpsons writers' room.
"It's the biggest project I've ever worked on," Lavoie says. "You don't get that kind of opportunity often." The upside was getting to work from Montreal while helping raise his young children. Not that the kids, now seven and nine, were watching that often. F may be for family, but it also stands for other words in the adult-oriented show, which ended its run in the fall of 2021.
Lavoie is also ensuring his youngsters get a thorough grounding in animated classics. Steamboat Willie — the 1928 animated short that introduced Mickey Mouse — was an early favourite cartoon of his son. Lavoie counts among his own heroes such animation legends as Chuck Jones, Richard Williams (Who Framed Roger Rabbit) and Disney's legendary Nine Old Men, the core animators at the time.
'My goal was to work for Disney'
In 1990, a 13-year-old Lavoie was captivated by a visit to the Magic of Disney Animation Tour at Disney's Hollywood Studios in Florida.
"I grew up loving Bugs Bunny and Saturday morning cartoons, and I loved comic books," Lavoie says. Taking the tour, which closed permanently in 2015, fed his enthusiasm in ways he hadn't expected.
"You could walk behind a large window and see how the actual film got made, from story boards and so on, and you could see the animators working and the tracing on cells and painting and backgrounds and everything," he says, with an enthusiasm that hasn't dimmed. "I said, 'That's what I want to do. I want to draw on paper and have the drawings move.' I was hooked."
While opportunities to pursue his passion in his Laurentians hometown of Ste-Adèle, Que. were limited, his path ultimately led to Concordia.
"[The Film Animation program] was very broad. I was one of the only ones who wanted to make it commercially, says Lavoie. "Most of the people were aiming to work for the NFB; my goal was to work for Disney."
En route, Lavoie was able to combine outside work with his studies and plugged into a network that included supportive professors and fellow students. "It was great for networking," he says. "We still keep in touch."
Some of that work was producing animated television commercials, and other, more cerebral content for the NFB, from 1998 to 2000. By his last year at Concordia, Lavoie was essentially working full-time.
At 27, Lavoie was offered his first directing job, and he's been doing it ever since, picking up a number of awards and nominations over two decades.
He broke ground as the director of a Radio-Canada series Vie de quartier (Life on the Block), based on characters developed by Quebec comedians Dominique Lévesque and Dany Turcotte. It was the first time an animated family series was shown on the French-language network in prime time.
Animation has changed dramatically since Lavoie broke into the business. Companies such as Pixar and DreamWorks were in their infancy and the kind of digital technology that has brought producing a full-length feature up to light speed in a faster, cheaper pipeline didn't exist.
But like Lavoie's dreams, today the possibilities are endless.
---