John Molson students make the podium at the Jeux du Commerce 2023
This year's team finishes 3rd overall at the undergraduate case competition hosted by HEC Montréal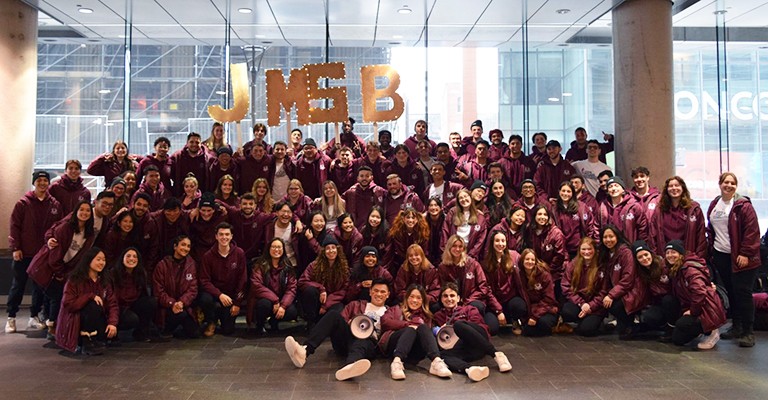 The John Molson School of Business undergraduate student delegation reached the podium again at this year's prestigious Jeux du Commerce case competition.
The students were coached during the entire fall term and their efforts yielded 10 podium finishes in seven different academic disciplines. They placed third overall at the event, which took place in-person from January 6 to 9 and was hosted by HEC Montréal.
"Our undergraduate students bring the John Molson school spirit to life during these competitions. Our case competition program is supported by countless academic coaches, external business coaches, volunteers, staff and faculty," says Anne-Marie Croteau, dean of the John Molson School of Business.
"The program is a crown jewel of the John Molson student's learning experience because everyone's commitment yields results year after year. It's a big source of pride for me and the entire John Molson community. My congratulations go out to all of the delegates and a big merci to everyone involved for their time and dedication."
Participating in the Jeux du Commerce requires students to take the COMM 499 seminar course, which is taught by Nora Baronian, BSc 99, MBA 06, director of the case competition program and a senior lecturer in the Department of Management. To qualify for the course, students try out for the team in the spring. An average of 300 students apply, but less than a third are selected.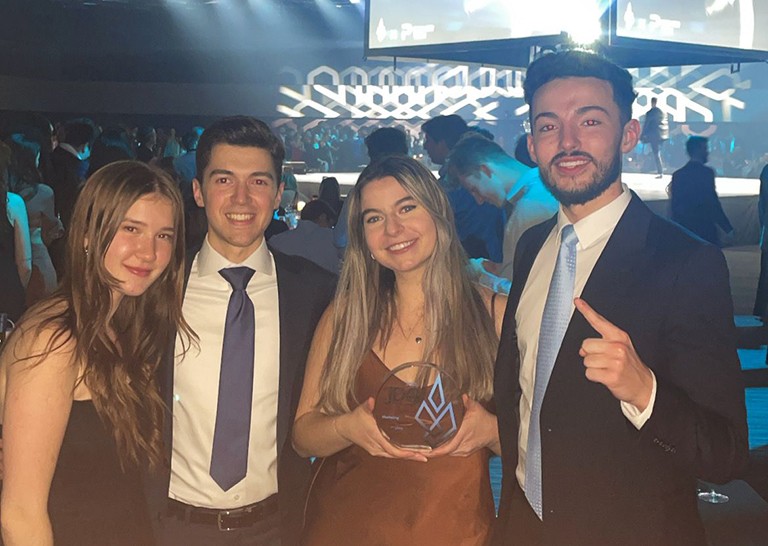 The marketing team (from left): Coach Laura Tiberiu, Michael Lecchino, Melissa Axiotis-Perez and Gus Kemball.
Fourteen universities across Quebec and the east of Canada take part at this competition. This year's final John Molson representatives consisted of 86 delegates: 40 in academic, four in debate, 18 in sports, 11 in participation, four in social, six internals, two coordinators and one program director/faculty advisor.
Melissa Axiotis-Perez was part of the group who made the podium in the marketing category.
"Alongside my incredibly talented and hardworking teammates, Gus Kemball and Michael Lecchino, I was tasked with coming up with a launch campaign for a new initiative of Loto-Québec presented by LG2," she explains. "I am extremely proud to announce that we placed first."
James Pluscauskas competed alongside Christie Kwong and Shayan Ziarati in the digital strategy component.
"I could not have asked for better teammates," he shares. "We spent the last six months preparing 25 cases that not only helped us grow professionally but also as individuals. I am proud to say we placed second in our discipline."
The final Concordia standings at this year's case competition were as follows:
Overall standing: Third place
Academic Cup: Third place
Participation: Third place
First place: Marketing, Strategy, International Business, Interactive
Second place: Digital Strategy, Finance
Third place: Entrepreneurship
Below is a full list of the delegation's participants.
Academic delegation
Head coach: Nora Baronian
Vice-president, academics: Annie Khau
Overall coordinators for the games: Tony Leo, Daniel Borges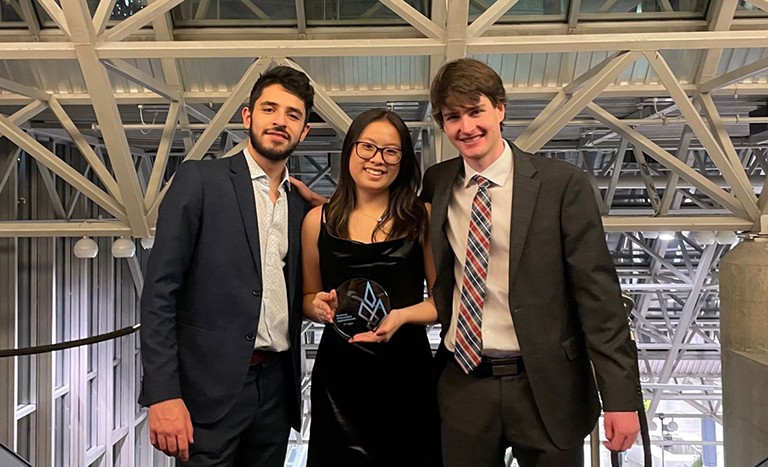 The Digital strategy/Management Information Systems team: Shayan Ziarati, Christie Kwong and James Pluscauskas.
Academic disciplines
Accounting
Team: Simon-Hai Gingras, Daniela Kabat, Yinlin Liu
Coaches: Dai Wei Zhang, Phil Blanchard-Krulic, Anthony Di Placido, Brianna Meagher, Jasper Fyson, Tashi Alexander-Ryan
Digital strategy/Management Information Systems
Team: Christie Kwong, Shayan Ziarati, James Pluscauskas
Coaches: Steven Camia, John Fragos, Tim Shaw, Glenn Funamoto, Jonathan Ha-Tran, Thomas Blanc Bolelli
Entrepreneurship
Team: Olivier Cloutier-Faucher, Éloïse Turgeon, Ethan Posluns
Coaches: Dylan Ross, Sara Cholmsky, Abdoulaye Koïta
Finance
Team: Zachary Bourdeau, Sadik Ahmed, Émile Laflamme
Coaches: Samuel Castilloux, Chris Kovalchuk, Philippe Carmant, Ivanna Biloshytska, Michel Loutchkine, Émile Martel, Omar Mourad
Human resources
Team: Jasmine Metzler, Karim Hatem, Kayla Osman
Coaches: David Lafreniere, Sabrina Jorrin, Veronika Ness
International business
Team: Lauren Campbell, Juliana Whamond, Romain Germond
Coaches: Sara Cholmsky, Rita Belarbi, Christopher Kennedy, Jeremy Abikhzir
Marketing
Team: Melissa Axiotis-Perez, Gus Kemball, Michael Lecchino
Coaches: Isabel Wong, Alexandra Fillion, Laura Tiberiu
Strategy
Team: Annie Khau, Jerry Zhu, Joseph Marabella
Coaches: James Hui, Chris Kovalchuk, Salar Molaei, Christian Bonneau, Christophe Hebert
Sustainability
Team: Sophie Beaudet, Dayiny Balasingam, Jasmine Gadoua
Coaches: Maya Bobotis, Axel Gizard, Justine Carlone, Chloe Evans
24-Hour/Interactive
Team: Athanassios Douzepis, Alexander Xu, Liam Emond, Vassilios Pavlos Soubassakos Al Naouakil
Coaches: Colin Philip, Michael Richardson, Fatima Malik, Ben Carr, David Lafreniere
Purchase order management
Team: Aren Imamedjian, Joseph Yung, Qi Yue Wang
Coaches: Nathalie Geukers, Mahesh Sharma, Dolby Ly
Tax
Team: Danny Lam, Lorenzo Calce, Harlyn Joy De la Cruz
Coaches: Dai Wei Zhang, Phil Blanchard-Krulic, Tashi Alexander Ryan
Surprise case
Team: Angelique Dinh-Vu, Marina Bertilotti Barreto, Laszlo Joaquin Appelshoffer
Coaches: Ryan Walker, Benjamin Carr, Karl Nkori
Debate
Team: Marc Da Silva, Dominic Renda, Clothilde Vaillant, Faiyaz Abdul
Coaches: Megan Chau, Tristan Waldie
Non-academic disciplines
Sports
Teams:
Ultimate: James Zhen, Dylan Ross, Olivier Lelievre, Nicholas Wong, Nathan Tran, Lindsay Mercredy, Emma Roy, Brandon Mundl, Clara-Maria Rosoi
Volleyball: Clara Boucher, Igor-Cleef Kagabo, Richard Li Wan Po, Michael Cimaglia, Xavier Lamb, Felicia Dussault, Lydia Papakonstantinou, Tye Laurie, Juliette Goulet
Volleyball coaches: David Moreau, Vinchenzo James
Participation
Team: Melody Harandian, Caroline Trieu, Alicia Nerguizian, Francesca Ruffolo, Maria Tunaru, Chloe Le Lann, Anais Aina Nirina, Kevin Santiago, Christina Fu, Laszlo Joaquin Appelshoffer, Marina Bertilotti Barretto, Angelique Dinh-Vu, Julian Sintim, Mariam Ahad
Coaches: Olivia Valcourt
Social
Team: Anabelle Dubuc, Louis Hervieux, Anis Elourzadi, Alissa Dikranian
Coaches: Justin Lo Presti, Anmol Sharma
Internals
Sara Cholmsky, Dolby Ly, Taylor Graham, Laura Tiberiu, Gabriel Persechino, Olivia Valcourt
Learn more about the John Molson Case Competition program.
Follow the John Molson School of Business competition results.
---