News from the archives
2022 was an exciting year for Records Management and Archives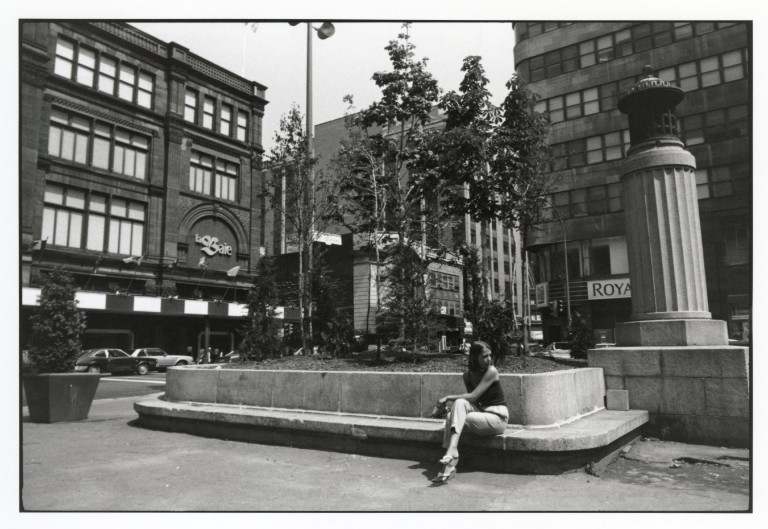 A Montreal scene captured by well-respected Canadian photographer Tom Gibson, 1978.
Eric Côté is an archivist with Concordia's Records Management and Archives. John Richan is a digital archivist with RMA. They prepared this summary of the past 12 months at the department.
As we complete another trip around the sun, December offers a time for reflection in our department. Highlights of the past year include the long-awaited re-opening of the Records Management and Archives (RMA) reading room, several exciting archival acquisitions, as well as our continued work on new digital archiving initiatives.
And as demand continues to grow for remote access to archives, the department continues to expand its online presence. At the same time, we continue to implement new tools and systems to preserve and make accessible Concordia's history for future researchers.
Institutional Memory
The preservation and access of Concordia's institutional memory is the Archives' mandate. RMA received notable record transfers regarding past Concordia Shuffles from University Advancement, dating back to 1990 when the the popular fundraising initiative in began.
By way of records management advisory services, the FoFA Gallery also transferred historical records consisting primarily of material related to the administration of the gallery and many exhibitions; including promotional material and press clippings.
RMA also received a series of photographs from the Multi-Faith and Spirituality Centre dating from the end of the 1970s to the beginning of the 1980s, illustrating the many activities of the Belmore House.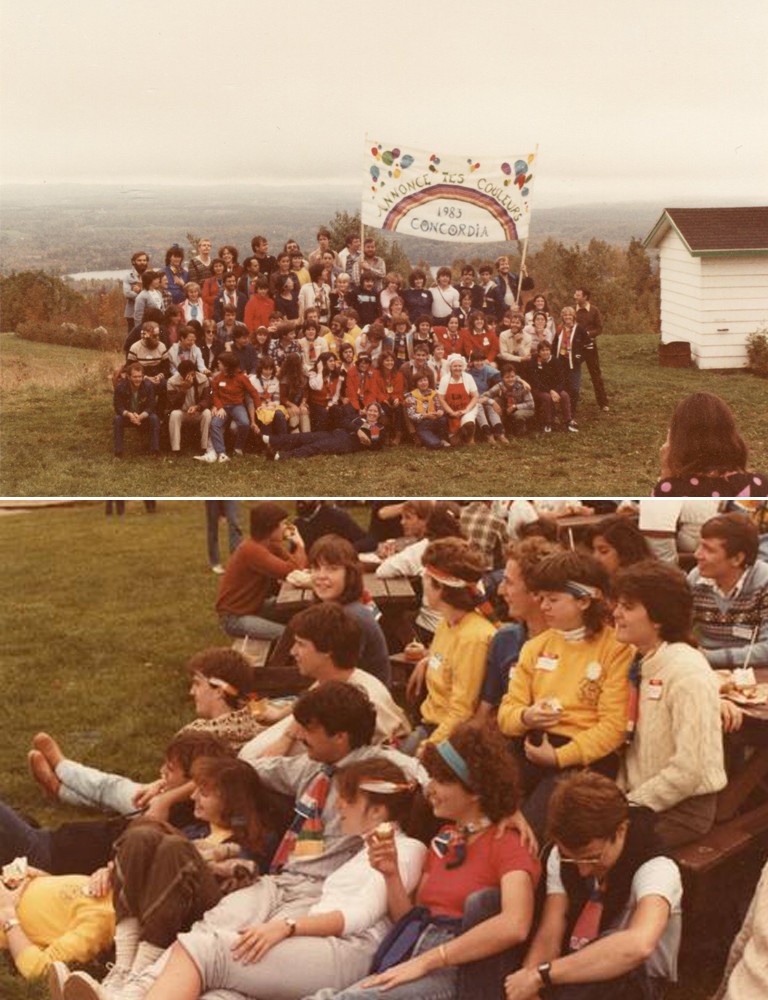 Annonce tes couleurs, a multi-faith student gathering held in the fall of 1983.
Archives staff have also been working on preserving and making accessible a sampling from Concordia's historical video collection. Of note, RMA's entire collection of Loyola College football games from the 1960s and the 1970s have now been digitized and are publicly accessible. This was done in collaboration with the 2022 football alumni homecoming event. Also included on the YouTube channel are many of Concordia's past promotional videos and lectures. Videos are continually being added on the RMA YouTube channel.
Many other gems have been located over this past year, such as this 1990s video produced by the Counselling and Development Office for recent graduates seeking employment:
Continuing to build upon the successful migration of Concordia's historic publication collection to the Internet Archive in 2021, RMA is currently in the process of migrating more digital objects to its Internet Archive page. This work allows for simplified browsing and searching of digital archival resources.
With certain archival documents in poor physical condition (e.g., the early annual reports from the YMCA), digitization is done as a preservation action to ensure originals are properly preserved with minimal handling required. Furthermore, textual documents hosted by archive.org are reliably searchable as optical character recognition (OCR) is carried out during the upload process. RMA has recently reached an exciting milestone with the upload of its 5,000th item.
New Acquisitions
New Acquisitions to RMA began last winter with an archival donation from prolific contemporary artist Pnina Gagnon. Between 1970 and 2013, Gagnon has had more than 30 solo exhibitions of her paintings, drawings, sculptures, artist books and installations. She even had an exhibition entitled "On the Human Body/Du corps humain" that was hosted by the Sir George Williams Gallery in 1977!
Gagnon's archival fonds offers detailed insights into her career as an artist as well as her personal life as the wife of the late François-Marc Gagnon. Her husband was notably the founding director of the Gail and Stephen A. Jarislowsky Institute for Studies in Canadian Art.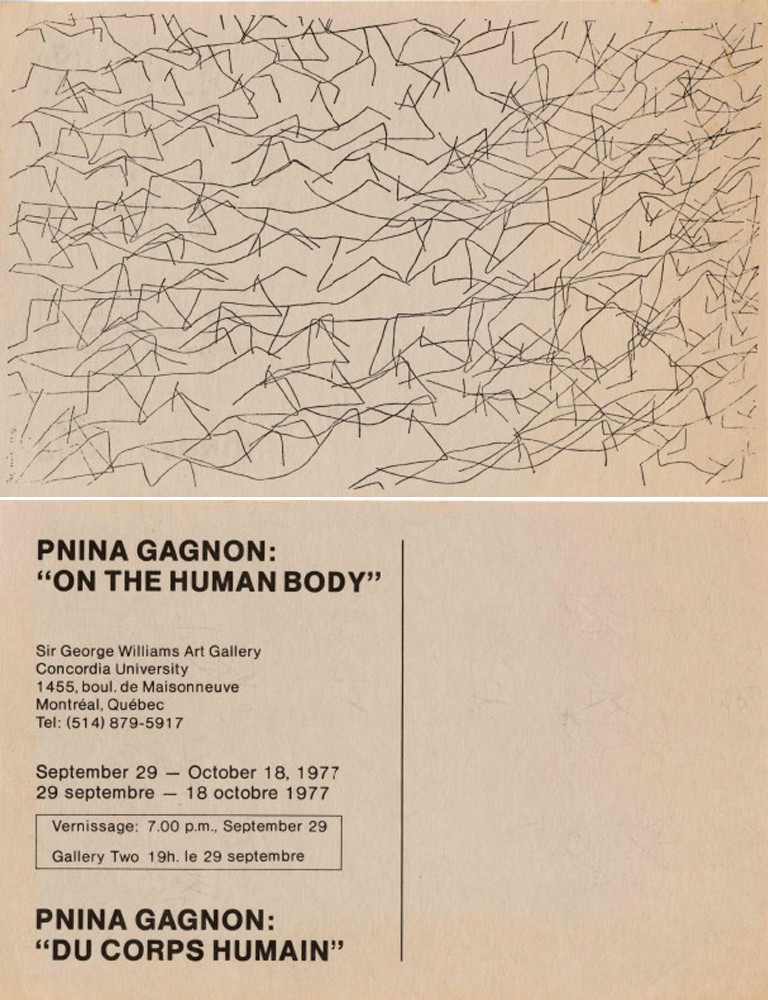 An invitation for 'On the Human Body/Du corps humain' solo exhibition at the Sir George Williams Gallery, 1977.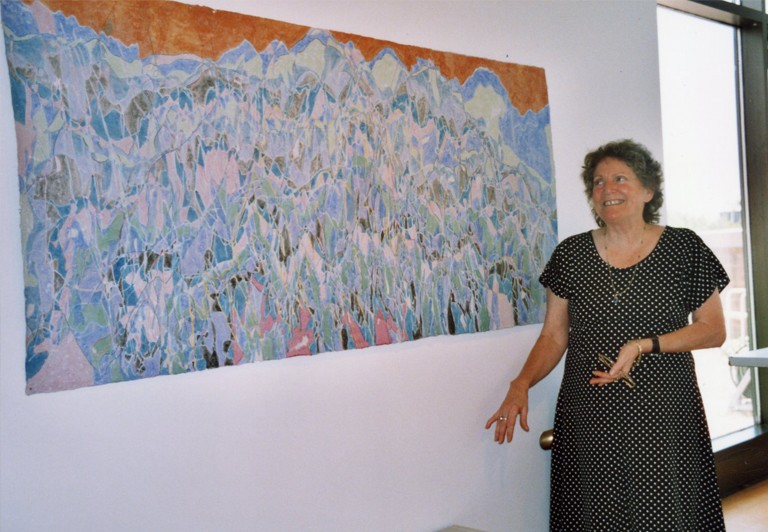 Pnina Gagnon with one of her works of art at Salon B, a bibliocafé in Montreal, summer of 2005.
RMA also received Tom Gibson's archives. Gibson, who passed away earlier this year, was a well-respected Canadian photographer, teacher, colleague and a key player in the establishment of the photography program at the Faculty of Fine arts of Concordia University. His fonds comprises more than 4,000 photographs, negatives and contact sheets of Gibson's work. Below are several digitized photos. Many of the photographs were taken in Montreal and Toronto during the 1970s and 1980s. Archivists will continue to add further context to these photos.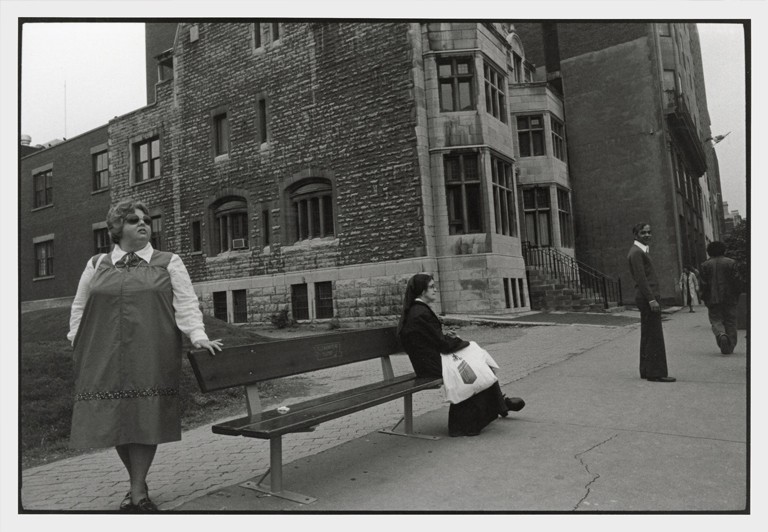 Many of Tom Gibson's photographs were taken in Canada as well as other cities around the world. The picture above is from Montreal, 1978.
This busy year also saw the donation of two other notable archival fonds to the Concordia Archives from former Concordia professors Ira Robinson and Donald Boisvert.
The Ira Robinson fonds provide context on many lectures and conferences tied to his research in the field of Jewish Studies. Robinson retired from Concordia in 2021 after a 42-year career at Concordia.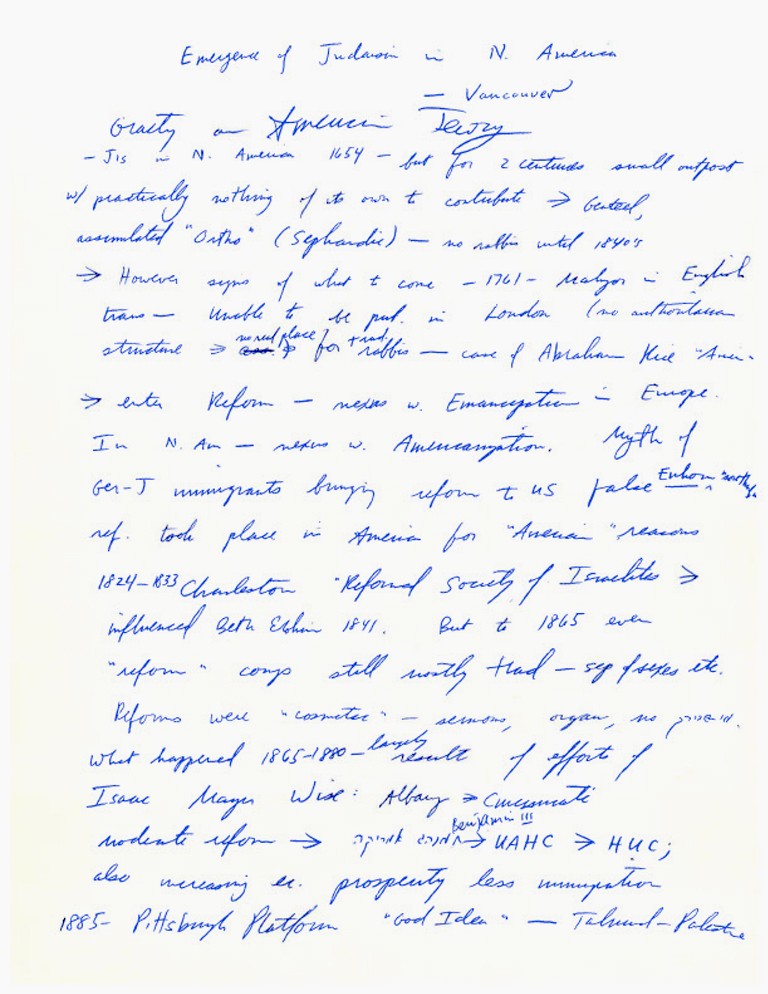 Extract from a presentation given at a colloquium organized by the Vancouver Institute of Adult Jewish Studies from June 1 to June 8, 1983.
Extract from a presentation given at a faculty seminar in Montreal, 1984.
The Donald L. Boisvert fonds comprises archival material related to his career as a Concordia administrator as well as a professor in the Department of Religion. Boisvert's archival records also highlight his role as a co-president of the Loyola Student Association (LSA) from 1973 to 1974. Of note, the fonds also contains the text of many lectures Boisvert gave on the topic of the intersectionality of religion, gender and sexuality. Finally, as an ordained priest of the Anglican Church of Canada, the records contain many of his sermons. Boisvert passed away in 2019.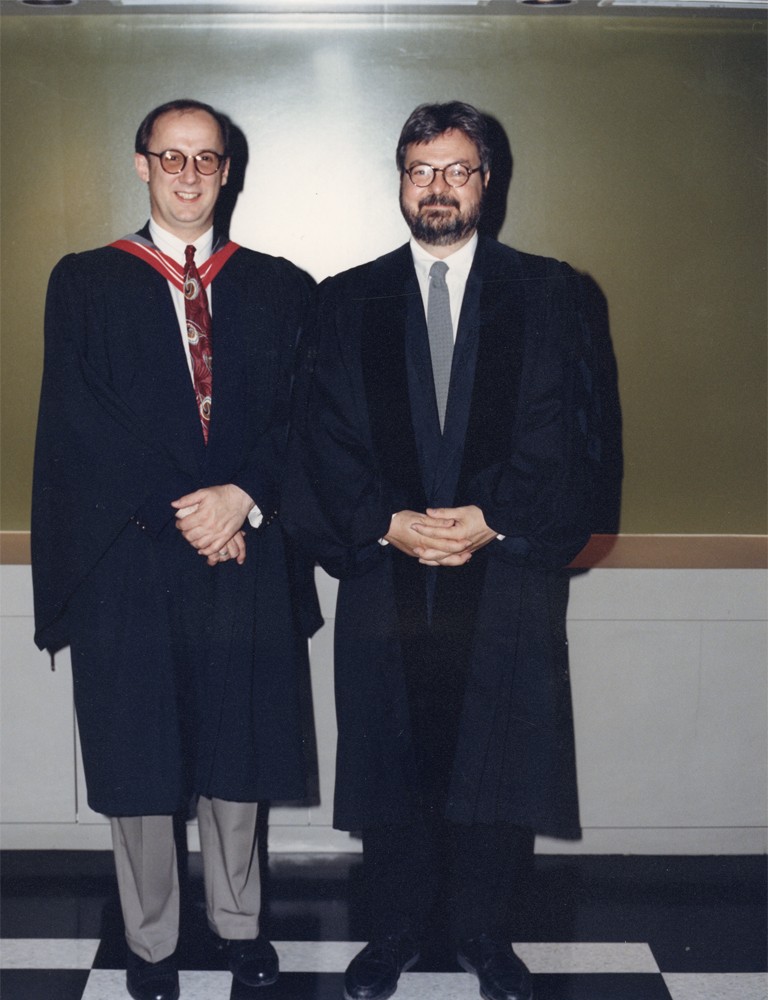 Then Associate Director, Services (Student Life) Donald Boisvert and Honorary Doctorate Recipient Michel Tremblay at the 1991 Spring Convocation.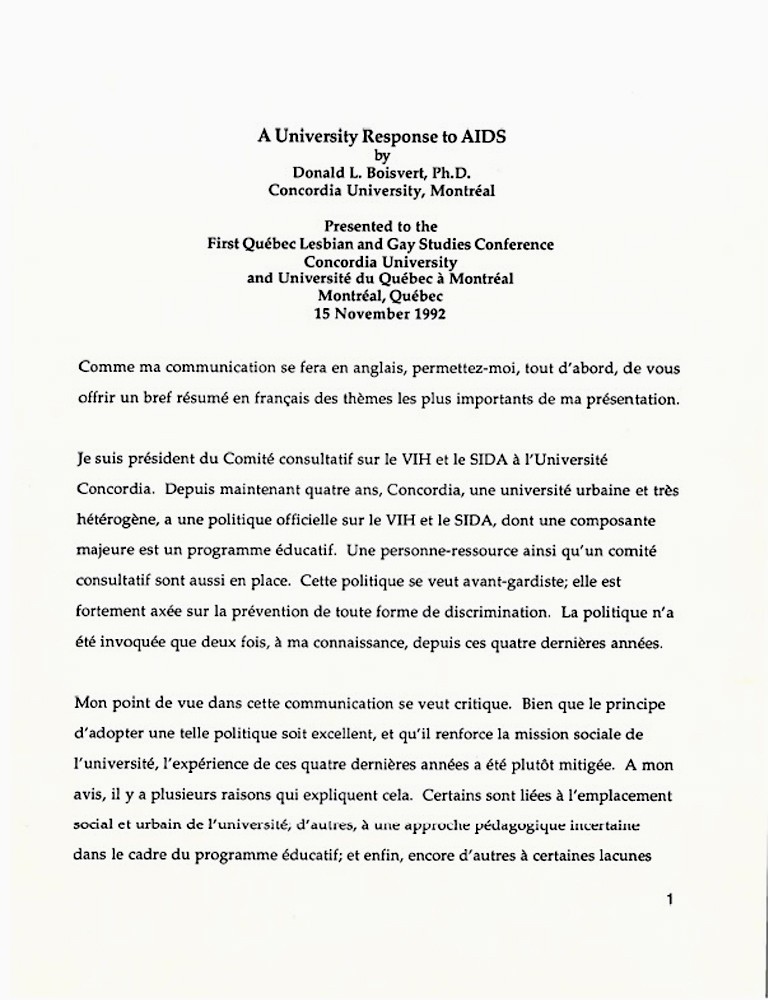 Extract from Boisvert's presentation at the First Québec Lesbian and Gay Studies Conference in November 1992.
What's next?
RMA plans to continue the digital transformation of the archives. Keep an eye on the Internet Archive for more photos, promotional material, minutes of meetings, reports and more in the months ahead.
The RMA Digital Preservation Lab is also now operational. This dedicated workspace is equipped to tackle challenging digital preservation projects. The lab also supports the extraction and processing of data on at-risk carriers, capture of select media and the digitization of analogue material.
During the month of November, RMA collaborated with the McGill School of Information Studies to have students come and use the space to complete an assignment. It is hoped that this collaboration will act as a guide for future experiential learning opportunities at RMA.
Heading into 2023, RMA's archivists and technicians continue to make records and archives more accessible through rigorous digitization, methodical metadata categorization and online dissemination. The future is bright for Concordia's Records Management and Archives department!
---