Donald L. Boisvert (1951-2019): 'Teaching was for him a kind of ministry'
Concordia remembers the dedicated professor's kindness, generosity and 'wicked sense of humour'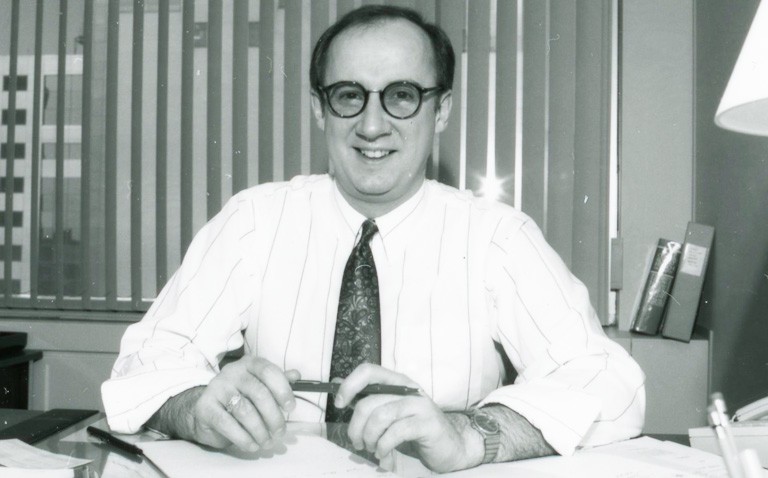 Donald Boisvert in his office in 1991.
The Concordia community mourns the loss of Donald L. Boisvert (BA 75, MA 79), retired affiliate associate professor in the Department of Religions and Cultures. He passed away on June 19.
In addition to his role as professor, Boisvert served in numerous administrative positions including as speaker of the Senate from 2008 to 2012 and dean of students from 1996 to 2003, during which time he endowed the Donald L. Boisvert Scholarship for Gay and Lesbian Studies.
Outside of the university, he was co-chair of the Gay Men's Issues in Religion Group of the American Academy of Religion and served as a guide and board member of the Montreal Holocaust Museum.
Boisvert's community and student involvement began when he was an undergraduate at Loyola College, one of Concordia's founding institutions. Jane Hackett, a friend and colleague, met Boisvert during this time.
"Donald was an activist and very involved in student life," she says. "He wanted the best for our students."
Hackett saw this devotion continue when she worked as his assistant during his time as dean of students.
"He was so clever and had a wicked sense of humour. He taught me so much by allowing me to be part of the process and feel part of a team. He had respect for people and their opinions."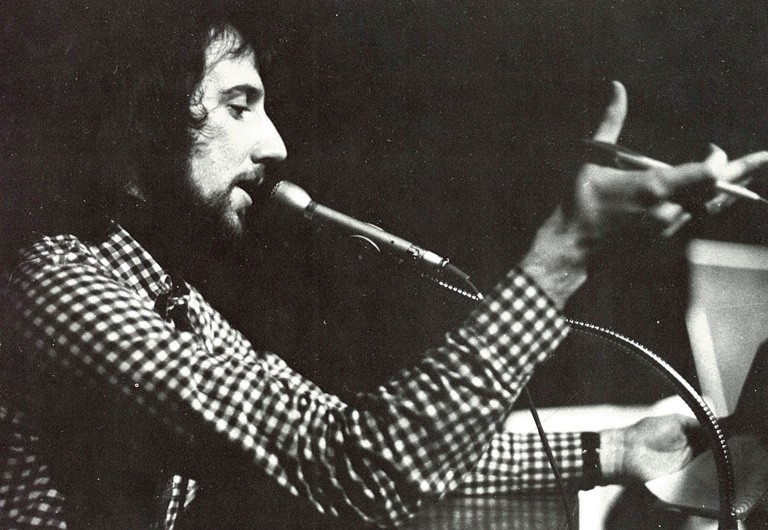 Donald Boisvert, Loyola Yearbook, 1974.
'Pioneering and courageous scholarship on sexuality, masculinity, gender and religion'
In his research, Boisvert examined the intersection of religion, gender and sexuality.
"Donald made a huge impact through his pioneering and courageous scholarship on sexuality, masculinity, gender and religion," says Leslie Orr, professor of religions and cultures.
His books include Out on Holy Ground: Meditations on Gay Men's Spirituality (2000), Sanctity and Male Desire: A Gay Reading of Saints (2004) and The Bloomsbury Reader in Religion, Sexuality, and Gender (2017). The last is a textbook he co-authored with Carly Daniel-Hughes, associate professor and chair of Concordia's Department of Religions and Cultures.
Daniel-Hughes met Boisvert when she joined the faculty in 2007 and says he taught her how to have critical conversations around sexuality and religion with her students.
"He never reduced Christianity or other religious traditions to homophobic discourse or repressive sexuality," she says. "Instead, he invited students and readers to question the problematic ways in which religious communities have and continue to treat sexuality and gender with real implications for queer people and vulnerable others."
Roberto Chen-Rangel (BA 99), former assistant to Boisvert and a friend for over 20 years, says Boisvert's joie de vivre and generous spirit made it easy to confide in him.
"We shared serious conversations about my feelings and beliefs and he patiently created a safe place for me to grow," says Chen-Rangel. "He taught me that my sexual orientation was not an obstacle but rather an asset."
'Teaching, for him, was a kind of ministry'
Boisvert earned his PhD in Religious Studies from the University of Ottawa. He joined the Department of Religions and Cultures in 2003 as a senior lecturer, teaching a variety of courses and supervising and mentoring students. In 2011, he received tenure and served as chair of the department from 2014 to 2015.
Daniel-Hughes and fellow faculty member Orr recall that Boisvert's generosity extended to his office hours, when both noticed lines of students waiting outside.
"His office door, right next to mine, was always open," Orr says. "I would hear his deep and reassuring voice offering advice to the many students who sought him out."
Cimminnee Holt (BA 08, MA 12), a student under Boisvert's supervision during her undergraduate honours, master's and current PhD programs, says his encouragement to take risks and trust one's ideas had a positive effect that's hard to quantify.
"He is an ordained queer theologian that looked at me and my unconventional research and said, 'You think differently and academia needs you,'" Holt says.
"Never underestimate a teacher who sees a misfit like me and says, 'Your work has value. You belong here.'"
Daniel-Hughes says this respect for students made Boisvert one of the most beloved faculty in the department.
"Here he was, a Christianity professor who left behind his earlier vocation of studying for the Catholic priesthood, who managed to hold office hours with the air of a confessional," she says.
"As an openly gay man, Donald created a queer-friendly and feminist space that allowed students, particularly queer students, to share their stories and feel seen, heard and valued."
Boisvert retired from Concordia in 2016 to pursue his lifelong dream of taking up the priesthood in the Anglican Communion.
"But I always felt, and he did share this sentiment with me too, that teaching was for him a kind of ministry," she adds. "It was a caring for people, a way of creating space for them to find and discover their talents and passions and to see things differently than they had before."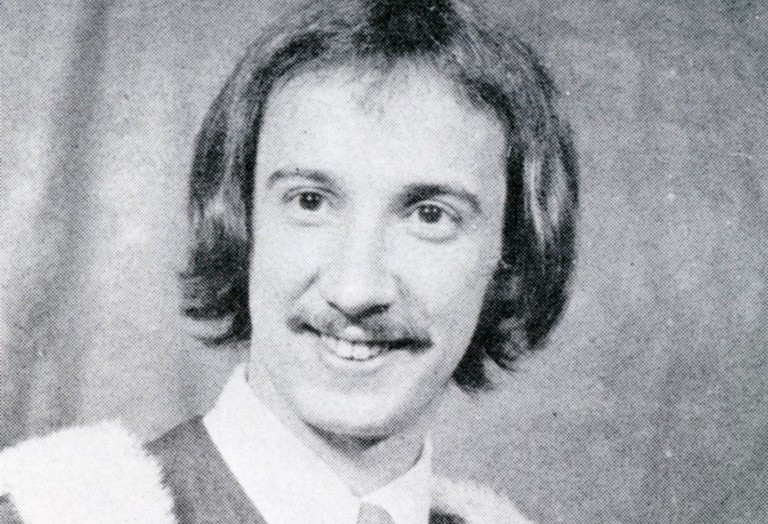 Donald Boisvert, Loyola Yearbook, 1975.
'Tangible impact on generations of scholars'
Boisvert's scholarship and teaching had this effect on Daniel Santiago Sáenz (BA 16, MA 18), currently a PhD student at Columbia University in New York City. He earned his bachelor's degree from the Department of Religions and Cultures.
"Donald taught me that radical queerness did not belong in the academic closet," says Sáenz, who decided to come to Concordia to study religion after reading Sanctity and Male Desire: A Gay Reading of Saints, a book he says spoke to him as a gay man and aspiring academic.
"His writing and teaching have been instrumental in shaping the field of religion and sexuality," Sáenz adds.
"There is no doubt in my mind that Donald has had a tangible impact on generations of scholars who have been fortunate enough to enjoy his intellectual generosity. I would not be where I am today without his encouragement and support."
Support the Donald L. Boisvert Scholarship for Gay and Lesbian Studies
If you want to honour Donald Boisvert's memory by making a contribution to the Donald L. Boisvert Scholarship for Gay and Lesbian Studies, you can do so:
Online at engage.concordia.ca/donate
By telephone at 514-848-2424, ext. 3884
By sending a cheque payable to Concordia University to:
Concordia University
1455 De Maisonneuve Blvd. W., FB-520
Montreal, QC H3G 1M8
When making your contributions, please specify that you would like to direct your gift to the Donald L. Boisvert Scholarship for Gay and Lesbian Studies. Online, you can do so by choosing "Other" from the drop-down list of designation options or by indicating that it's a tribute gift in honour of Donald Boisvert.
The funeral will take place at Christ Church Cathedral (635 Ste-Catherine W.) on Wednesday 26 June at 3 pm, followed by a reception at Fulford Hall. His coffin will be received in the Cathedral at 1 pm, after which there will be a time for viewing.
---