Concordia archivists move digital publications collection to a new location
Community and researchers can now easily sort, browse and search in-text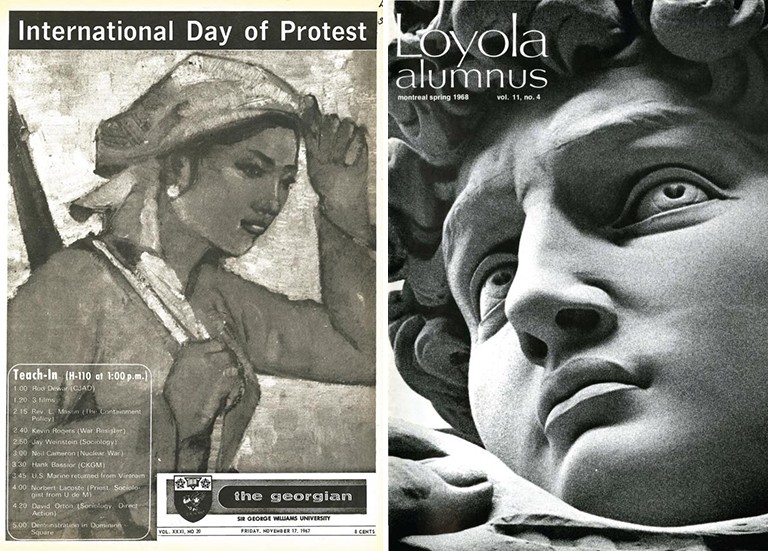 The final steps of the project took all summer, but the historical archives team at Concordia's Records Management and Archives (RMA) has officially moved its publications collection to the Internet Archive. The new location is much more sortable and searchable than the RMA general website.
"Having these publications on Internet Archive allows RMA to provide new and reliable ways to conduct in-text searching, browsing and sorting of material," explains digital archivist John Richan.
The collection dates back to 1926 and includes long-running publications such as The Loyola News (1938-1969), The Georgian (1936-1970) and The Thursday Report (1977-2005).
The digitization of Concordia's old and fragile publications began in 2014 and continues today. This recent migration project of more than 2,100 issues wrapped up in November after a long and detailed process that included the verification of content and metadata, filling in a number of missing issues, migrating preservation copies into digital preservation storage and finally uploading copies to Internet Archive.
"A lot of credit should be given to everyone that worked on the digitization of this material going all the way back to 2014," Richan says. "A ton of work went into that!"
'Greater access to the Concordia community and beyond'
According to Richan, the decision to migrate and preserve Concordia's historical digitized publication collection was made for two primary reasons. The first was to provide a more accessible platform to further aid research. Secondly, it allows them to store and preserve the material in accordance with the RMA's Digital Preservation Strategy and follow digital preservation standards using Archivematica.
"It is important for RMA to keep up with expectations from our researchers while, at the same time, granting greater access to the Concordia community and beyond," Richan says. "Those using archives have a growing expectation when it comes to finding information quickly and from anywhere."
For archives technician Caroline Sigouin, who has been working at Concordia for more than 30 years, the move is a game changer.
"Our new digital publications collection location and search capability is an indispensable and efficient tool for archives reference services. It provides our users (internal and external) with rich and valuable information on Concordia's history," she says.
And there are many interesting treasures to be found in the collection itself, according to RMA archivist Eric Côté. From the fictional edition of Loyola News published in 1965 but dated 1984 (ie. Loyola College as an Orwellian dystopia) to the Expo 67 issue of The Georgian, it is interesting to observe how much has changed over the years. It is also important to note how many of the headlines have remained the same many years later, adds Côté, such as stories covering debates over student fees.
In terms of what RMA archivists will be working on next, Richan says they intend to periodically review their other historical digitized material in search of additional items that may be worth moving to this new archive.
"We are aiming to migrate past issues of the Concordia Magazine in the first half of 2022," he says. "RMA is always open to community suggestions that support access and research."

Check out the Concordia Records Management and Archives publications collection on archive.org.
---