Concordia Archives and Records Management opens its virtual doors to the wider community
Ask An Archivist Day engages staff, students and the broader public through fun and educational Twitter exchanges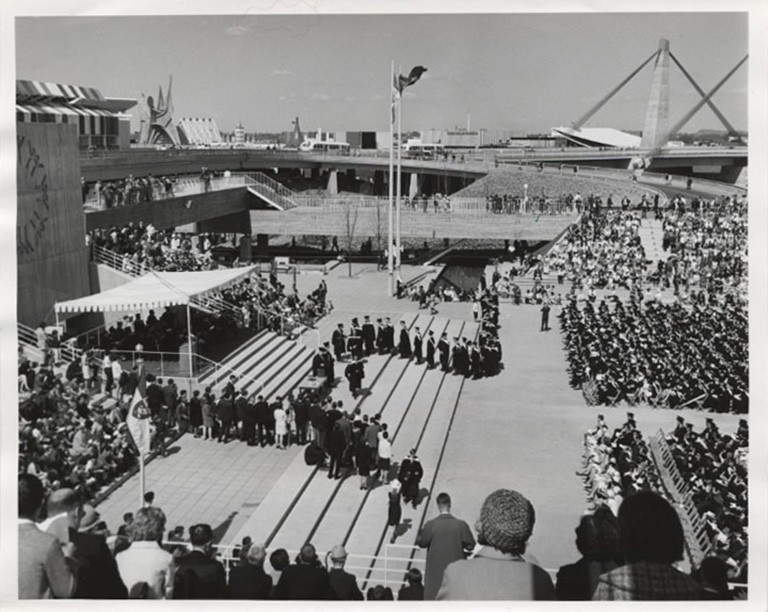 The 1967 spring convocation of Sir George Williams University, held at the Expo 67 site.
Concordia Records Management and Archives (RMA) participated for a second time in the annual #AskAnArchivist Day, held this year on October 7. The social media event, organized by the Society of American Archivists (SAA), takes place on Twitter and aims to open virtual doors into the archival profession.
University archivist Marie-Pierre Aubé was very pleased about the university's involvement again this year. "It helps RMA reach our objectives by highlighting our rich archives collection. It also provides a glimpse into how we work as archivists," she says.
With this goal in mind, an eager group of Concordia records managers and archivists engaged incoming questions throughout the day to provide informal, fun and serious responses about the profession, archives holdings and processes.
RMA staff responded to nearly 40 questions from Concordia staff, students, the general public and fellow archivists over five hours. They directed users to digitized materials in the Archives and Special Collections Shared Catalog and on the RMA website. The team also took the opportunity to promote specific archival fonds and items in the vault.
Throughout the day, SAA event organizers asked archivists from several communities to share areas of their collections related to specific themes. At one point, participants were asked to name a holding they feel people need to know about. RMA members responded with the HIV/AIDS Project collection, which illustrates the preventative measures and discussions undertaken by Concordia during the 1980s' HIV/AIDS epidemic.
Other highlights
Staff at the Seeley G. Mudd Library at Northwestern University in Evanston, Illinois, challenged Concordia's RMA to post a picture of a horse from its collection, which allowed the team to share a precious photo from the Hingston Family fonds (P0134-02-21) taken in 1875 by the renowned Montreal photographer William Notman.
When prompted by the University of Texas at Arlington Archives to provide a favourite photo from the Concordia collections, the RMA team was happy to share an image from the 1967 spring convocations of Sir George Williams University, one of Concordia's founding institutions, held at the Expo 67 site (I0002-02-1345).
Engaging the Concordia community and prospective students in the field
RMA sees #AskAnArchivist Day as an ideal opportunity to connect with a diverse community of individuals and institutions interested in traditional archives as well as digital resources, digital preservation and web archiving.
Looking ahead to #AskAnArchivist Day 2021, Concordia plans to have an expanded profile within RMA to more widely engage faculty, staff and students. Highlights will include views into archival workflow changes related to digitization and the challenges of digital preservation, particularly relative to historical shifts in the use of online environments due to the COVID-19 pandemic.
'Good team-building exercise'
Julie Daoust, a records management officer at Concordia, found this year's event informative as she witnessed people's interest in archives and the overall enthusiasm archivists have for their profession.
Records management analyst Emmanuelle Hoarau agrees. "It was a good occasion to discuss amongst ourselves," she says. "It was fun and a good team-building exercise to come up with answers and refresh our memories about our own collections."

Find out more about Concordia's Records Management and Archives.
---