Concordia introduces safe zones for completing online transactions in person
Campus Security will help facilitate smooth and safe exchanges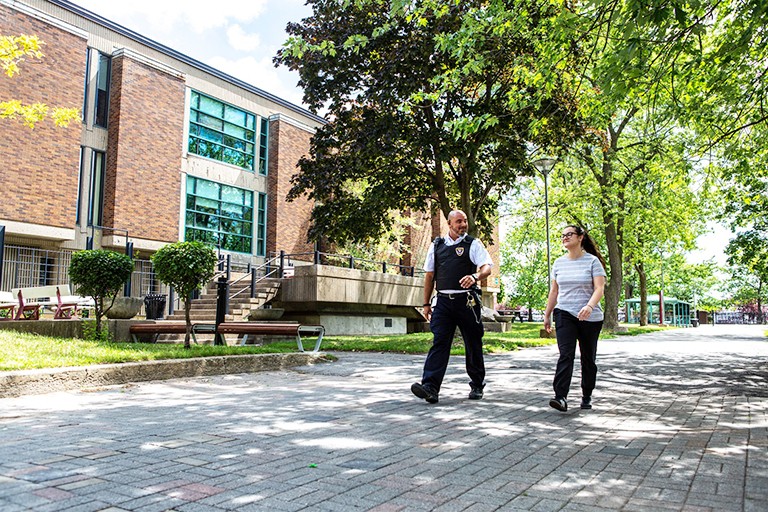 Selling used textbooks on Marketplace or your old cellphone on Kijiji?
Concordia has launched two safe exchange zones on campus to help keep you secure during in-person transactions. One is located at the EV security desk on Sir George Williams Campus and the other is at the SP security desk on Loyola Campus.
"We wanted to provide our community with a safe space to complete transactions started online, under the watchful eyes of Campus Security," says William Boyer, training coordinator with Campus Security and Emergency Services.
How to use the safe exchange zone
Community members can set up their in-person exchanges at the designated locations on each campus. The locations are highlighted with Safe Exchange signs posted on the walls. All you need to do is advise the security guards on duty that you will be doing an in-person transaction in the space and then proceed.
And don't worry about privacy. While security agents will be available if an emergency arises, they will not be screening the transactions taking place. However, you benefit from having a security guard present to ensure your security and the space itself has 24-hour video surveillance to help deter any unwanted experiences.
Tips for secure in-person exchanges
Here are a few helpful safety tips to keep in mind when completing any online transaction in person:
Only do transactions with local buyers/sellers.
Do not disclose unnecessary personal details.
When possible, bring a friend.
Insist on meeting in a public area like a Concordia safe exchange zone.
Beware of vague or "too-good-to-be-true" offers.
If possible, use cash to complete your transactions.
Trust your instincts — if it sounds like a scam, it probably is.
If somebody isn't willing to come to the security desk to complete a transaction, it's probably not a legitimate exchange.
Download the Rave Guardian app on your mobile device to keep security at your fingertips.

If you notice any suspicious activity on campus, please call Concordia Campus Security immediately at 514-848-3717 or text using the Rave Guardian app.
---