What you need to know about Concordia's mid-May bike sweep
PLUS: Take advantage of the BIXI discount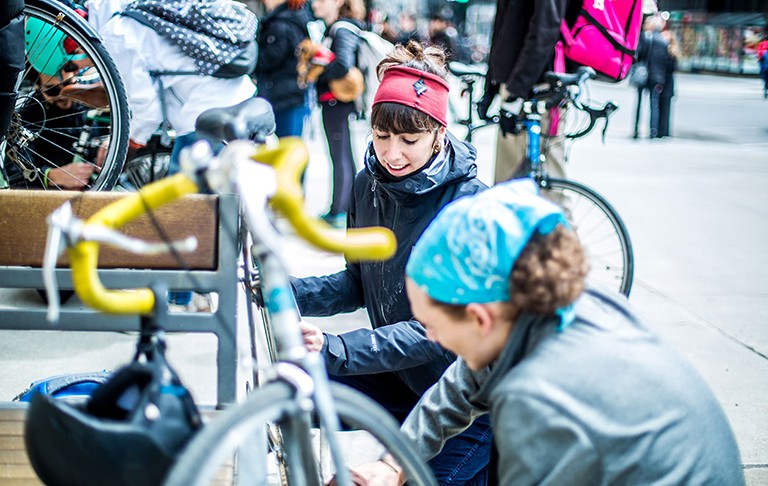 As of May 12, cyclists may see their bikes tagged if they're locked up on campus.
Facilities Management is on the lookout for abandoned bikes, trying to make room for those seeking space on crowded racks. They will also tag bikes in the secure bike facility as well as those locked illegally to public infrastructure.
If your bicycle gets tagged by mistake, simply take off the tag. On May 26, Facilities Management will cut the locks and remove bikes still bearing a tag.
If you miss the warnings and your bike is removed in the sweep, you will have 90 days to get in touch with Concordia Security at 514-848-3717 to reclaim your bike.
BIXI discount
Looking for an alternative to driving and public transport? Until May 31, members of the Concordia community can enjoy a 10 per cent discount on a seasonal BIXI passes.
For details on how to sign up as a new member or the steps to renew and old membership, visit the Sustainability Hub's BIXI page.
Indoor bike parking
If you're interested in more secure bike parking on the Sir George Williams Campus, consider signing up for indoor bike parking. All Concordia members can purchase an access pass and register to use the facility located in the underground parking of the J.W. McConnell (LB) Building. However, because space is limited, passes are sold on a first-come, first-served basis.
Passes also include access to bike tools, lockers and a discount on membership at Le Gym, where shower facilities are available.

Find out more about sustainable transportation at Concordia.
---