Concordia's SHIFT Centre for Social Transformation announces 3 new funding streams
$250,000 and a broader range of programs will better support socially transformative initiatives in Montreal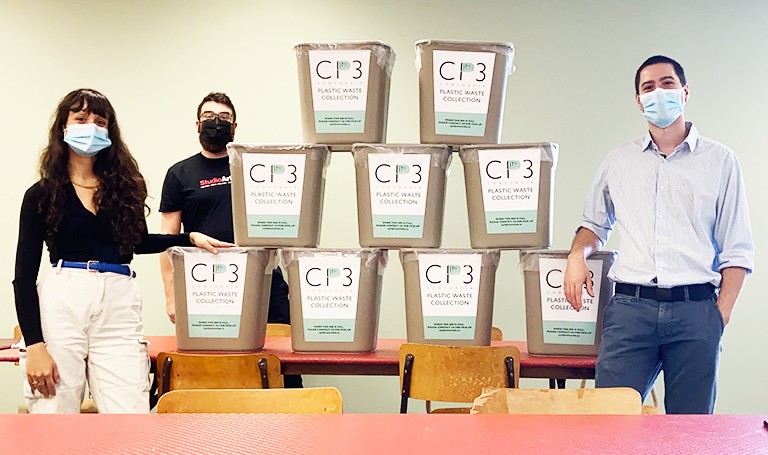 CP3 received $5,000 from SHIFT in 2020-21. The project aims to fight the plastic crisis.
Concordia's SHIFT Centre for Social Transformation recently revealed its lineup of new and redesigned funding programs. A total of $250,000 is on offer for community-led projects fighting systems of injustice, inequity and unsustainability in Montreal.
The centre's mandate is to support existing and emerging social transformation initiatives that unite the efforts of Concordians and their partners with the goal of creating a more just, inclusive and broadly prosperous city.
In previous years, applicants were funnelled through a single application process regardless of the amount of money they were seeking or the stage of their project's development. Now candidates can apply for support through three different programs: the Gateway Program, the Social Transformation Fund or the Ongoing Connections Grant.
"By offering an extended range of funding options, we further align with our mission to connect diverse stakeholders, provide support for community-led initiatives and facilitate a dynamic space where people can learn and collaborate around social transformation," says Susan Edey, program manager at SHIFT.
Investing in valuable connections
The amount of funding available for projects this year has more than doubled from previous years. But the real shift is that the centre now offers a scheme of programs focused on developing and nurturing valuable relationships.
"SHIFT was conceived with the objective of developing an ecosystem that fosters social transformation," notes Andrea Clarke, senior director of community engagement and social impact.
"With this vision in sight, it is important to us, both for the members of our governing bodies and for the staff, to implement programs that support collective learning and sustain a strong community around the centre."
Investing in emerging connections: SHIFT Gateway Program
The Gateway Program is the most accessible pathway to receive funding from SHIFT and welcomes new members to the SHIFT learning community. Application is open to Concordians and Montrealers engaged in community-grounded projects and committed to learning more about social change.
The Gateway Program assists candidates in acquiring a deeper understanding of social change and enacting the socially transformative potential of their work. Successful applicants will participate in a six-part workshop series and will receive $5,000 of the total $50,000 available.
Applications to the Gateway Program are currently being accepted, with two deadlines set for November 21, 2021, and May 15, 2022. Learn more about the Gateway Program and apply.
Investing in impactful connections: Social Transformation Fund
The Social Transformation Fund (STF) is designed for multi-stakeholder teams who are tackling significant community-identified issues related to systems of inequity, injustice and unsustainability. Based on their stage of development, applicants can either select the Implementation stream and receive $15,000, or — for more advanced projects — they can select the Impact stream and receive $30,000.
In total, this program allocates $150,000 for projects that have a connection with Concordia and align with SHIFT values.
The Social Transformation Fund will officially launch in January 2022. Read more about the STF.
Investing in sustained connections: Ongoing Connections Grant
The Ongoing Connections Grant (OCG) pilot was introduced in 2021. With it, SHIFT recognizes the long-term nature of most social change projects and commits to maintaining ongoing supportive relationships with previously funded projects.
The OCG offers a renewable grant of $5,000.
Applications are accepted on an ongoing basis with four annual cut-off dates, the next of which is January 30, 2022. Learn more about the OCG.
Empowering the voice of the community
When it comes to the selection process, the decisions are left entirely to the SHIFT community.
"SHIFT operates under a participatory governance model, and it is important that this be reflected in the selection process of projects that will receive funding from our programs," Clarke explains. "All projects are evaluated according to our list of selection criteria; however, both the criteria and the associated decisions are determined by members of our community."
Although each funding program has its respective selection process, they all share a commitment to fostering community ownership of funding decisions. Therefore an independent selection jury of three to five people from the SHIFT community, who bring a diversity of perspectives, review all projects.

Read more about funding programs from Concordia's SHIFT Centre for Social Transformation.
Book an appointment during office hours to discuss your project with the team.
---