Concordia PhD grad is recognized for his research on dopamine and alcohol misuse
2018 Public Scholar Milan Valyear earns a Brain Star Award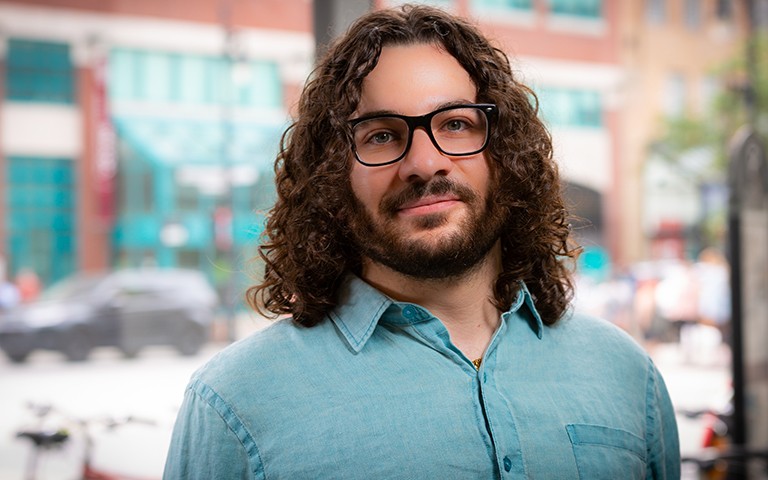 Milan Valyear: "My team's research demonstrates that discrete alcohol cues and contexts are powerful triggers."
Scientists believe the brain's dopamine system plays an important role in alcohol misuse. But relapse rates are high and dopamine-targeted medications have been unsuccessful at treating them.
It's the topic of interest for Concordia graduate Milan Valyear (PhD 20), a 2018 Public Scholar who is now a postdoctoral researcher at McGill University.
Valyear's has just been recognized with a 2020 Brain Star Award for his article, "Dissociable mesolimbic dopamine circuits control responding triggered by alcohol-predictive discrete cues and contexts," published in Nature Communications in July 2020. His research was carried out as part of his doctorial thesis at Concordia.
The Brain Star Award is funded by the Canadian Association for Neuroscience (CAN) and the Canadian Institutes of Health Research Institute of Neurosciences, Mental Health and Addiction (CIHR-INMHA).
Valyear credits his success to the guidance of his PhD supervisor, Nadia Chaudhri, associate professor of psychology. Chaudhri is senior author on the winning publication. "Nadia's mentorship was unwavering throughout this project and my PhD at Concordia," he says.
Valyear is one of 15 Canadian students receiving $1,500 and an opportunity to present a summary of their research to the Canadian neuroscience conference.
'We made fundamental discoveries that allowed us to provide concrete recommendations for clinicians'
Tell us a little about your research.
Milan Valyear: My team's research demonstrates that discrete alcohol cues, like the sight of a beer, and alcohol contexts, like the ambience of a bar, are powerful triggers for relapse-like behaviour in rats. Importantly, we identified novel behavioural and pharmacological targets for therapeutic intervention.
Specifically, we showed that rats exhibit more alcohol-seeking behaviour in response to a discrete cue when that cue is presented in a context where they had previously consumed alcohol. Pharmacotherapies that target dopamine projections independently should be developed and may be effective in treating alcohol misuse.
Why does this research appeal to the award's funders?
MV: The Brain Star Awards were designed to highlight neuroscience, mental health and addiction research by trainees in Canada. I think my project appealed to CAN and the CIHR-INMHA because we made fundamental neurobiological and behavioural discoveries that allowed us to provide concrete recommendations for clinicians and researchers working on alcohol use disorder.
Why is this research important for society?
MV: Our findings suggest that when sober people encounter a discrete alcohol cue in an alcohol context, for example when they are offered a beer in a bar, that it may be particularly difficult to refuse that offer compared to being offered one in a different context, like at work. Clinicians treating alcohol misuse should be mindful of contexts that are powerful relapse triggers for their patients and implement strategies to address these triggers.
That the dopamine system plays two distinct roles in relapse-like behaviour has implications for the development of medications to treat alcohol use disorder. Existing medications that target the dopamine system may be ineffective because they incidentally target multiple components. Our work suggests that medications should be developed that target separate dopamine projections and that these medications may be effective at treating alcohol use disorder.
What are your next steps?
MV: As a postdoctoral researcher in Jonathan Britt's lab at McGill, I am studying how dopaminergic and glutamatergic inputs to the nucleus accumbens contribute to valence — whether a stimulus is good or bad — and salience — how intense a stimulus is. These are two psychological processes that are disrupted in psychopathologies including substance use disorder and schizophrenia.
Ultimately, if we understand how the activity of cells within, and inputs to, the nucleus accumbens determine salience and valence, we can develop interventions that restore appropriate functioning to treat psychopathology.
Do you have any tips for incoming graduate students on how to maximize their experience and impact at Concordia?
Being a PhD student at Concordia allowed me to conduct groundbreaking neuroscience research and engage with the community. I am proud of my discoveries that contribute to the development of new therapies for alcohol use disorder. Communicating my science as a Public Scholar was such a fulfilling part of graduate school. It is such a privilege to be able to study something rigorously, make a discovery and share that discovery.
Incoming graduate students should take the time to find a subdomain within their field that fully captures their interest. Sharing that interest will feel effortless and their enthusiasm will captivate whomever they speak to.

Find out more about Concordia's Department of Psychology.
---