Public Scholars past and present launch Concordia's Journal of Accessible Psychology
The annual university-based periodical run by grad students will showcase the latest in undergraduate research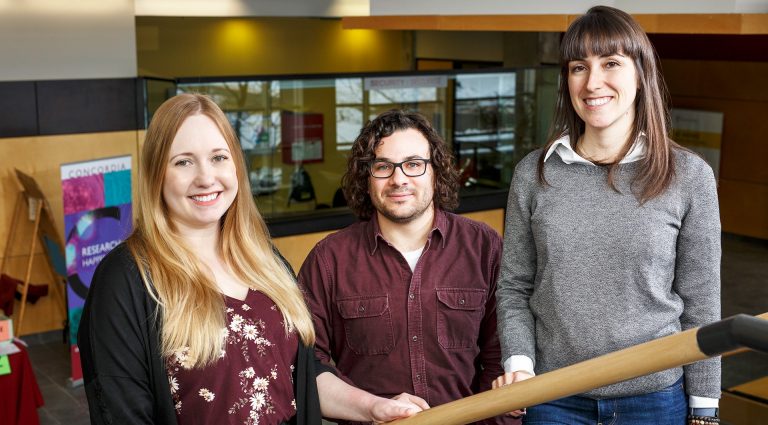 Communicating scientific research can be a tricky task.
Rely too heavily on technical jargon and some peoples' eyes start to glaze over. Dilute it too much and you run the risk of selling yourself short.
Milan Valyear, a PhD candidate in psychology and 2018 Concordia public scholar, is familiar with this dilemma — and so decided to do something about it.
Together with a group of eight other graduate students in the university's Department of Psychology, he recently helped launch Concordia's Journal of Accessible Psychology.
PhD candidate in psychology Alexa Ruel will serve as the journal's editor-in-chief, while current public scholar Heather Herriot is also one of the main players.
"The journal is run by grad students and this is our inaugural year," Valyear says.
"We're inviting undergraduate students to submit their thesis work in blog-style posts. We have some guidelines about how you can communicate scientific research effectively and we'll be an annual publication, appearing every September."
The journal has a twofold mission: to teach undergraduate students about science communication by giving them the opportunity to write about their own psychological research, and to train graduate students on the same topic by giving them experience with the review process.
"We're a group of graduate students who came together, and the goal is to train undergrads and give them an opportunity to communicate their science accessibly," Valyear explains.
Public scholars push for effective communication
What does making psychology accessible mean?
Academics can sometimes have a hard time summarizing the minutiae of their research in a concise and engaging way.
As the journal's mission statement maintains, many researchers never get proper training on how to convey complex information to the public, "thus causing them to 'dumb down' their research instead of making it more concise."
"There are currently very few opportunities for undergraduates to develop science communication skills. We're providing both the training and an outlet for these students to improve these skills," Herriot says.

"We plan to run many workshops in addition to the journal, to teach how to write about their research in a more accessible manner but also other important skills for science communication, like how to use social media effectively to engage the public."

Ruel reports that the new journal has been well received. "So far, the response from graduate students has been very motivating. Many have joined our team and are eager to contribute to this amazing project," she says.
Valyear, who specializes in behavioural neurobiology, points out that getting the proper training can have a positive impact on an academic's career, in some cases facilitating publication.
"One of the biggest metrics of success in science, for better or for worse, is publication. The more you publish, the more esteemed and successful you are considered to be — but there are very few opportunities for undergrads to get published," he says.
"So starting a journal that's geared at publishing undergrad research gives them training in how to communicate science effectively and an opportunity to build their resumé. That way they have a citable publication before they go on to graduate school."
He mentions that his time as a public scholar taught him a lot about communicating his research to the public, and motivated him to give back to the Concordia community.
"I really enjoyed my year as a public scholar. We're using the program's blog as a framework."
Herriot agrees. "Concordia's Public Scholar Program has been one of the most challenging and rewarding experiences of my graduate career," she says.
"As an aspiring academic, I wanted to start something within the psychology department that will allow students to gain valuable experience in science communication at the same time graduate students have the opportunity to practice their reviewing skills."

Find out more about the new Concordia's Journal of Accessible Psychology.
---