Nadia Chaudhri, PhD
Associate Professor, Psychology
FRQS Chercheur-Boursier, Junior 2, Psychology

---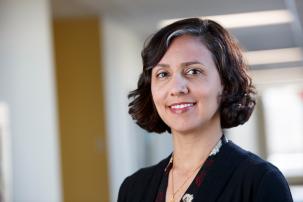 ---
Publications
Selected Publications
Cofresi RU, Lewis SM, Chaudhri N, Lee HJ, Monfils MH, Gonzales RA(2017) Post retrieval extinction attenuates alcohol cue reactivity in rats. Alcohol Clin Exp Res41:608-617. [PubMed]
Maddux JN, Chaudhri N (2017) Nicotine-induced enhancement of Pavlovian alcohol-seeking behavior in rats. Psychopharmacology (Berl)234:727-738. [PubMed]
VillaruelFR, Chaudhri N (2016) Individual differences in the attribution of incentive salience to a Pavlovian alcohol cue. Front Behav Neurosci 10:238. [PubMed]
Lacroix F, Pettorelli A, Maddux JN, Heidari-Jam A, Chaudhri N (2016) Varenicline reduces context-induced relapse to alcohol-seeking through actions in the nucleus accumbens. Neuropsychopharmacology. [PubMed]
Sciascia JM, Reese RM, Janak PH, Chaudhri N (2015) Alcohol-seeking triggered by discrete Pavlovian cues is invigorated by alcohol contexts and mediated by glutamate signaling in the basolateral amygdala. Neuropsychopharmacology40:2801-2812 [PubMed]

Srey CS, Maddux JM, Chaudhri N (2015) The attribution of incentive salience to Pavlovian alcohol cues: a shift from goal-tracking to sign-tracking. Front Behav Neurosci 9:54. [PubMed]
Chaudhri N, Sahuque LL, Schairer WW, Janak PH (2010) Separable roles of the nucleus accumbens core and shell in context- and cue-induced alcohol-seeking. Neuropsychopharmacology 35:783-791 [PubMed]
Chaudhri N, Sahuque LL, Janak PH (2008) Context-induced relapse of conditioned behavioral responding to ethanol cues in rats. Biological psychiatry64:203-210. [PubMed]
Chaudhri N, Caggiula AR, Donny EC, Booth S, Gharib M, Craven L, Palmatier MI, Liu X, Sved AF (2007) Self-administered and noncontingent nicotine enhance reinforced operant responding in rats: impact of nicotine dose and reinforcement schedule.Psychopharmacology 190:353-362. [PubMed
Complete Publication list
For a complete list of my publications click the link below:
https://www.ncbi.nlm.nih.gov/myncbi/browse/collection/44495175
---
Research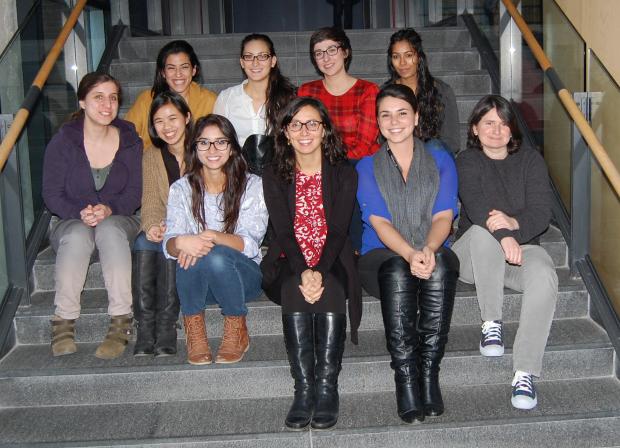 Chaudhri lab, 2013
---
Biography
Dr. Chaudhri earned her B.A. in Biological Foundations of Behavior with a concentration in Neuroscience at Franklin & Marshall College in Lancaster, PA, USA. She completed her Ph. D. in Neuroscience at the University of Pittsburgh in 2005. Dr. Chaudhri did her post-doctoral training in Neurobiology at the Ernest Gallo Clinic and Research Center at the University of California in San Francisco. She joined the CSBN and the Department of Psychology at Concordia University in January 2010 as an Assistant Professor and was promoted to Associate Professor with tenure in June 2014.
Fun fact
I get a kick out of growing (veggies), hunting (mushrooms) and catching (fish) my own food.
---
Lab alumni
Jose Mendoza, M.A. (2011-2013)
Lindsay Sparks, M.A. (2010-2012, now a Ph. D. candidate in the Pfaus lab)