John Molson School of Business entrepreneurs-in-residence help students 'bridge the theoretical and the practical'
Charles Bierbrier and Greg Adelstein explain why mentorship is about way more than just giving advice
Charles Bierbrier: "Speaking to young entrepreneurs is the most energizing thing."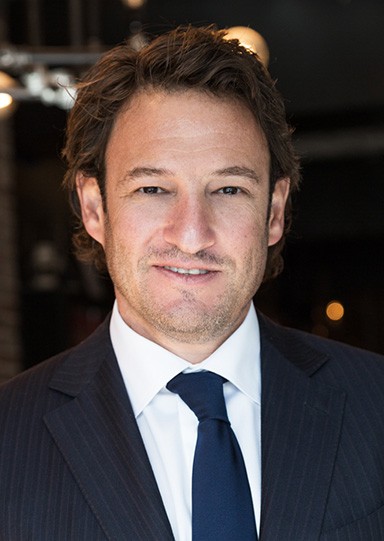 Greg Adelstein: "It's interesting to see what the latest graduates are working on and what's in the pipeline."
A central role of Concordia's entrepreneurs-in-residence is to share their experience with students looking to create their own businesses.
"One of the biggest challenges for young people wanting to start a business is taking those first few steps," says Charles Bierbrier (MBA 03), current entrepreneur-in-residence at the John Molson School of Business. The entrepreneur-in-residence initiative is made possible by the National Bank Initiative in Entrepreneurship and Family Business at the John Molson School.
"Even with the technical or formal competencies that they have, the creative early stages can be overwhelming. My role is really about helping them bridge the theoretical and the practical."
Greg Adelstein, founder of iGotcha Media, was first to take on the position back in 2015.
"Mentoring students is more than just giving advice," Adelstein says.
"I talk through their ideas with them. I help them develop business plans and think through and troubleshoot potential issues that might arise. We strategize together about how to create partnerships and generate interest in their ideas."
The value of mentors
That's why Adelstein believes one of the most important tasks for young entrepreneurs is to find mentors. "There's no teacher like experience, and luckily there are many seasoned entrepreneurs who are willing to share their knowledge," he says.
With more than 15 years experience with high-tech startups, Adelstein began mentoring students at McGill University and Concordia several years ago. His company iGotcha Media specializes in integrated brand experiences.
As entrepreneur-in-residence, Adelstein gave lectures, spoke to students and student groups and served as a judge for entrepreneurial-based John Molson competitions. He also offered guidance to the Concordia Small Business Consulting Bureau.
"I discussed many aspects of business with students. Sometimes it was about how to create shareholder agreements. Sometimes it was about how — or whether — to create a kind of business that has never existed before. Students are often excited about doing something absolutely novel, so we would work through their ideas together," Adelstein says.
"We'd think about what kinds of unique challenges might arise in doing something original. We'd ask why this or that kind of business doesn't yet exist. Sometimes there's a reason nobody is doing something. It was always really interesting."
The benefit of experience
Bierbrier had a successful career in banking and investment until 2005, when he left to start Bierbrier Brewing. He has served as the John Molson School of Business's entrepreneur-in-residence since 2017.
With lending a hand to Concordia's District 3 Innovation Hub, judging at the John Molson Annual Graduate Research Exposition, giving guest lectures and supporting student entrepreneurial organization Enactus, Bierbrier keeps busy.
"In working with students, it's really about helping them make the process of starting and sustaining a business more concrete. Often the most valuable thing I can do for them is just tell them anecdotes and stories about the challenges I've faced," he explains.
"It helps give them a better idea of how to get started and the challenges they're likely to meet. It lets them think about how they'll persevere and how they can mentally and practically prepare themselves to keep moving forward when things aren't working."
Student advantage
Paisley Nyberg, recently named 2020 Student Leader of the Year by Enactus Canada, recognizes the many benefits of mentors to students.
"At the start of my mandate as president of Enactus Concordia, one of my strategic imperatives was to provide more resources for the student body. Our team created a mentorship program to do just that. We compiled resources for starting a business in Montreal and we held a series of workshops. Charles spoke to 50 attendees at the very first workshop, which focused on the 'ideation' period of entrepreneurship," Nyberg recalls.
"Students learn best when they can relate to the information being presented. Charles's story is a perfect example of the entrepreneurial endeavour: it includes successes and failures, highs and lows. He presents his story in a way that motivates others to get over their apprehensions and take a chance on themselves. It helps get you beyond the classroom."
Why be a mentor?
For Bierbrier and Adelstein, there are numerous motivators for taking on mentees.
"For me it's about sharing my knowledge and experience with others, trying to go full circle and give back," Adelstein says. "It's also inspiring to hear students' ideas. I love being exposed to all of their great energy. The back-and-forth can be useful to everyone. The excitement is contagious. It's also interesting to see what the latest graduates are working on and what's in the pipeline."
Bierbrier concurs. "Being wrapped up in your own business for so long, you can get a bit jaded. Speaking to young entrepreneurs is the most energizing thing. I get pumped. Hearing their perspective gives me new perspective, too. It forces me to sharpen my skills and stay up to date," he says.
Bierbrier adds that, over time, he's realized that being a positive, contributing member of a community is not separate from being a successful entrepreneur.
"Being a good person and caring about the community is already part of doing good business. It's all about being a good person."

Find out more about Concordia's John Molson School of Business.
---