Naomi Azar is awarded the $100K Miriam Aaron Roland Graduate Fellowship
The PhD student in clinical psychology is researching the impacts of prenatal exposure to chemicals in our daily environment on child development and mental health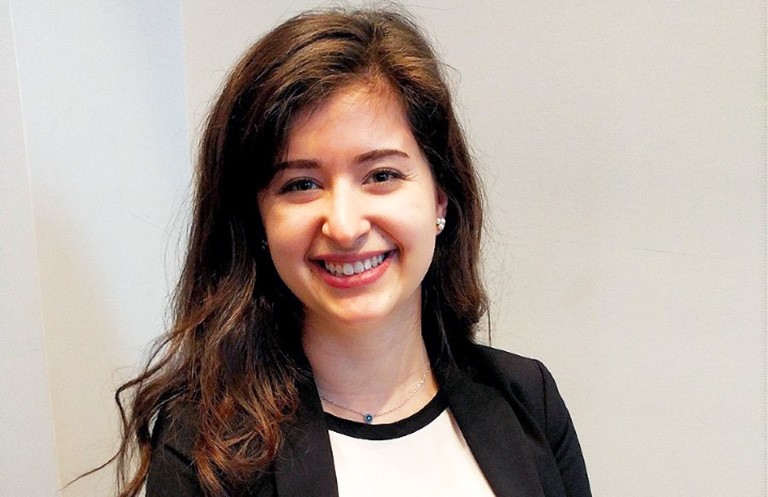 Naomi Azar: "There's always something or someone that can help you out and direct you, and that's part of what makes Concordia such a great environment for students."
Every year, Concordia grants two doctoral students the prestigious Miriam Aaron Roland Graduate Fellowship. The award is valued at $100,000, distributed across the four years of a PhD program.
The fellowship aims to attract Concordia's best and brightest students whose research proposal fosters interdisciplinary cooperation and enhances the university's research profile. Naomi Azar (BA 17) is one of this year's recipients.
An early interest in psychology
Azar's interest in human behaviour and early childhood development started when she was very young. She recalls being fascinated by the characters she would come across in books, movies and TV shows. "I was always interested in where they came from and why they did what they did."
Azar's solidified her early passions during her undergraduate years at Concordia, where she also discovered a love for the more neurobiological side of the field.
"I got to volunteer in multiple different labs and explore the various interests I had."
During her undergraduate studies, Azar volunteered in a behavioural neurobiology lab under the supervision of Nadia Chaudhri, associate professor in the Department of Psychology, where she worked on animal addiction. Later, she received a Natural Sciences and Engineering Research Council of Canada (NSERC) summer research award and completed an honours thesis studying early childhood development under the supervision of Diane Poulin-Dubois, professor of psychology.
More recently, she has worked as a research assistant at Concordia and at the Research Centre of the Sainte-Justine University Hospital, under her current supervisor Linda Booij, associate professor of psychology and Concordia University Research Chair in Eating Disorders.
"In terms of shaping my potential career and interests, I really do owe a lot to the different researchers I've worked with," Azar says. "They offered me amazing opportunities and allowed me to develop new skills and be involved in a variety of projects."
PhD begins this fall
Azar started her PhD in clinical psychology this September. She is excited to continue working under the supervision of Booij.
"My project is going to look at prenatal exposure to chemicals we find in our daily environments and how they may impact development across childhood," she explains. "We are particularly interested in whether these chemicals impact gene expression as well as brain structure and function."
This publicly funded research will be undertaken in collaboration with Health Canada. The participants of the study consist of a cohort of children that were observed since pregnancy. Azar notes that the research will examine different developmental factors. She hopes the results will help further understand how early life adversities may impact later development and mental health.
"I would like to see these results promote health at a policy level and help communities."
'Setbacks are normal, and they will not ruin your career'
Azar has taken away important life lessons from her time at Concordia so far. Besides the academic knowledge, she learned the importance of prioritizing different tasks and letting the smaller things go.
"I learned to focus on the bigger picture and how to pick my battles," she says. "I was taught that setbacks are normal, and that you need to accept that they will happen. Moving past them will help you advance further."
Azar explains it took her time to realize that she did not always need to land As on every single exam or have a long list of extracurricular activities in order to succeed.
"I learned that it may be important, but it's not everything. Your grades don't always have to be perfect," she notes.
"Setbacks are normal, and they will not ruin your career."
Giving back some of the support she received
Azar also explains how much she benefitted from the various resources offered by the university.
"Concordia is full of faculty members, staff and organizations like the Student Success Centre that are there to support you and your learning. All you need to do is ask."
She currently takes part in the Mentorship Among Psychology Students program. She hopes to help students who need guidance and are going through similar challenges that she has faced.
Azar was a mentee herself during her undergraduate years and has now become a mentor to others. "I love to be involved in mentorship programs and give back a fraction of what I received throughout my training," she says.
"There's always something or someone that can help you out and direct you, and that's part of what makes Concordia such a great environment for students."

Find out more about graduate awards and funding at Concordia.
---