Concordia celebrates 26 Indigenous graduates
The Aboriginal Student Resource Centre hosts a special ceremony to recognize their achievements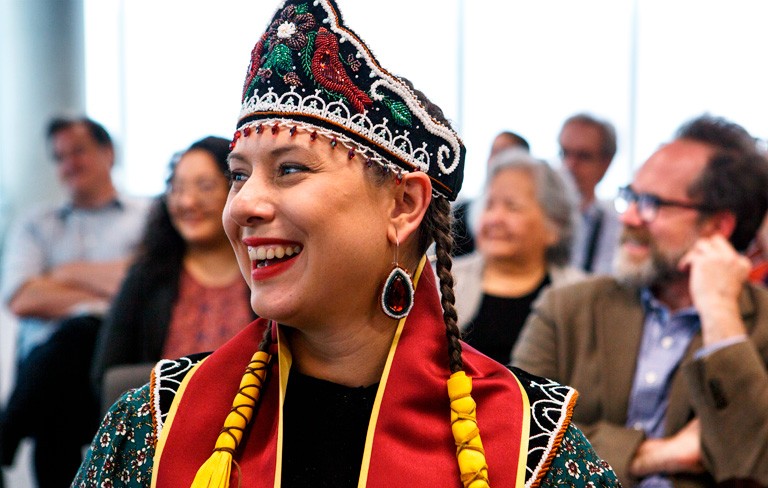 Isanielle I:Si Enright: "The staff at the Aboriginal Student Resource Centre are like extensions of my parents."
During a powerful, emotional and intimate ceremony, Concordia's newest Indigenous graduates marked the completion of their degrees with laughter, tears and an abundance of pride.
The seventh annual Indigenous Student Graduation Gathering, organized by the Aboriginal Student Resource Centre (ASRC) took place on the ninth floor of the John Molson Building (MB) on June 6.
It was an opportunity to recognize the accomplishments of 26 First Nations, Inuit and Métis undergraduate and graduate students while acknowledging the unique challenges they faced.
The ceremony opened with a traditional honour song by the Foxtail Singers and musician and filmmaker Craig Commanda, as the graduates sat in a semi-circle around them.
Friends and family cheered on the graduates as they shook hands with individuals in the receiving line and received their commemorative stole. Designed by Kahnawake artist Tammy Beauvais, the stoles bear the Concordia colours and logo along with a feather meant to symbolize the strength, wisdom, power, honour and freedom the students achieved with their diplomas.
As joyful as the ceremony was, several graduates and family members choked down tears as they acknowledged all those who had made sacrifices so they could pursue their post-secondary education.
"It really is bittersweet," said Wahéhshon Shiann Whitebean, who completed her MA in the Individualized Program in social science and will begin her PhD studies at McGill University this fall.
"I'm excited to meet new people and make new relationships and friends," she said. "But it's really hard to leave the comfort of the network and the support system that you have here and start over."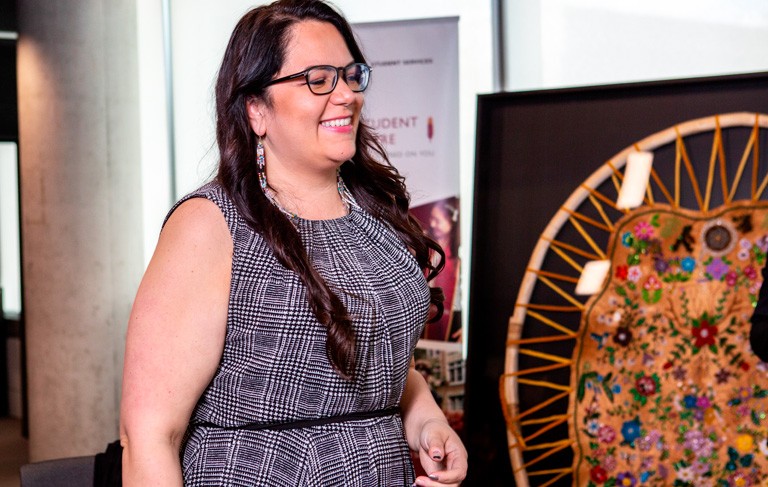 Wahéhshon Shiann Whitebean: "I'm proud to see the work that people are continuing to do here."
As a student leader, Whitebean was instrumental in pursuing decolonization initiatives at Concordia, in particular the creation of the Indigenous Directions Leadership Group, the Territorial Acknowledgement and the Indigenous Elder and Community Protocols.
"I did a lot of organizing at Concordia, but what I'm most proud of is seeing the work that people are continuing to do here," she said.
"I want to see some of the things that I started keep going and see where Concordia takes all this. I really wanted to create a space where Indigenous students could define their own success."
Help with the transition
Orenda Konwawennotion Boucher-Curotte has watched the annual ceremony grow in both size and scope since she completed her MA at Concordia in 2012. As the ASRC's coordinator for the past two years, she has seen graduate lists get longer. At the same time, she has worked to identify issues that students struggle with while trying to complete their degrees.
"A lot of our independent students get lost in the university and struggle to get the support that they need from a particular department," said Boucher-Curotte. "We're looking to see if we can develop a transition program for those students so when they come here, they have the tools they need to start."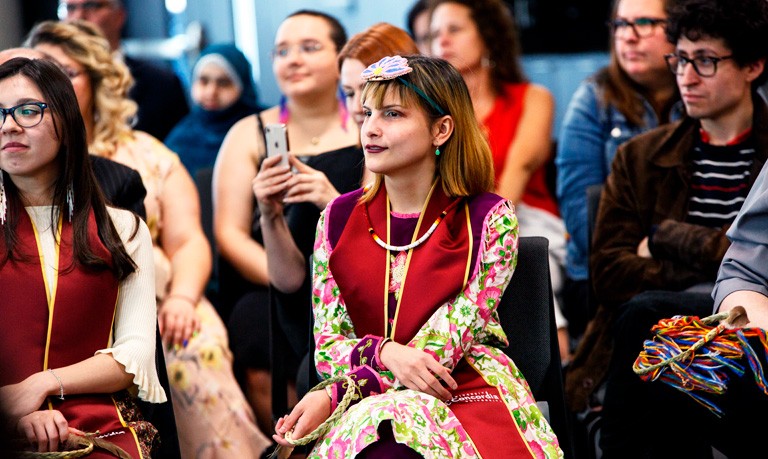 'It turned into an extension of family'
Isanielle I:si Enright credited the ASRC with saving her academic career. For her first year-and-a-half at Concordia, she did not even know the centre existed, she told the audience at the ceremony.
She only heard about it by chance when a fellow student found her doing beadwork alone at a table in the Hall Building. At the time, she was miserable and contemplating abandoning her academic career.
"I'm very introverted, so I was apprehensive about how people were going to welcome me," said Enright, who will be completing her BA in translation this summer.
"It turned into an extension of family. All the students there I consider my brothers and sisters, all the people who are administration and staff are like extensions of my parents, and I know that's the case for a lot of students."
The centre's staff would also help students buckle down and do the required heavy lifting to complete their work as well, said Aidan Thorne, who is completing his BFA in painting and drawing.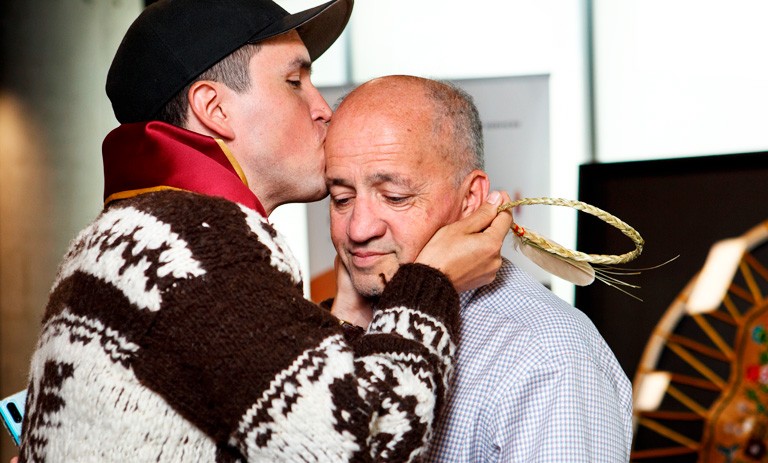 Aidan Thorne (left), seen here with his father, is completing his BFA in painting and drawing.
Bo Kim, the ASRC department assistant, "would catch me," Thorne added. "She'd tell me to fill out this form or to call someone important right away. She was always looking out for me. When I say she's my auntie, I really mean it."
Boucher-Curotte said she believes there is a bright future for Indigenous students at Concordia.
"The more progressive the administration has become, the more it has come to understand what decolonizing education is and what it takes," she said.
"It takes the Indigenous people on campus to do a lot of that work but they have to be supported by the rest of the institution."

Learn more about the Aboriginal Student Resource Centre.
---