Concordia's Waste Not, Want Not campaign aims to complete the compost cycle on campus
The successful collaboration has diverted 143 tonnes from landfills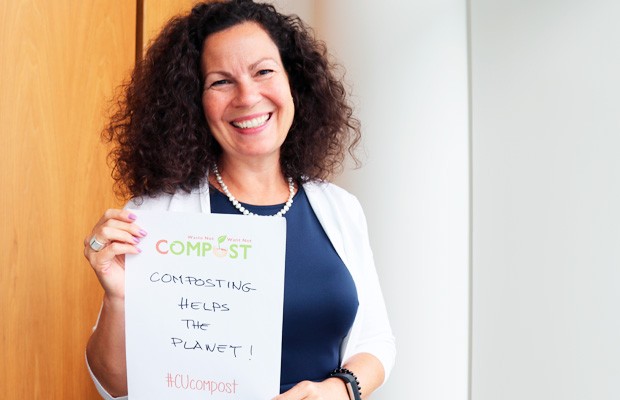 Anne-Marie Croteau, Dean of the John Molson School of Business.
Keroles Riad is the collaboration lead for Concordia's Waste Not, Want Not compost campaign.
Just how much organic waste does Concordia collect? Since Waste Not, Want Not started in September 2016, more than 143 metric tonnes have been collected in the compost bins with orange lids. Fifty-seven metric tonnes of this total would have previously ended up in landfills.
Waste Not, Want Not is a collaboration between Concordia students, faculty, staff and the administration. It aims to establish a complete compost cycle at the university.
Now in its third year, the campaign won the first Concordia Council on Student Life (CCSL) Big Hairy Ideas Competition in 2016 and joined forces with the university's Student Sustainability Ambassador Program in 2017.
This year, the collaboration wants to institutionalize composting best practices across all sectors. The university also plans to increase the number of compost bins on campus this September and is looking into local composting solutions.
Roger Côté, vice-president of Services, is impressed by the students' dedication and he credits Waste Not, Want Not for encouraging members of the community to reduce the university's environmental footprint.
"This has been a true community effort involving many groups within Facilities Management and Environmental Health and Safety," he says.
"We need to recognize the efforts of the custodial staff who do the hard work on the ground, the professors who teach by example, and the students who, I'm sure, will carry forward these sustainable practices beyond Concordia and become the next-generation of community leaders."

Change is happening
Since its first year, Waste Not, Want Not has improved Concordia's annual organic diversion rates by 74 per cent. In that time, the number of compost bins on campus has risen from nine to 82. Parallel efforts have seen the university's cafeterias switch from all garbage to compost bins.
The campaign's collaborative framework, which emphasizes community-led ownership, is largely responsible for these successes. The structure of the collaboration entails that the administration and staff improve the composting infrastructure, and students and faculty run an education campaign.
Rebecca Tittler, coordinator of the Loyola Sustainability Research Centre and professor in the Loyola College for Diversity and Sustainability, gives Waste Not, Want Not presentations to all of her classes and recommends other faculty members do the same.
"Concordia has a responsibility to help address the UN Sustainable Development Goals," she says.
"Taking a few short minutes out of a class to get students thinking about composting on campus is a small and simple step toward these goals."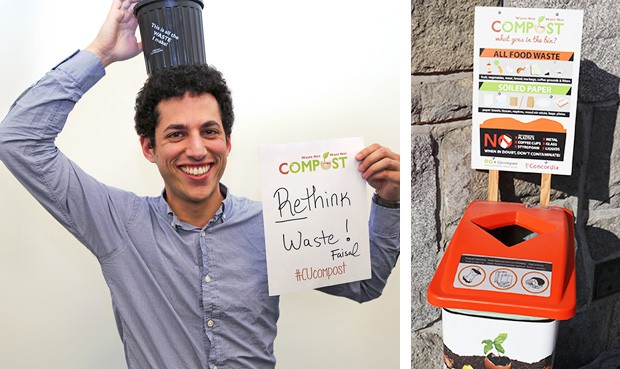 Faisal Shennib, environmental coordinator with Facilities Management.

Faisal Shennib, environmental coordinator with Facilities Management, says more exciting changes are on the horizon at the university.
"Concordia has recently approved $85,000 to install high-capacity waste stations — including compost bins — in high traffic areas, as well as commonly used event venues," Shennib says. "This is a big step in diverting waste within our Zero Waste Program."
Encouraged by the community's engagement towards composting, the university is investigating the procurement process, exploring the possibility of low emission transportation and processing, and providing compost back to the Concordia community.
Meanwhile, students continue to host educational events, including a food festival to showcase sustainable organizations and research projects, such as the PERFORM Centre, the Centre for Creative Reuse, the Hive, and the Dish Project.



What you can do
While the Waste Not, Want Not campaign has shown considerable progress, there's still room for improvements. At the moment, half of what Concordia sends to landfills is compostable.
Here are five ways you can make an impact:

Volunteer
Waste Not, Want Not is always looking for students, professors, and staff volunteers to become part of ongoing efforts to promote green habits among members of the university community.
"It's an amazing experience to help lead the path to a greener tomorrow," says Alanna Akkermans, a student volunteer and member of the student organizing team.
Request Waste Not, Want Not volunteers
Event organizers can request volunteers, as well as compost bins, for their events. Waste Not, Want Not sends volunteers to stand next to the bins to help participants learn how to use them.
Invite Waste Not, Want Not to your meeting
Campaign members have already given presentations on how to advance sustainability on campus to faculty deans, department chairs and student associations.
"All told, those presentations were attended by more than 400 people," says Ribal Abi Raad, co-lead of Waste Not, Want Not. "We aim to present to all the remaining departments and associations next year."
Holding a meeting in your department, faculty or association? Consider inviting Waste Not, Want Not.
Get active on social media
Follow Waste Not, Want Not on Facebook, Twitter and Instagram!
Donate to the cause
The Concordia Student Union has agreed to partially fund Waste Not, Want Not for three years, but the collaboration is hoping to garner support from individuals as well.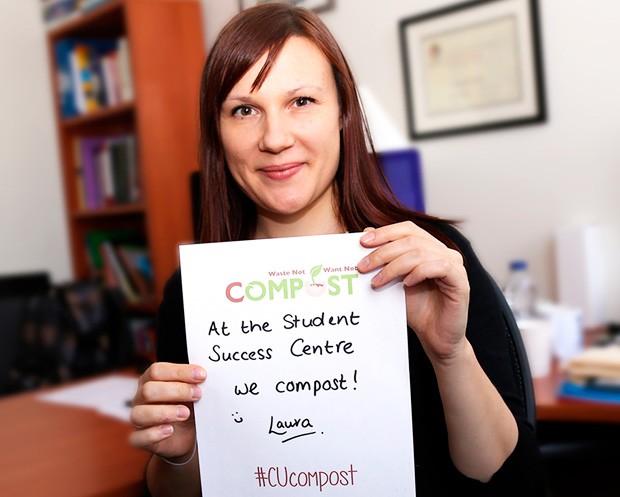 Laura Mitchell, director of the Student Success Centre, shows her support for the cause.
---