Orientation 2017: kick-start your Concordia life
Get insider tips to help you adapt and thrive at university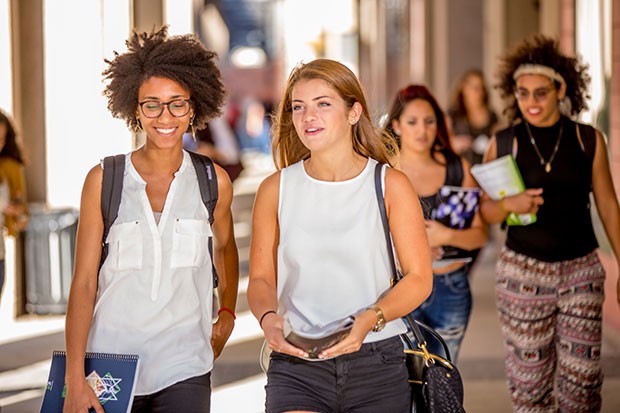 Orientation is a chance to meet other students, get introduced to Concordia and adjust to your new life as a university student.
This year, at Concordia's 2017 orientation events, you'll get the lowdown on the university's services, learn tried-and-true study strategies and connect with other incoming students.

Discover Concordia
When: Monday, August 28, 11 a.m. to 4 p.m.
Where: Sir George Williams Campus
The Student Success Centre orientation events kick off with Discover Concordia. As the name suggests, this daylong fair introduces you to the university community. You'll be able to build your own schedule and enjoy the day with other new undergraduate students. Check out the full schedule!
Make connections within your faculty, join a campus tour, attend the information fair on university resources — from student services to volunteer opportunities — and indulge in Montreal-inspired food, all in an open-house setting.
"It's really well thought out and complete in terms of workshops," says English literature student Léandre Larouche, a writing assistant at the Student Success Centre. He attended the winter 2015-16 orientation.
"It covers everything you'd like to know before starting university. It's also a great place to network, make connections, and maybe even get a job," he adds.
"You can see you're going to attend a school that actually cares about how well you're going to do."
You can also connect with experienced undergraduates by attending a university crash course, hosted by the Welcome Crew. This team of mentors will help you gain insider tips and network with other new students.
Register for Discover Concordia.
Start Right
When: Tuesday, August 29, 9 a.m. to 3:30 p.m.
Where: Sir George Williams Campus
Start Right is a more academically focused, conference-style event than Discover Concordia, designed to provide you with effective study strategies.
Learning specialists from the Student Success Centre will present in-depth lessons on such topics as Managing Your University Studies, Listening and Note Taking, Reading for Academic Success, Academic Writing, and Strategies for Problem-Solving Courses. You'll also learn about resources available to you for academic support.
Welcome Crew mentors will be on hand to answer questions during a free midday meal. Take a look at the complete Start Right schedule!
"Orientation helped take away a lot of the mystery" around starting a degree, says former Welcome Crew mentor and Concordia alumna Sarah Smith, who describes the events as "welcoming and informative."
Orientation also gave her the tools and confidence that helped make her university career so successful.
"Going to Start Right helped me understand what to expect in terms of how much time I would be spending studying, and how to balance having a life while going to school," she says.
MAP to Success
Several dates offered on both Loyola and Sir George Williams campuses, between August 10 and September 7
My Action Plan (MAP) to Success is a personalized, self-assessment-based orientation event. Discover your strengths and skills, and find out what you need to work on to succeed at university. An educational counsellor will be on hand to help you create a personalized plan.
WISE YUL
When: Wednesday, August 30, 10 a.m. to 4 p.m.
Where: Sir George Williams Campus
International students are invited to attend WISE YUL, organized by the International Students Office (ISO).
This open-house orientation is designed to help you integrate into life in Montreal. Students can get tips on taking care of administrative details, understanding the university structure, accessing key on-campus resources – like Health Services and the Students Account Office – and connecting with fellow students.
Paola Perez Palacios, the ISO department and social events coordinator, points out the many benefits of attending WISE YUL. "Students will be able to enter their Québec Acceptance Certificate (CAQ) and Study Permit in the portal, apply for their permanent code and take care of health insurance adjustments for family members accompanying them," she says.
"They can also get help finding a student job, learn about free on- and off-campus resources to improve their English and French, and discover what the city and Concordia have to offer."
At WISE YUL, you can also pick up free passes to Montreal events and learn about a range of free activities where you can meet new students, both international and local. One such activity is Explore Montreal, a free ISO- and Student Success Centre-led walking tour.
Organizations such as La Vitrine, Montréal International, I Choose Montréal and the Refugee Centre will also have representatives on hand at WISE YUL.
Frosh 2017 and other orientation events
There are also a host of student-led events, both leading up to the beginning of classes, and in the weeks following.
Find out more about orientation activities at Concordia.
Parents Tent
When: Saturday, August 26, 10 a.m. to 7:30 p.m.
Where: Grey Nuns Garden Tent
If your parents are helping you prepare for student life, invite them to the Parents Tent event, hosted by Advancement and Alumni Relations, as well as the parents and students reception (from 5:30 to 7:30 p.m.).
Parents will learn about Concordia's services, meet members of the Concordia administration and parents of other new students over refreshments and live music.
Parents should RSVP by Saturday, August 19 by email at alumnievents@concordia.ca or by calling (514) 848-2424, ext. 4397, or 1-888-777-3330. They can also stay in touch by joining the Concordia Parents Association.
Connect with a Welcome Crew mentor for insider tips throughout your first year. Visit the Student Success Centre for academic and career-related support.
---