Your guide to student-led orientation events at Concordia
Get ready for beach days, barbecues, workshops and more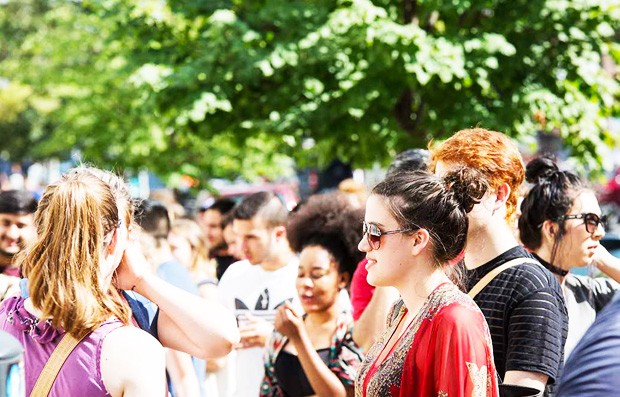 Concordia's official orientation events, such as Discover Concordia and Start Right, are just a few of the many ways that students can ring in the new school year. Student associations also host their own activities, both on and off campus.
With so many student groups hosting their own welcome events, it can be hard to keep track of everything.
Luckily, Concordia's Student Success Centre has a new orientation page to help you explore the full list of student-led orientation and frosh activities.
Here's an overview of what's on the docket. Follow these Facebook pages for the latest regarding dates, events and activities.
Events for all students
Concordia Student Union (CSU) Orientation
The CSU is holding a slew of welcome events open to the entire university community, ranging from social mixers to a bike tour.
Faculty-specific frosh/orientation
On-campus events will take place at both the Loyola quadrangle and the Hall Building terrace. Expect to see these spaces filled with BBQs, giant inflatables and kiosks.
Staple frosh/orientation events include scavenger hunts, concerts, cocktails, lectures, and karaoke.
Please keep in mind that faculty-specific frosh/orientation require registration, which may involve a one-time fee or per-event cost.

Commerce and Administration Students' Association (CASA) frosh
August 27 to August 30

Engineering and Computer Science Association (ECA) frosh
August 30 to September 8

Arts and Science Federation of Associations (ASFA) frosh

Fine Arts Student Alliance (FASA) orientation
Events for international students
Concordia International Student Association (CISA) welcome BBQ


New to Montreal? Get to know the city and each other at this annual mixer.
Events for graduate students
Graduate Students Association (GSA) orientation
All Concordia graduate students are invited to attend GSA orientation. These events, geared toward the graduate student community, will be held in smaller private spaces around campus after the start of the term.

Engineering and Computer Science Graduate Association (ECSGA) orientation

For a complete rundown of student-led orientation/frosh activities, as well as official university orientation events, visit Concordia's Orientation 2018 website.
---