25 Concordia students embark on 'life-changing' internships at District 3
Find out why these MESI-funded Innovation Projects are much more than summer jobs!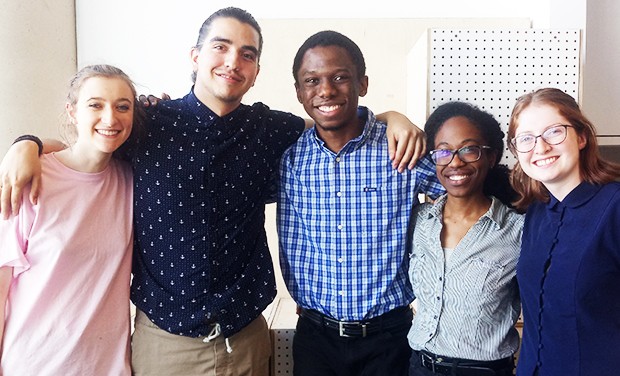 From left to right: Maara-Louisa Dunbar, Jaime Andres Hernandez, Ngoma Emeka, Lindsey Carter and Kelly McManus. | Photo by District 3

How do you prepare for a successful career after graduation? A great place to start is by seeking meaningful work experience while completing your degree.
That's why Concordia's District 3 Innovation Center — with funding from Quebec's Ministère de l'Économie, de la Science et de l'Innovation (MESI) — is providing 25 Concordia undergraduate and graduate students with summer internships through Innovation Projects.
Grounded in the university's nine strategic directions, the vision of D3's program is to create inter-faculty, theme-based innovation zones.
Experts, researchers, entrepreneurs and student interns will collaborate on exciting new projects for established organizations, while preparing the program participants to become innovation leaders who can move from idea to impact.
"Québec is an innovative, dynamic society that is receptive to new technologies," says Dominique Anglade, Minister of Economy, Science and Innovation and Minister responsible for the Digital Strategy.
"We are, therefore, proud to support the technology incubator and business accelerator District 3 in the realization of this initiative, which will transform innovative ideas into action along with know-how stemming from research in digital technologies."
"I invite Québec startups to fully take advantage of these unifying projects to bolster their innovative capacity."

Smart textiles for baby toys
On May 15, six multidisciplinary teams of graduate and undergraduate students from Concordia's four faculties embarked on this summer's Innovation Projects internship program. There are also four teams who have joined Innovation Projects as a result of winning the Formfintech competition in May 2017.
Working on themes that include health and wellness, financial technology (fintech) and social innovation, students were paired with peers from other faculties and established experts to engage in needs analysis, design thinking and concept testing. A few weeks into the program and teams have already developed over 100 prototypes and 360 tests.
One of the projects, XS Labs, is led by Concordia's Joanna Maria Berzowska, associate dean of research for the Faculty of Fine Arts and an expert in wearable technology. Students are exploring how to create a set of developmental toys for babies using smart textiles.
According to Berzowska, "smart textiles and other kinds of new materials offer so much potential for designing new kinds of interactive and sensory experiences for babies, which can help with the development of motor skills, communication skills and logical reasoning skills." She is especially interested in developing soft responsive toys that can assist with emotional development for infants and toddlers.
Berzowska encourages researchers and students to participate in innovation projects.
"Innovation Projects is one of the best internship programs I've ever seen, and this includes programs from my alma mater, the MIT Media Lab," says Berzowska.
"Students are placed in well thought out interdisciplinary teams, and the program is just a perfect balance of mentorship and teaching, as well as setting high expectations for self-driven goal setting and delivering innovative ideas. I have seen my team learning in leaps and bounds."

'I already feel more confident'
Music Hive team member Kelly McManus is delighted to have been selected for the Innovation Projects program. She is a Concordia student completing her undergraduate degree in the Business Technology Management Program at the John Molson School of Business.
"Other students I've spoken with are having to work jobs that are not up to par with their abilities and do not help them in their careers," she says.
"This is a paid internship where I get to acquire valuable skills by working on an intellectually challenging project."
McManus and her other team members are receiving coaching from experts and researchers to help conduct needs analysis, and to design, prototype and test how well their solution stands up to real-world challenges.
"This is a life-changing opportunity for me," she adds.
"I'm grateful to MESI and Concordia's D3 because in three months' time, I'll have a standout portfolio and résumé. I already feel more confident in the value of my ideas, how to work and communicate with a multidisciplinary team and how to conceive of ideas in terms of real-world needs, practicality and solutions."

From sports to refugee support
Other Innovation Projects teams are exploring questions related to sports and active living, refugee support, automation and authentication, fintech, as well as health and wellness.
Music Hive is exploring how music therapy could be made more accessible, ultimately empowering individuals to undertake sessions in their own homes.
Interns: Jaime Andres Hernandez, Lindsey Carter, Maara-Louisa Dunbar, Ngoma Emeka and Kelly McManus.
Kool Replay is researching ways for athletes and families to capture important moments in nature.
Interns: Hikmat Alsaket, Daniel Isakov and Rahul Sharma
Concordia's Financial Wellness hopes to develop a program or product for students to achieve a level of comfort with their personal budgets.
Interns: Jason Hai Dang, Kenechukwu Nnodu, Karine Mainville and Shaish Patel.
Edel wants to empower refugees by providing them with secure identity profiles. The digitally encrypted repositories would allow them to access their identification documents at all times.
Interns: Elias Al Homsi, Jeremy Cullen, Anna Ehrhardt and Seynabou Ndiaye.
Finally, the team at Stelvio is investigating how to innovate in the space of continuous user authentication, specifically for web applications.
Interns: Aniekan Amah, Hirangi Naik, Younes Rifai, Michael Rostamian and Emma Spellacy

Learn more about the Ministère de l'Économie, de la Science et de l'Innovation funds and find out how you can accelerate your career with Concordia's District 3.

---